Big bank earnings signal caution as revenues miss expectations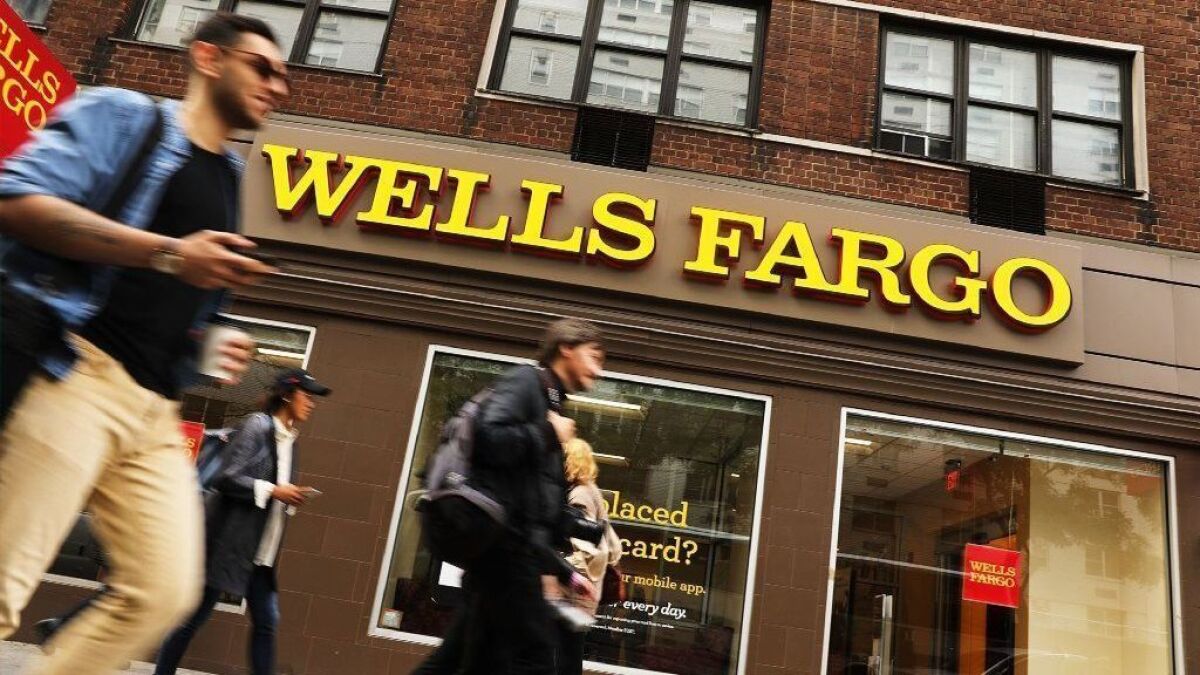 Reporting from Washington —
Two of the nation's largest banks on Tuesday reported mixed earnings results for the end of last year, a potential caution sign on the state of the economy heading into 2019.
Wells Fargo & Co. and JPMorgan Chase & Co. both missed expectations on revenue for the October-through-December period. Wells Fargo's profit also fell slightly compared with a year earlier as the bank continued to deal with a cap on its assets put in place by federal regulators after a series of scandals — a restriction that is now expected to remain in place through the end of the year.
"We're making progress," said Chief Executive Tim Sloan, who disclosed the new estimate on the cap's length during Tuesday's earnings call. "It's just happening a little slower than we originally had anticipated. But we'll get there."
The $6.06 billion in profit from October through December that Wells Fargo reported was down from $6.15 billion in the fourth quarter of 2017. Revenue was $21 billion, down from $22.1 billion a year earlier.
Still, the San Francisco bank's earnings of $1.21 a share beat analyst expectations of $1.18 a share.
That was a better performance than JPMorgan Chase, which also reported earnings Tuesday. Investors are watching big banks' earnings this week for signs of the direction of the economy and the effects of the recent stock market volatility.
Wells Fargo stock closed down 1.6%, at $47.67 Tuesday. JPMorgan Chase shares were up — about 0.7%, to $101.68 — along with the three major stock market indexes, as investors brushed aside any potential concerns raised by the earnings results.
JPMorgan Chase, the nation's largest bank, reported quarterly profits that missed analyst expectations for the first time in nearly four years. Trading revenue was down about 6% amid the stock market gyrations.
The bank's $7.1 billion in profit was a fourth-quarter record and up 67% from a year earlier, but earnings per share of $1.98 were below expectations of $2.20.
Banks have been expected to have had great earnings last year because of the tax overhaul championed by President Trump, which slashed the corporate tax rate to 21% from 35% at the start of 2018. Boosted by the tax changes, Citigroup reported fourth-quarter profits Monday that beat analyst expectations.
But financial market volatility, triggered by concerns of slowing U.S. and global economic growth, took a toll on bank trading income in the fourth quarter.
JPMorgan Chase Chief Executive Jamie Dimon on Tuesday described the fourth quarter as "challenging." And he raised concerns about the divisive political climate in Washington, which has sparked an ongoing partial shutdown of the federal government.
"As we head into 2019, we urge our country's leaders to strike a collaborative, constructive tone, which would reinforce already strong consumer and business sentiment," Dimon said in a statement. "Businesses, government and communities need to work together to solve problems and help strengthen the economy for the benefit of everyone."
John Shrewsberry, Wells Fargo's chief financial officer, said the bank's outlook for this year remained solid while acknowledging economic growth could be "softer" than 2018's strong performance.
"2019 is shaping up as certainly a better-than-trend year," he told reporters on a conference call.
Wells Fargo has also been dealing with the fallout from its unauthorized accounts scandal — in which bank workers opened accounts in customers' names without those customers' knowledge or consent — and other controversies. A year ago, Federal Reserve regulators ordered the bank to cap its growth and improve its corporate governance.
Sloan said Tuesday that he was "proud of the transformational changes" that his bank made last year. He cited changes to the company's board of directors, hiring of new risk management employees and cited a two-year high in some customer satisfaction survey scores in December.
Fed officials have said Wells Fargo must enact significant reforms before the growth cap can be removed.
Last month, Sloan said at a financial services conference that Wells Fargo executives were "planning on operating under the asset cap through the first part" of 2019. On Tuesday, he said the bank needed more time to "incorporate" feedback it has received about its plans to fix problems in its consumer business in a "thoughtful manner."
"We continue to have very frequent and constructive dialogue with the Fed and we're both working toward the same goal, which is we want to have best-in-class risk management — period," Sloan said on the earnings call.
Last fall, the bank announced it planned to cut its workforce by 5% to 10% within three years.
And the bank continues to face controversy. On Tuesday, Sen. Elizabeth Warren (D-Mass.) wrote to Sloan asking for information about "exorbitant fees" that Wells Fargo charges college students. Warren cited a report by the Consumer Financial Protection Bureau that found Wells Fargo had overwhelmingly higher fees than other banks for college student bank accounts. The bureau did not publish the report and released it only after groups submitted Freedom of Information Act requests.
"The revelations included in the report suggest that Well Fargo's shameful culture of squeezing its customers —opening millions of fake accounts, charging customers for car insurance they did not need or know about and then repossessing cars for unpaid premiums, improperly foreclosing on hundreds of homes — remains intact despite numerous regulatory actions and your repeated public assurances that the company has changed," Warren wrote.
"This culture is having disastrous effects on college students," she said in the letter, which demanded answers to detailed questions about the college programs by Feb. 5.
Twitter: @JimPuzzanghera
---
Sign up for the California Politics newsletter to get exclusive analysis from our reporters.
You may occasionally receive promotional content from the Los Angeles Times.