A government Wells Fargo complaint website has vanished. Sen. Elizabeth Warren wants to know why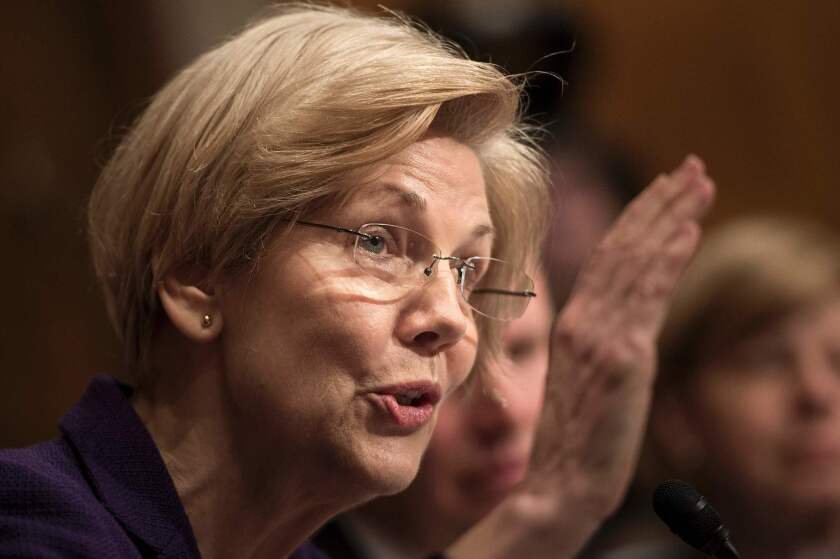 Reporting from Washington —
Sen. Elizabeth Warren wants the acting Labor secretary to explain why a website for complaints from Wells Fargo & Co. employees has disappeared, and she has requested an update on the department's investigation into the bank's unauthorized-accounts scandal.
"Taking down this website enables Wells Fargo to escape full responsibility for its fraudulent actions and the department to shirk its outstanding obligations to American workers," Warren wrote Thursday to Edward Hugler, a deputy assistant secretary and 39-year department veteran who has been acting secretary since President Trump took office.
"It is imperative that current and former Wells Fargo employees retain access to information on their rights under federal labor law and their ability to file a complaint if their rights are violated," the Massachusetts Democrat added.
The site was created in September after former Labor Secretary Tom Perez began a "top-to-bottom review" of how the bank treated employees as it pushed aggressive sales quotas that led to the creation of as many as 2 million accounts opened without customers' consent.
Warren and seven other senators asked Perez for an investigation after Wells Fargo agreed to pay $185 million to settle investigations by Los Angeles City Atty. Mike Feuer and federal regulators into the unauthorized accounts.
The senators cited allegations that the bank failed to pay overtime to tellers and other employees who worked late nights and weekends to meet sales quotas.
The website — www.dol.gov/wellsfargo — is no longer active. It was working as of Jan. 20 when Trump took office, Warren said in her letter.
Labor Department spokesman Stephen Barr said the site was taken down Jan. 9. He didn't say why but denied the Trump administration had anything to do with it.
"The current administration gave no direction whatsoever regarding Wells Fargo here at the Department of Labor," Barr said.
Warren spokeswoman Lacey Rose was not able to provide evidence the site was working on Jan. 20 but said the exact date was irrelevant.
"Regardless of which administration took down the website, Sen. Warren is concerned it came down and believes the Department of Labor should put back up the website as soon as possible," Rose said.
Trump's nominee for Labor secretary, Andrew Puzder, the chief executive of CKE Restaurants Inc., is scheduled for a Senate confirmation hearing next week.
Warren asked Hugler if the department will "continue all ongoing investigations" into Wells Fargo's treatment of employees and reinstate the complaint website. If violations were found by the Labor Department, Wells Fargo employees could be provided back pay.
Warren also asked Hugler about a Wall Street Journal report on Jan. 6 stating the Labor Department accused an outside attorney for Wells Fargo, Tammy McCutchen, of hampering the investigation by denying records and interviews. When pressed by a Labor Department investigator, McCutchen reportedly said Trump was taking over in a few weeks and she might land an administration job.
In her letter, Warren requested that Hugler notify Congress if McCutchen or any other attorneys that represented Wells Fargo are nominated to serve in the department, and asked that they recuse themselves from investigations of the bank if they take office.
Follow @JimPuzzanghera on Twitter
ALSO
The U.S. labor force's guy problem: Lots of men don't have a job and aren't looking for one
How Trump could use the presidency to help his own business interests
---
UPDATES:
12:20 p.m.: This article was updated with a comment by a Warren spokeswoman about the date the website was taken down.
10:10 a.m.: This article was updated with comment from a Labor Department spokesman and clarifying that Warren was the person saying that the website was taken down after Trump took office.
This article originally was published at 8:20 a.m.
---
For reporting and exclusive analysis from bureau chief John Myers, get our California Politics newsletter.
You may occasionally receive promotional content from the Los Angeles Times.