Rep. Maxine Waters calls for firing of Wells Fargo CEO Tim Sloan after news of his pay raise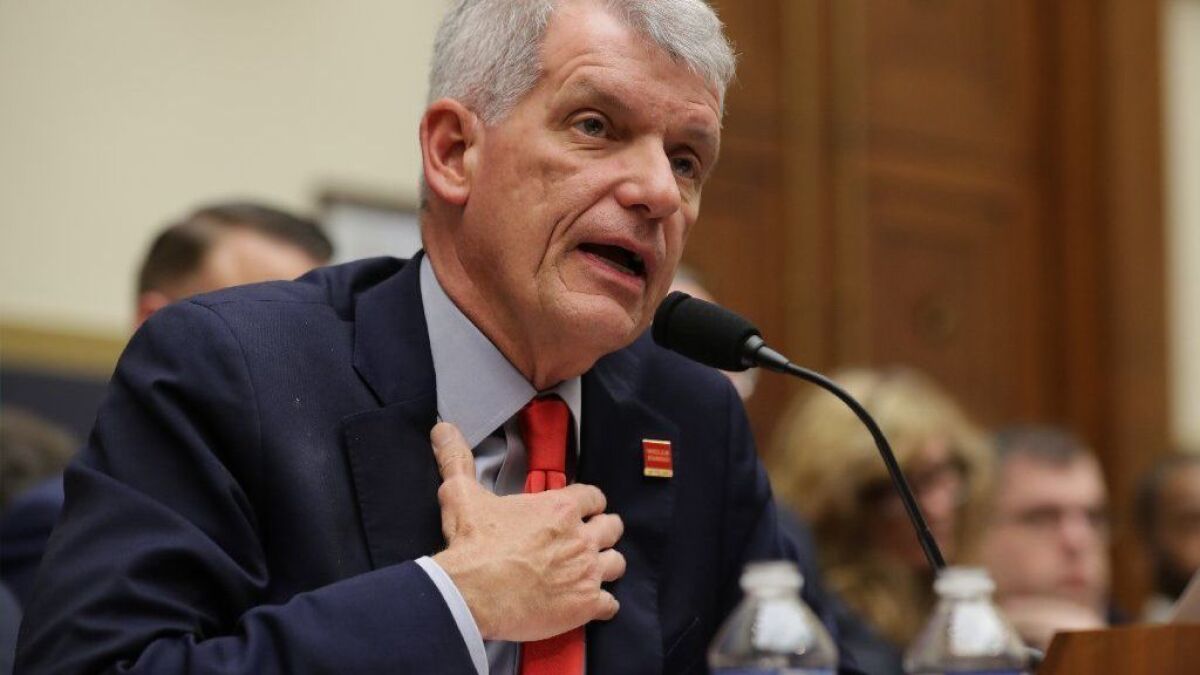 Reporting from Washington —
Rep. Maxine Waters on Thursday called for the firing of Wells Fargo & Co. Chief Executive Tim Sloan after the bank reported his pay increased last year by nearly $1 million despite continued consumer scandals.
The 4.9% increase in total compensation in 2018, to $18.4 million, included a $2-million bonus, Wells Fargo said in a regulatory filing on Wednesday. Sloan earned $2.4-million base pay both years. He did not receive a bonus in 2017, but received more in stock, pension and other awards to bring his overall compensation to $17.6 million.
The filing came a day after Sloan faced bipartisan anger about what Waters (D-Los Angeles) called the bank's "ongoing lawlessness" during a hearing by the House Financial Services Committee, which the Los Angeles Democrat chairs.
After the hearing, Waters suggested that regulators remove Sloan.
But Waters went a step further on Thursday. She called Sloan's pay increase "outrageous and wholly inappropriate," particularly because the bank was hit last year with an unprecedented regulatory cap on its growth because of its history of consumer abuses.
"Mr. Sloan shouldn't be getting a bonus, he should be shown the door," Waters said in a written statement.
She joins Sen. Elizabeth Warren (D-Mass.) in calling for Sloan's removal. Warren, the Democratic presidential candidate, has pushed for his firing since 2017.
Waters was not happy with Sloan's performance during the four-hour hearing and concluded it by promising to reintroduce legislation that would direct regulators to downsize or even shut down banks with a pattern of violating consumer protection laws.
"It was very clear from Mr. Sloan's testimony that Wells Fargo has failed to clean up its act," Waters reiterated Thursday.
Maxine Waters wields gavel on powerful committee, but freshmen could make it challenging »
She noted that after the hearing, one of the bank's regulators, the Office of the Comptroller of the Currency, took the unusual step of publicly declaring disappointment with Wells Fargo's performance under consent orders designed to improve its operations and the bank's "inability to execute effective corporate governance."
A Wells Fargo spokesman declined to comment.
The Los Angeles Times first reported Wells Fargo's high-pressure sales practices in 2013. Three years later, the bank acknowledged that its employees had opened millions of checking, savings and credit card accounts that customers never authorized.
Sloan was promoted to chief executive shortly after the scandal exploded in 2016. He replaced John Stumpf, who retired in the wake of the controversy.
Wells Fargo has paid about $4 billion in settlements with regulators and plaintiffs who have brought private lawsuits over the unauthorized accounts and other problems.
Last year, Federal Reserve regulators ordered the bank to cap its growth until it could show it had improved its corporate governance. Sloan has said he expected the cap to remain in place through this year.
On Monday, a report from the Committee for Better Banks, an advocacy group that includes some current and former Wells Fargo employees, said the bank "has not fixed its culture of fear and intimidation."
Wells Fargo announced in 2017 that it was overhauling the incentive compensation system that was at the root of the unauthorized-accounts scandal. But the report said new customer-unfriendly sales incentives have been put in place.