Wells Fargo hit with new sanctions following fake-accounts scandal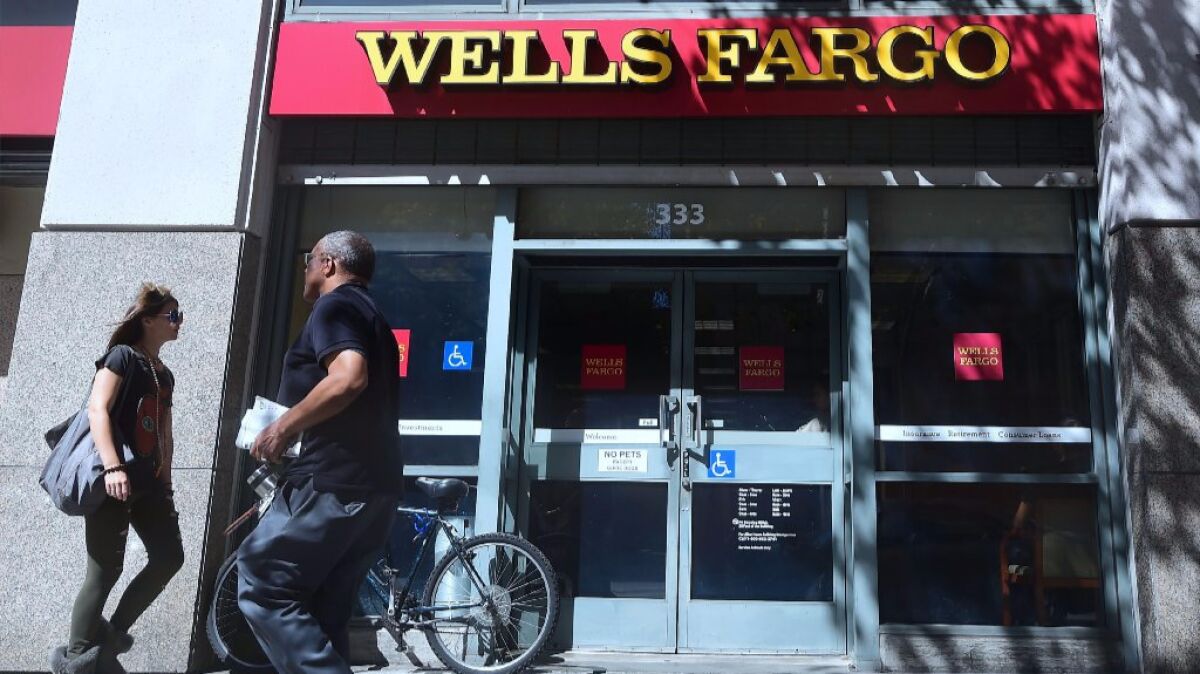 A federal regulator has tightened restrictions on Wells Fargo & Co., requiring it to get approval to replace or hire new executives and make other changes, in the latest fallout over the San Francisco bank's fake-accounts scandal.
Late Friday, the Office of the Comptroller of the Currency, one of the regulators that reached a $185 million settlement with the bank over the creation of unauthorized customer accounts, issued a brief statement saying it was revoking some of the terms of that Sept. 8 deal.
Specifically, the OCC said it was canceling parts that had shielded Wells Fargo from some oversight usually reserved for troubled banks.
The OCC did not issue a statement explaining the cancellation, but Wade Francis, a former OCC bank examiner, said the move amounts to a regulatory vote of no-confidence in the bank's leadership.
"This is the OCC saying, 'We don't trust you to run your business,' " said Francis, president of Long Beach bank consultancy Unicon Financial Services. "They're questioning the judgment of management."
Wells Fargo will have to provide the OCC with written notices if it plans to replace board members or bank executives. The changes appear to apply only to Wells Fargo Bank, which has a separate board from corporate parent Wells Fargo & Co.
It's not clear whether the change would have had any impact on Wells Fargo's appointment of new Chief Executive Timothy Sloan last month.
The bank will also no longer be entitled to expedited regulatory reviews of applications for basic practices, including opening or relocating bank branches. The regulatory order further prohibits the bank from making so-called golden parachute payments — compensation paid to executives when they step down or are fired.
Such bans are typically imposed only on banks that are troubled or insolvent. "It's the OCC saying they don't trust the bank to be prudent," Francis said.
Wells Fargo did not respond to a request for comment.
In a statement to the Wall Street Journal, bank spokeswoman Jennifer Dunn said the new order "will not inhibit our ability to execute our strategy."
For the bank, the new OCC scrutiny could be a comedown after what's been a hopeful few weeks for Wells Fargo and other financial institutions. Banks and industry analysts expect the administration of President-elect Donald Trump to take a lighter regulatory approach, and that's sent bank shares soaring since Trump's unexpected victory.
Wells Fargo shares closed Friday — before the OCC's announcement — at $52.82, up 16% since election day and well above where shares traded before the bank's settlement with regulators in September.
Still, even if bank regulators back off in the long term, the OCC's tighter restrictions for now add to a still-growing list of regulatory woes for the lender, which is under investigation by a handful of state and federal agencies.
Earlier this month, Wells Fargo confirmed it is under investigation by the Securities and Exchange Commission. That's on top of other inquiries by the U.S. Department of Justice, Department of Labor, congressional committees and state attorneys general.
The California Department of Justice is investigating the bank for possible criminal identity theft related to unauthorized accounts. And the bank is also facing a handful of private lawsuits stemming from the bank's admission that thousands of bank employees opened as many as 2 million unauthorized accounts over the past several years.
That includes suits brought by former employees who say they were improperly fired for refusing to engage in fraudulent sales activity and by customers who say they were harmed.
In a regulatory filing earlier this month, Wells Fargo estimated that its "reasonably possible" potential losses from litigation are $1.7 billion, up from $1 billion in litigation risk the bank reported in June.
The scandal has started to cut into the bank's business, too, with fewer customers opening new accounts.
Bank executives reported Thursday that Wells Fargo opened about 300,000 new checking accounts last month, down 27% from September and down 44% from October 2015. The number of credit card applications during the month fell even more sharply, declining by 50% compared with October of last year.
The bank acknowledged that the decline was the result of "customer reaction to the sales practices settlement."
Follow me: @jrkoren
ALSO
Why do flight attendants love United Airlines' new basic economy seats?
Why the L.A. Auto Show is a good place to shop for your next car
Surge of data from cars could be big moneymaker. Do automakers have mettle to harness it?
---
UPDATES:
12:15 p.m.: This article was updated with additional details, including Wells Fargo's stock price and investigations the bank is facing.
This article was originally published at 11:35 a.m.