Wells Fargo's $142-million sham accounts settlement: What you need to know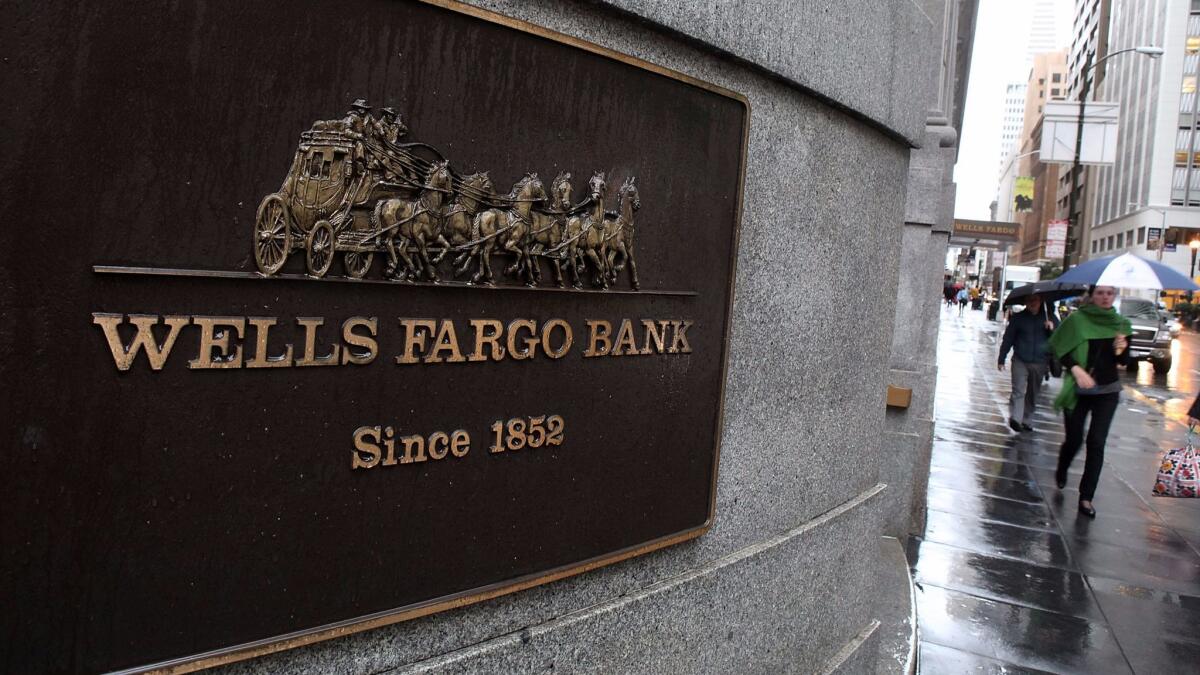 A federal judge this weekend signed off on a deal under which Wells Fargo & Co. will pay $142 million to settle a bevy of class-action lawsuits over the bank's creation of unauthorized accounts.
If you think the San Francisco-based financial institution created sham accounts in your name, here's what you need to know to get a piece of the settlement.
Am I eligible?
Yes, if you are, or were, a Wells Fargo customer between May 2002 and April of this year, and you believe the bank opened or applied for a checking account, savings account, credit card or line of credit without your permission. Customers who obtained identity-theft protection services from the bank also are eligible.
How much will I get?
That depends. If you paid fees on accounts you didn't open, you'll get those fees back — unless the bank already has reimbursed you. Following a settlement with regulators last year, the bank has refunded about $3.2 million in fees tied to unauthorized accounts, averaging about $25 per account.
If the bank opened an unauthorized credit card or credit line and it damaged your credit score, causing you to borrow money at a higher interest rate, you could receive a payment to help cover your higher borrowing cost.
Those payments will be determined using a complicated formula that takes into account how much your credit was damaged, how much you later borrowed and the likelihood that your credit was dinged enough to affect your rate. Here's a hypothetical example from the settlement documents of a customer who borrowed $18,000 after her credit score decreased by 12 points:

After reimbursements and credit-damage payments have been made, all customers affected by the bank's practices will be eligible to split an additional $25 million — or more if there's other settlement money left over — based on the number and type of unauthorized accounts in their names.
How much do the lawyers get?
Attorneys at Keller Rohrback, who negotiated the settlement with Wells Fargo, plan to request 15% of the total settlement fund — $21.3 million — as compensation, according to court documents.
How do I sign up?
By mid-September, a settlement administrator will begin mailing claim forms, but those will go only to customers who already were identified by the bank as having potentially unauthorized accounts, as well as customers who filed complaints with the bank or federal regulators. That means some affected customers won't automatically receive claim forms in the mail.
All customers, though, can fill out a claim form online at the settlement website, WFsettlement.com. The online claim form will be available in September, but customers can go to the website now and submit their names and contact information to receive settlement updates. Customers also can call a settlement hotline, (866) 431-8549, though for now, that number only refers callers to the website.
What if I want to sue the bank, not settle?
If you want to try suing the bank over unauthorized accounts, you have to exclude yourself from the settlement — meaning you won't get any payments from the $142-million settlement fund. To do that, you have to file a special form, which will be made available on the settlement website.
When will I get paid?
Not until early next year, at the earliest. A federal judge over the weekend gave the settlement a preliminary go-ahead, but he must give final approval before payments go out. A final approval hearing is scheduled for Jan. 4.
Follow me: @jrkoren
ALSO
Judge approves $142-million class-action settlement in Wells Fargo sham accounts scandal
David Lazarus: Banks and credit card companies can't try to stop you from joining a class action lawsuit — for now