Wells Fargo to pay $2.09 billion to settle probe into crisis-era mortgage abuses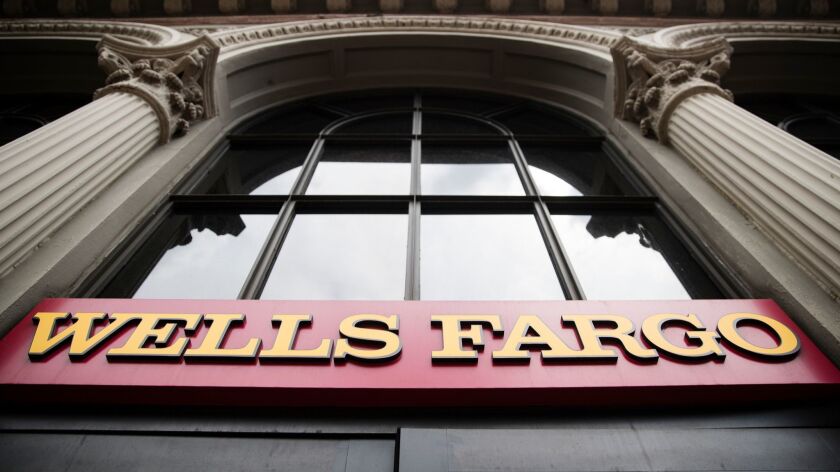 Bloomberg
Ten years after faulty mortgages upended the global financial system, Wells Fargo & Co. agreed to pay $2.09 billion to settle a U.S. investigation into its creation and sale of loans that contributed to the disaster.
The long-anticipated penalty, announced Wednesday, is in line with what some analysts had predicted and smaller than sanctions borne by some of the San Francisco bank's competitors. But the case offers a new look behind the scenes at decisions made at one of the nation's largest home lenders before the crisis — and the evidence that executives saw of mounting trouble.
Investors, including federally insured financial institutions, ended up suffering billions of dollars in losses on securities that contained home loans from Wells Fargo, the Justice Department said in a statement announcing the accord. The investigation focused on mortgages in which borrowers were allowed to state their incomes, without providing proof.
Starting in 2005, the bank set out to double production of two types of risky mortgages: one known as subprime, offered to borrowers with weak credit, and another called Alt-A, a product targeted at independent contractors and others who may not draw a steady paycheck.
As part of the push, Wells Fargo loosened requirements for so-called stated-income loans, which allow borrowers to say how much they made without verification. The bank later sampled and tested some mortgages and found borrowers had fudged income numbers. Despite those findings, it continued to report inaccurate income figures to investors who bought mortgage-backed securities that later went bad, according to the settlement agreement.
"Abuses in the mortgage-backed securities industry led to a financial crisis that devastated millions of Americans," Alex Tse, acting U.S. attorney for the Northern District of California, said in a statement. "Today's agreement holds Wells Fargo responsible for originating and selling tens of thousands of loans that were packaged into securities and subsequently defaulted."
Wells Fargo Chief Executive Tim Sloan said in a statement that the bank was "pleased to put behind us these legacy issues regarding claims related to residential mortgage-backed securities activities that occurred more than a decade ago."
Other big banks settled similar claims with the Justice Department years ago and paid much larger penalties. In 2014, Bank of America and Citigroup agreed to pay $16.7 billion and $7.3 billion, respectively, to settle allegations they misled investors about risky mortgage-backed securities. JPMorgan Chase agreed to a similar settlement in 2013 and paid $13 billion.
Those deals, like Wednesdays, dealt only with mortgage-backed securities. Big banks, including Wells Fargo, have also paid to settle allegations that they duped the federal government into improperly backing crisis-era loans through the popular FHA mortgage insurance program. Wells Fargo agreed to pay $1.2 billion in 2016; Bank of America and Chase reached smaller settlements in 2014.
Wells Fargo executives had been signaling the settlement's approach. In January, Chief Financial Officer John Shrewsberry told Bloomberg his firm would probably hash out terms this year.
Although he declined to discuss the potential cost, the firm took a $3.3-billion litigation charge late in 2017, mainly for mortgage-related issues. Bloomberg Intelligence analyst Elliot Stein had estimated the settlement for mortgage-backed securities could cost more than $2 billion.
The settlement comes as Wells Fargo tries to correct a series of consumer abuses that have resulted in a raft of fines and sanctions, including a growth cap imposed on it by the Federal Reserve because of weak risk management and corporate oversight.
Over the last two years, the bank has admitted that it created millions of bank accounts without customers' authorization, charged improper fees on mortgage borrowers and forced thousands of auto-loan customers to pay for insurance policies they did not need.
Those practices, and others, also have led to more than $1.1 billion in payments to the Consumer Financial Protection Bureau and other regulators, including a $185-million settlement over unauthorized accounts in 2016 that kicked off the bank's troubles.
Wells Fargo shares rose 36 cents, or 0.6%, to $57.65 on Wednesday.
Times staff writer James Rufus Koren contributed to this report.
---
UPDATES:
2:20 p.m.: This article was updated with a statement from Wells Fargo, background on the bank's consumer abuses and information on similar settlements by other large banks.
11:45 a.m.: This article was updated with additional details about the settlement.
This article was originally published at 11:05 a.m.
---
For reporting and exclusive analysis from bureau chief John Myers, get our California Politics newsletter.
You may occasionally receive promotional content from the Los Angeles Times.