Commerce Secretary Wilbur Ross made at least $30 million last year, ethics filing shows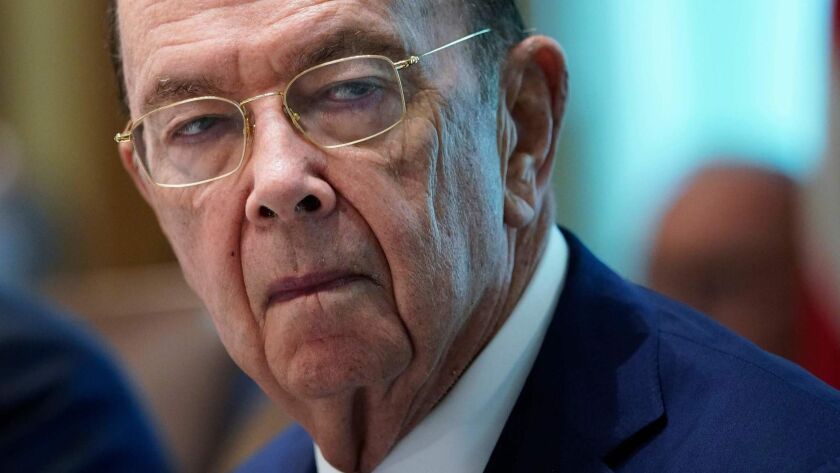 The Washington Post
Commerce Secretary Wilbur Ross was paid $6.1 million for giving up his accumulated stock incentive plan with Invesco Group when he was named to President Trump's Cabinet, and the firm separately paid him a $970,530 bonus, according to Ross' latest government ethics filing.
Ross said that in the two months of 2017 before becoming Commerce secretary he also received a director's fee of $189,744 from international steelmaker Arcelor Mittal.
Overall for the year, he earned at least $30 million, the low end of a broad reported range of capital gain and dividend income during 2017.
The Commerce secretary, who has estimated his net worth to be at least $800 million, also listed 21 previously unreported sales and purchases in 2017 of substantial amounts of municipal bonds. Each transaction was between $100,000 and $500,000. They included purchases of bonds such as those issued by the Edinburg, Texas, school district; the St. Paul, Minn., port authority; and the Atlanta development authority.
He also bought more than $1 million of a Southwestern Public Service Co. bond that matures Dec. 1.
Ross, who ran private equity funds and specialized in corporate turnarounds before joining the Trump administration, has come under political fire for his failure to fully disclose the size of his stock holdings and the tardy sale of shares in companies, some of which can be affected by government policies.
In July, David Apol, acting director and general counsel of the Office of Government Ethics, reprimanded Ross, saying: "your failure to divest created the potential for a serious criminal violation on your part and undermined public confidence."
Ross said that some of those tardy sales were the result of "inadvertent errors" in some cases because he overlooked payments made to him in different accounts when he was a corporate director.
This time, Ross provided more detail. Under a new heading for gifts, in his new ethics filing Ross says he received three pairs of tickets worth between $700 and $1,000. They were for the annual galas of the Ford's Theatre, Meridian International Center and the National Museum of Catholic Art and Library. His wife is now on the board of the Ford's Theatre. Vice President Mike Pence also attended the Ford's Theatre gala, according to a source familiar with Ross' filing.
This year's filing, which covers sales and assets through 2017, also listed stock sales Ross reported in earlier individual filings. He has sold at least $1 million worth of stock in each of several companies in 2017, including aircraft manufacturer Boeing, steel giant ArcelorMittal and investment ratings firm Moody's.
One of the companies he sold, Wex Inc., is a provider of payment processing and information management services to commercial and U.S. government vehicle fleets. The stock has climbed steadily since Trump took office. Ross told the Office of Government Ethics that he made capital gains of $100,000 to $1 million.
In his new disclosure statement, Ross reiterated that he sold his entire positions — worth more than $1 million each — in Boeing; Moody's; Wex; Zoetis, a maker of animal vaccines; SVB Financial Group; stock exchange owners CME Group and Intercontinental Exchange; and Amphenol, a maker of electronic and fiber optic cables. He also sold more than $1 million in YG Partners Fund, a hedge fund that closed its doors last year.
Ross also made between $100,000 and $1 million in each of his sales of stocks of Apple, CDW Corp., Verisk Analytics, Neustar, MSCI, Merck and Chevron.
Mufson writes for the Washington Post.
---
Your guide to our new economic reality.
Get our free business newsletter for insights and tips for getting by.
You may occasionally receive promotional content from the Los Angeles Times.