Op-Ed: There's a quick way to help prevent wildfires: Shut off the power grid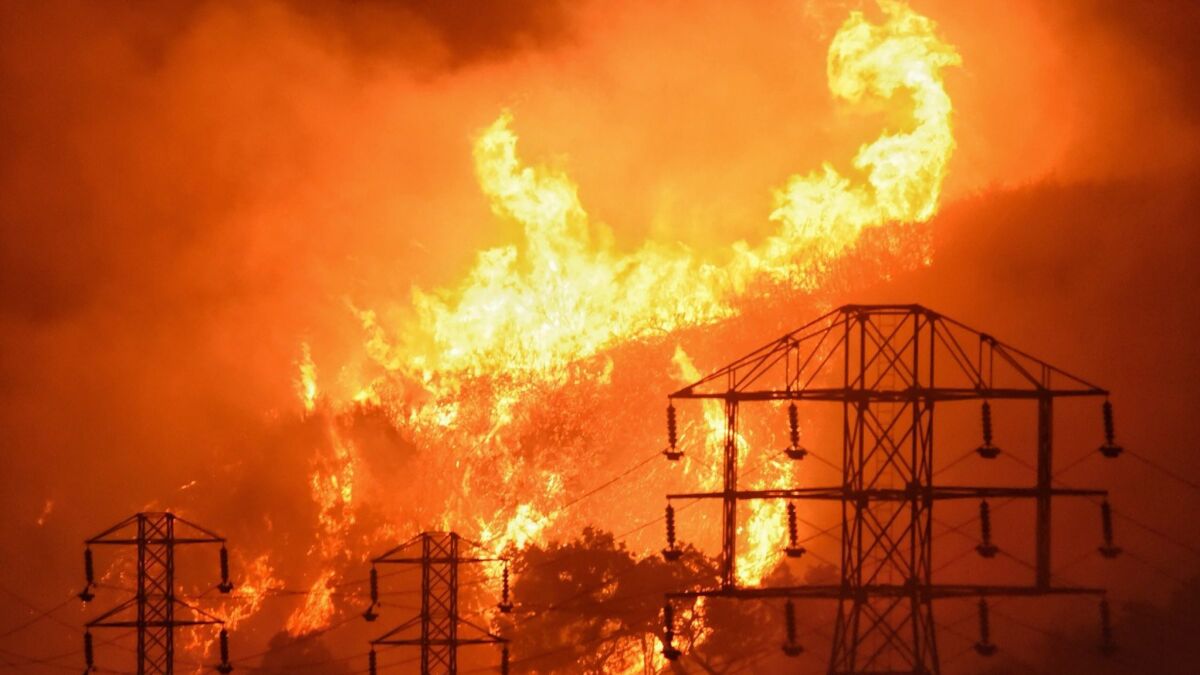 The challenge created by wildfires in California — and our need to adapt to a hotter, drier climate — cannot be overstated. The state, which leads the nation on environmental issues, must call upon the creativity of its innovators and the adaptability of its citizens to secure its future. The reality of climate change means we need to make urgent big investments in infrastructure that will keep us safe.
The Legislature began to implement wildfire solutions last session that, over time, will make California safer. Gov. Jerry Brown added more than $250 million to this year's budget, doubling the state's forest-thinning efforts and increasing prescribed burns, which could make parts of the state less combustible. Stricter building codes are also under discussion, along with limiting new construction and rebuilding in the likely path of fires. There are also calls to put power lines underground — at tremendous cost.
But these strategies will take time — probably a decade or more. And we cannot afford more firestorms like the ones that swept through Santa Rosa and Ventura in 2017, and Paradise and Malibu in November.
The most destructive fires in recent California history have been traced, to a high degree of probability, to downed utility power lines or electrical equipment malfunctions. (The causes of last month's Camp fire and Woolsey fire have yet to be determined, but electrical infrastructure problems are the suspected cause.) In the fires' terrible wake, California residents are also faced with bailing out utilities when they are found liable for the conflagrations.
Deploying clean "distributed energy" — individualized power generation and storage — could be a kind of green New Deal.
There is a simple and effective way to reduce the risk of utility-caused wildfire, and it doesn't take decades to implement: Shut the power off when and where wind and drought create wildfire risk. All other options for preventing these fires — such as putting power lines underground or trimming trees that threaten power infrastructure — will take too long or are too prone to error to adequately address the crisis we're facing.
To make it acceptable to turn off whole sections of the electricity grid, the state will have to start a crash program to build a backup power supply for households and businesses in high-risk wildfire areas. The logical choices are individual solar and battery setups for households, and "microgrids" linking business districts. We need to make it OK for the utilities to take decisive action to avoid wildfire threats: When the main grid has to go down for safety, backup power must be available to keep medical devices, refrigerators and the internet up and running.
Enter the Fray: First takes on the news of the minute from L.A. Times Opinion »
Deploying clean "distributed energy" — individualized power generation and storage — could be a kind of green New Deal. It would not only cut down on destructive wildfires, it could create enormous numbers of new jobs all over the state. And it could speed up our pursuit of statewide emissions-free energy. Establishing an alternative to the massive, interconnected grid that delivers power would also add security to a system vulnerable to other natural disasters as well as cyber threats. It might expand over time to include areas not threatened by wildfire.
Setting up off-the-grid power sources would be costly, but it's a much smarter investment than repeatedly bailing out utilities after fires. As massive as the project would be, it compares in scale and cost to wildfire losses in just the last two years.
By my back-of-the-envelope calculation, it would cost something like $30 billion to install individualized backup power for 1 million of the highest-risk homes if the costs were fully funded by the state. But the state wouldn't have to foot the whole bill; it could provide very low-cost financing, paid back over many years on customer utility bills, while providing additional assistance to low- and moderate-income customers.
California can't afford to have more towns and neighborhoods destroyed or hollowed out by fire. Spending billions on alternatives to utility-delivered power might have seemed like an unaffordable luxury once, but now it's clear what doing nothing will mean: more lives, livelihoods and communities lost in what the governor calls the "new abnormal."
Michael W. Wara is the director of the Climate and Energy Policy Program at the Woods Institute for the Environment at Stanford University.
Follow the Opinion section on Twitter @latimesopinionand Facebook
---
Life is stressful. Our weekly mental wellness newsletter can help.
You may occasionally receive promotional content from the Los Angeles Times.