To reduce wildfires, Edison seeks $582 million from ratepayers for improvements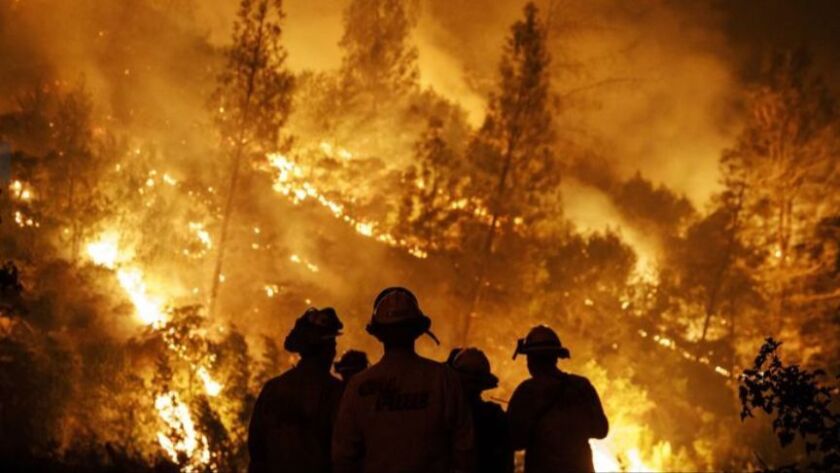 In a sweeping effort to reduce the wildfire risk from electric power lines, Southern California Edison said Monday that it wants to spend $582 million for a series of improvements to its grid that likely would mean higher bills for ratepayers.
The utility giant's actions underscore power companies' growing concerns over their fire liability. In the last few years, the state has experienced its largest and most destructive blazes on record.
Another huge California utility, Pacific Gas & Electric, faces up to $15 billion in losses from last year's wine country fires, which destroyed more than 8,000 homes and killed more than 40 people. Residents have blamed downed power lines for the fires, though officials have not completed their investigation of the causes.
Many of California's most destructive fires have been fueled by powerful winds, which in some cases have caused power lines to snap off and spark blazes. Utility companies are on the hook for hundreds of millions of dollars in losses, and officials have warned that the losses will grow if the agencies can't find ways to reduce the risks.
"We've seen with fires in recent years we're basically upping our estimate of what the risk exposure is. When we're assessing the risk versus the benefit, it's leaning more toward the side of spending money," UC Berkeley electrical engineering professor Alexandra von Meier said.
Edison is asking the state for permission to spend the $582 million on improvements, including strengthening poles and using better technology to determine when winds put the power grid at risk.
Over the next two years, an estimated 600 miles of exposed power lines would be replaced with insulated ones that would not spark if they came in contact with a fallen branch or a Mylar balloon.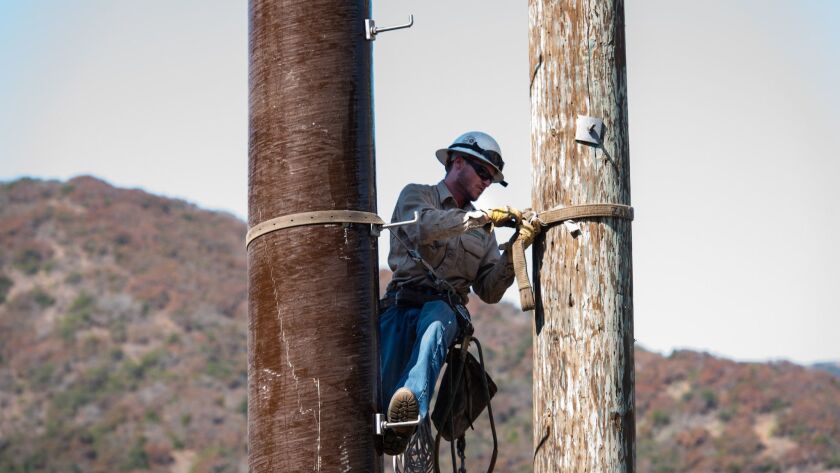 Officials said ratepayers would see their bills increase between 81 cents and $1.20 a month, but far less than if Edison is found liable for a catastrophic fire like those that hit Sonoma, Napa, Lake and Mendocino counties last October. Edison is estimated to face up to $4 billion in losses from the Thomas fire, which hit Ventura and Santa Barbara counties in December, and the Montecito mudslide that occurred a month later.
PG&E's potential losses from the October blazes were so vast that the utility said it faced possible bankruptcy if it did not get some relief from the state. Those concerns prompted the state Legislature last month to approve a bill that would allow PG&E to borrow money for its 2017 wildfire costs while using funds collected from ratepayers to pay back the loan.
PG&E lobbied lawmakers heavily for help, warning that Wall Street investors could downgrade the company's credit rating without relief from the Legislature. The bill was controversial, with some calling it a bailout for a utility that should have been better prepared to deal with the wildfire danger.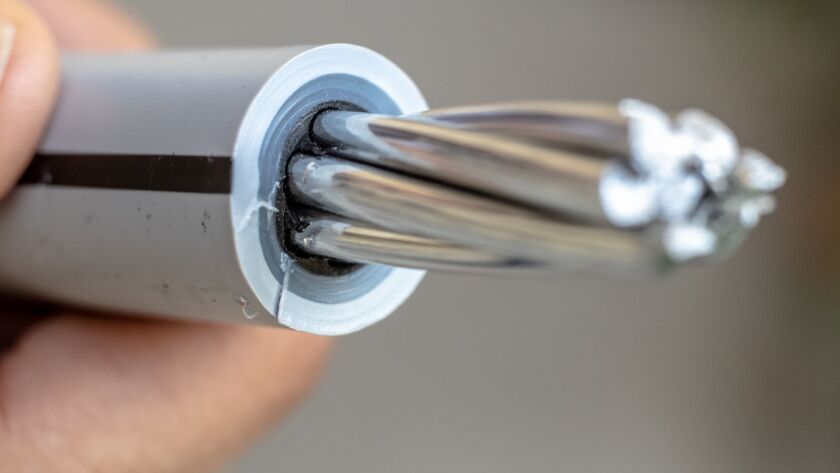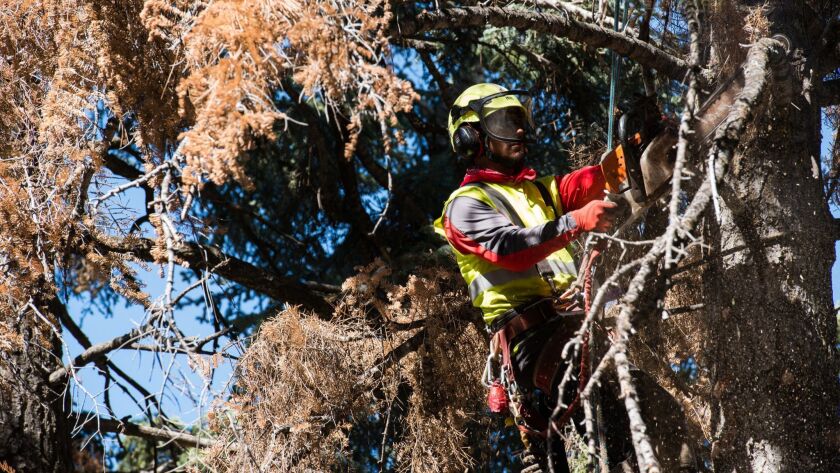 Wildfire liability has been a growing problem for California's utilities. San Diego Gas & Electric has spent more than a decade seeking permission to pass along to ratepayers $379 million in costs from the deadly 2007 fires in San Diego County, which destroyed hundreds of homes. SDG&E spent $2.4 billion to resolve more than 2,000 lawsuits related to those fires, but the utility insists the blazes were ignited by factors beyond its control — including extreme Santa Ana winds and a tree limb that fell onto an SDG&E line due to high winds.
The upgrades Edison is proposing would reduce those risks, said Bill Chiu, the director of Edison's Grid Resiliency and Wildfire Safety program.
"In the state of the 'new normal,' there's this tremendous urgency to act quickly. Eight of the 20 most destructive fires in California happened since 2015," Chiu said. "Even though wildfires start for many reasons, utility power lines is almost 10%. We feel it's necessary we do our part."
Along with insulated wiring, Edison will change out more than 15,000 current limiting fuses to new ones that stay cooler and respond faster during interruptions. New remote-controlled automatic reclosers that prevent lines from reenergizing during an interruption will also be installed.
High-definition cameras that can monitor remote parts of the grid are being added, as are 850 weather stations that will provide on-the-ground data for utility operators.
All of those upgrades are the kind of infrastructure investment that the utilities — and through them, consumers — should come to expect in the future, von Meier said.
San Diego Gas and Electric is planning to spend $3 million this year on wildfire safety, in addition to the $1 billion it has spent on the issue since 2007. The utility's fire prevention plan outlines a broad overhaul of the system that includes putting power lines underground and replacing wooden power poles with concrete ones.
PG&E officials said the utility has spent more than $2 billion on vegetation management and infrastructure maintenance since 2013.
Exposed lines and falling power poles contributed to the deadly fires that swept across Northern California in October 2017, according to the California Department of Forestry and Fire Protection.
PG&E equipment was found to have played a role in more than half of the fires that broke out between Oct. 8 and 9, including branches falling into lines power lines for the Nuns, Atlas and Redwood fires, which killed 18 people. A cause has yet to be determined for the Cascade and Tubbs fires, which killed four and 22, respectively.
Almost all of those fires broke out in the middle of the night or early-morning hours amid high heat and gale-force winds that sent flames running across mountain slopes and between hillside canyons like a blowtorch.
In a perfect world, the kind of equipment Edison and other utilities are looking to add would be enough to stave off that kind of disaster. While they'll certainly help, von Meier said, ultimately it's playing the odds.
"It's like getting to zero auto accidents on the freeway. You'd like to get there, but short of insulating every single mile of conductor and having new protection systems everywhere, it's just not realistic," she said. "In the long run, the best investment that the electric utilities and we all can make to prevent wildfire damage is investing in climate change mitigation. In the long run that's what's really targeting the cause of a lot of these fires."
Another tactic power companies are increasingly employing is shutting down power in high-risk areas when winds get too strong. SDG&E has done this, to mixed reviews from residents.
Von Meier said she has homes in Edison and PG&E territory. She has received notices from both informing her that the power might be turned off during heavy winds.
"I'd much rather the utility shut it off preemptively than risk a fire or having a fire exacerbated," she said.
Twitter: @JosephSerna
---
UPDATES:
4 p.m.: This post was updated with new details and quotes from experts.
This article was originally published at 2 p.m.
---
For reporting and exclusive analysis from bureau chief John Myers, get our California Politics newsletter.
You may occasionally receive promotional content from the Los Angeles Times.