Wilshire Grand Center, tallest skyscraper in the West, debuts in downtown Los Angeles
Angelenos watched it rise in the downtown skyline for months. (June 26, 2017)
At 1,100 feet and the tallest building west of the Mississippi, L.A.'s newest skyscraper is hard to miss.
With a sweeping sail of a roofline, it stands out by day among the flat tops of its tall rivals and is illuminated at night with an enveloping expanse of ever-changing colored lights.
But for its owner, the best view of the Wilshire Grand Center is looking east from Koreatown, where the just-completed $1.35-billion tower can be viewed as a symbol of how much Korean immigrants and their descendants have shaped their adopted city of Los Angeles.
"From Olympic Boulevard, you can directly see this building, the tallest and in the center" of the downtown skyline, said Yang Ho Cho, chairman of Korean Air. "All the Korean community in L.A. is very proud of this."
At the peak of visibility is the airline's logo, emblazoned atop the the 73-story building that houses an InterContinental hotel, several floors of leasable office space and five restaurants.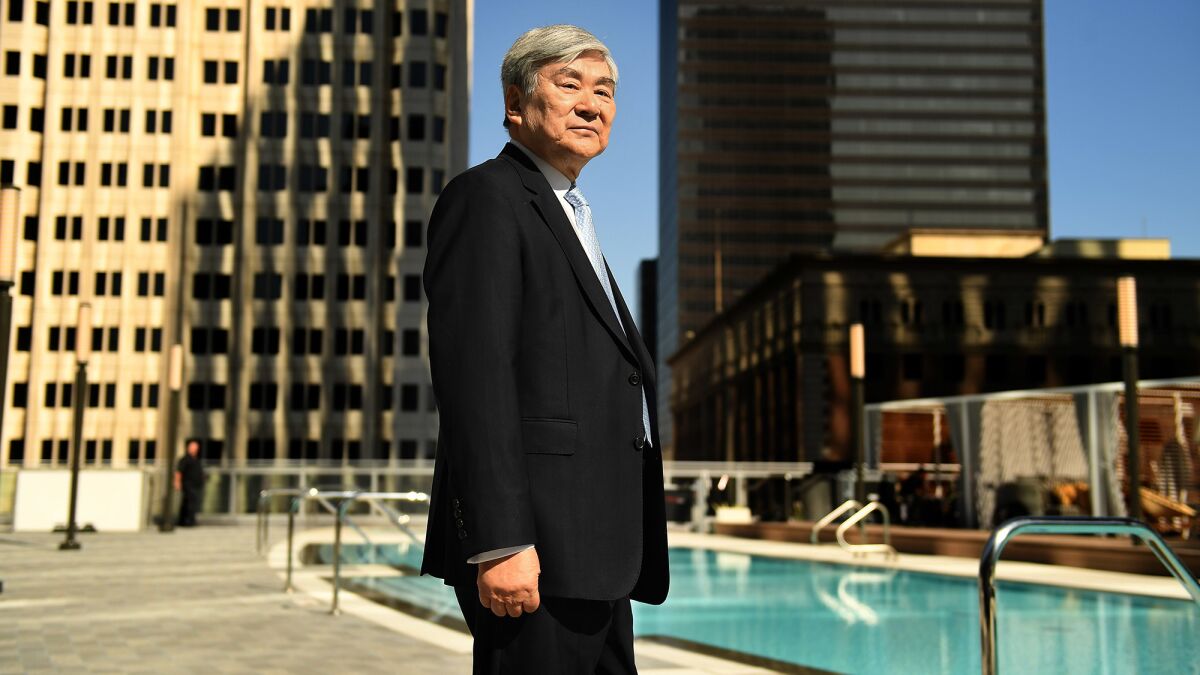 Cho, who also heads Korea's Hanjin Group, the airline's largest shareholder, celebrated the grand opening of the skyscraper on Friday evening with parties and a florid show of the building's dancing LED lights visible for miles.
"The Wilshire Grand is a new tent pole for Los Angeles," said Mayor Eric Garcetti a few days before it opened.
Indeed, the building with a curling lobby skylight that looks like a ski jump reflects the resurgence of downtown Los Angeles as the city's cultural center and economic engine. New apartments and condos are attracting thousands of residents — and the long-suffering white-collar office market is starting to turn around as more businesses follow.
For all its scope, the Wilshire Grand Center is only one of several large-scale real estate developments being built by foreign investors, including Chinese and Canadians who have homed in on Los Angeles in recent years.
For Cho, 68, the completion of the Wilshire Grand Center ends an odyssey that began in 1989 when he and his father, Choong Hoon Cho, the founder of the family's Hanjin business empire, paid $168 million for a hotel they hoped would serve travelers arriving on their flights from Korea.
That community in Los Angeles and Orange counties is now home to an estimated 225,000 Korean immigrants, the most in the United States.
The Chos bought the former Statler Hotel, built in 1952 at Wilshire Boulevard and Figueroa Street, because they thought it was a prime location. For more than two decades, it wasn't. Downtown's hotel market was relentlessly weak.
Cho's company spent $40 million on improvements to the hotel, which was renamed Wilshire Grand, but occupancy didn't improve much. Cho held on through economic recessions.
"Everyone told me to sell in tough times," he said. "I'm stubborn. I don't believe in 'right' decisions. I believe in making decisions and then making them right."
Cho eventually decided that it would be best to level the old hotel and start over. Los Angeles architecture firm AC Martin was chosen to design the building and manage construction.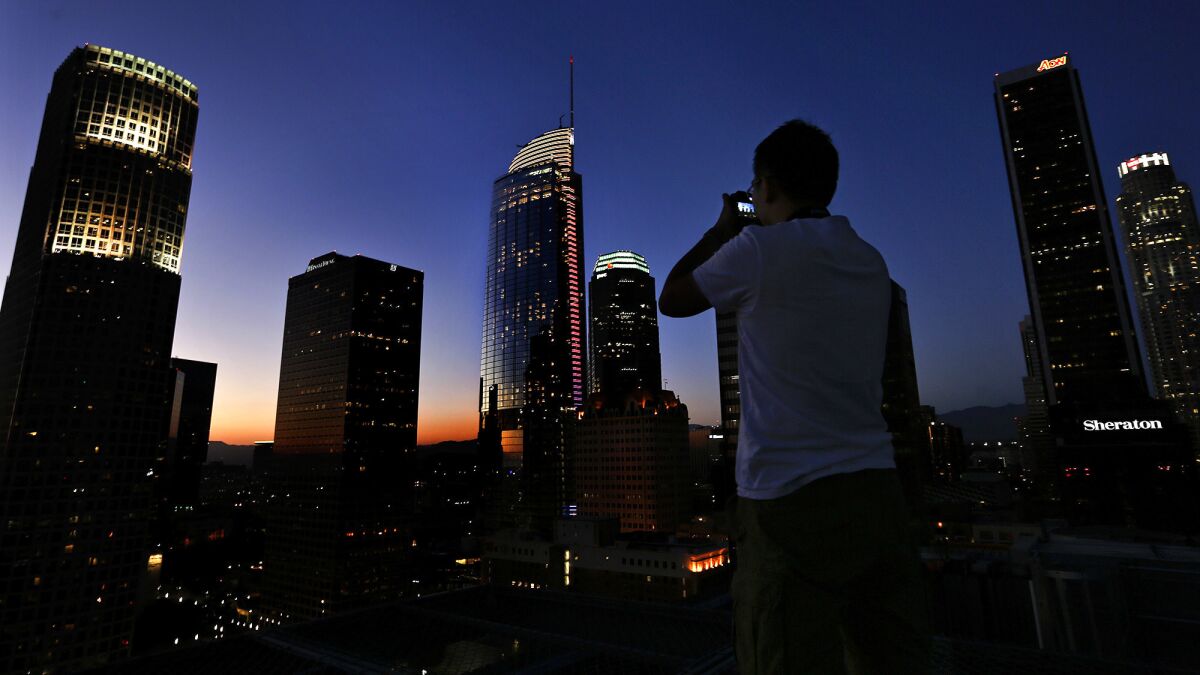 The project was originally envisioned as two smaller towers but was eventually combined into one grand architectural statement at the suggestion of Cho's daughter Heather, a graduate of the USC Marshall School of Business who managed the family's hotel operations.
Demolition of the 16-story original hotel began in 2013 and the final piece of steel was put in place last September, but along the way Cho faced more than just the enormous challenges of raising the skyscraper and a connected seven-story building that houses ballrooms, a pool and a restaurant.
Hanjin, which was founded in 1945, grew by serving the U.S. military and pioneering containerized freight shipping for South Korea. But the family's shipping business was hit hard by last decade's recession and it collapsed last year, leaving its cargo ships temporarily stranded outside ports worldwide for lack of fees.
Korean Air was the largest shareholder in its sister company, Hanjin Shipping, which Cho personally tried to rescue by lending it $46 million of his own money, according to Reuters. But that was to no avail as a South Korean court in February ruled that the carrier's assets should be sold off.
His timing on the Wilshire Grand Center has been more fortunate. After years as a backwater, the downtown hotel market has become a destination of choice for business, leisure and convention travelers to Los Angeles.
The InterContinental has 889 rooms, with nightly rates around $250 and up. Guests check in on the 70th floor, in front of floor-to-ceiling windows where blocks of the city can be seen far below. There is a 24-hour cafe and a French steakhouse on the 71st floor that Cho's architect Chris Martin describes as "Marie Antoinette meets caballero California" in style.
Though Cho is proud of the Korean provenance of the tower, he deliberately prioritized American influences in the design. The curved glass top, for instance, reflects the shape of one of California's most famous rock formations, Half Dome in Yosemite.
"This is in the middle of Los Angeles, California, U.S.A.," he said. "We want it to be Western." Korean touches are mostly limited to a fancy Korean restaurant with a traditional Korean drum outside.
Cho and his team "were really hard taskmasters at times," Martin said, with Cho weighing in even on small details.
"We keep moving toward perfection," is how Cho put it.
The Wilshire Grand's InterContinental joins a booming hotel market downtown, where developers are converting historic buildings into boutique hotels and erecting new glass towers.
A short walk away is the Hotel Indigo — a 350-room hotel that opened earlier this year at the massive Metropolis project. More rooms are on the way, including the 184-room Park Hyatt hotel at the upcoming Oceanwide Plaza project across the Staples Center.
The development follows years of criticism from city boosters that downtown lacked enough hotel rooms to attract events to the Convention Center.
Ernest Wooden Jr., president of the Los Angeles Tourism & Convention Board, called the rooms at the Wilshire Grand "critically important to our ability to attract larger conventions."
Even with all the new hotels opening up, downtown should be able to absorb the rooms with little problem, said Bruce Baltin, managing director of CBRE Hotels' Consulting.
"We know downtown has come very far," he said. "What was one of the weaker sub-markets for decades is now one of the strongest."
That's because in many ways, downtown is now defining "the image of Los Angeles," Baltin said.
He said occupancy is around 78% downtown and it should dip a bit with all the new product but get back up to that level in two years.
The downtown office market is less robust, but as the first new skyscraper with offices completed since 1992, the Wilshire Grand Center has cachet.
When the project was envisioned as two buildings it included hotel rooms, condos and 1.5 million square feet of offices, but the single tower has far fewer offices and no residences.
Cho has 372,000 square feet to rent between floors 11 and 29 and so far has leases or tentative agreements for about half of the space to such tenants as real estate brokerage Cushman & Wakefield and the Southern California Assn. of Governments, he said.
Office vacancy downtown decreased from 17.2% in the first quarter a year ago to 16.5% this year, according to CBRE Group Inc.
To be considered a success, the Wilshire Grand would need to keep its hotel rooms mostly occupied and fill the offices at rents above the rest of the market. Potential tenants have expressed interest in more space than there is available, Cho said.
Although several U.S. developers are building projects downtown, foreign investors such as Korean Air are among the biggest players.
Construction on the $1-billion mixed-use Grand Avenue Project is expected to begin next year on Bunker Hill after New York developer Related Cos. received a financial infusion from and established a partnership with one of China's largest state-owned companies, China Communications Construction Group.
Other moneyed Chinese developers such as Greenland Group, Oceanwide Holdings and Shenzhen Hazens Real Estate Group have already launched mega mixed-use projects that are changing the skyline with residences, hotels and stores.
Onni Group of Vancouver, Canada, has billions of dollars' worth of mixed-use developments underway or in planning stages downtown, including a 49-story tower on Olive Street that will be one of the tallest residential towers in California.
On Thursday, Cho stopped on the open-air lounge atop the Wilshire Grand Center to snap a photo of the spire that rises about 175 feet above the building, giving it the bragging rights as the tallest in the West, surpassing the U.S. Bank Tower on Bunker Hill, which opened in 1989.
Korean Air passengers arriving on more than 30 flights a week from Inchon will be able to see it from the air as their planes circle into LAX, he said.
"After 25 years," he said, "I have achieved my dreams."
To read the article in Spanish, click here
Twitter: @rogervincent
Times staff writers Andrew Khouri and James Rufus Koren contributed to this report.
ALSO
Travis Kalanick is no longer Uber's CEO, but drivers still want him on the hook in lawsuit
Google takes 2 steps to protect user privacy
It was hot this week. But were California officials 'crying wolf' with alerts that drove up electricity prices?
Sign up for the California Politics newsletter to get exclusive analysis from our reporters.
You may occasionally receive promotional content from the Los Angeles Times.