Thousands join #WomenBoycottTwitter after it suspended Rose McGowan's account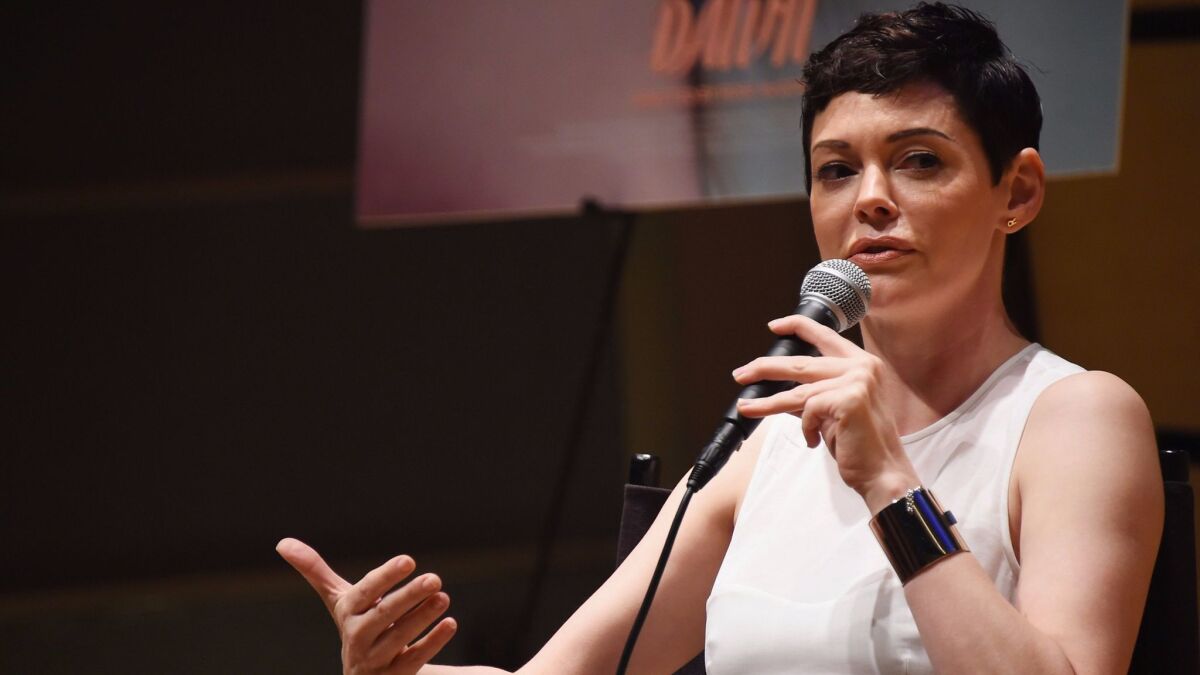 Thousands are rallying in support of actress Rose McGowan and calling for a Twitter boycott after her account was temporarily suspended as she used the social media platform to advocate against sexual assault and harassment in Hollywood.
Many used the hashtag #WomenBoycottTwitter as the call to action, asking users to stop using the social media platform for 24 hours beginning Friday at midnight in protest of women's voices being silenced.
McGowan tweeted, "At midnight we RISE."
The move comes after the actress' Twitter account was suspended Wednesday night, after she had been tweeting about sexual assault in light of the Harvey Weinstein scandal. When she learned her account was turned off, she took to Instagram and shared an image that said she had violated Twitter's rules.
It also stated that McGowan's account would be reinstated after 12 hours, which could be hastened by deleting the offending tweets.
Though the tweets that resulted in her suspension weren't initially identified, Twitter clarified the issue to The Times.
"We have been in touch with Ms. McGowan's team," Twitter's chief spokesperson told The Times in an email Thursday. "We want to explain that her account was temporarily locked because one of her Tweets included a private phone number, which violates of our Terms of Service. The Tweet was removed and her account has been unlocked. We will be clearer about these policies and decisions in the future.
"Twitter is proud to empower and support the voices on our platform, especially those that speak truth to power," the spokesperson added. "We stand with the brave women and men who use Twitter to share their stories, and will work hard every day to improve our processes to protect those voices."
Many immediately criticized Twitter, which has been inconsistent in how it enforces its rules. Fox Business Network anchor Lou Dobbs, for example, once tweeted the address and phone number of Jessica Leeds, a woman who came forward last year to accuse Trump of groping her — but his account was not suspended.
On Thursday, shortly after her account became active, she accused Weinstein of raping her. She also pleaded with Amazon founder Jeff Bezos in a series of tweets to "stop funding rapists." The company said in a statement that it is reevaluating its projects with the Weinstein Co. And in a separate matter, it suspended Roy Price, the chief of Amazon Studios, after "The Man in the High Castle" producer Isa Hackett told the Hollywood Reporter that he had repeatedly propositioned her and made lewd comments.
The #WomenBoycottTwitter hashtag was trending Thursday night as women and men wrote messages of support for the actress and women.
Several celebrities also joined the cause, including Chrissy Teigen, Kathy Griffin, Michael Ian Black and McGowan's "Charmed" co-star Alyssa Milano.
"Ladies. Let's do this. #WomenBoycottTwitter. Not because of hate but because I love this platform and know it can be better," tweeted Teigen, who has nearly 8 million followers on Twitter. "I'm boycotting for many reasons. To stand with the victims of sexual assault, online threats and abuse."
She said she was also boycotting because President Trump "can tweet nuclear threats of war I can't even see." Trump, a frequent target of Teigen's criticism, has blocked her on Twitter.
Times staff writer Libby Hill contributed to this report.
ALSO
In Hollywood, what should've been scandal was long met with a shrug. A new outcry has changed that
Jane Fonda 'ashamed' she didn't speak up about Harvey Weinstein sooner
Harvey Weinstein went from power player to pariah in less than a week. Here's how it happened