Space start-up Xcor Aerospace fails to find a backer, files for bankruptcy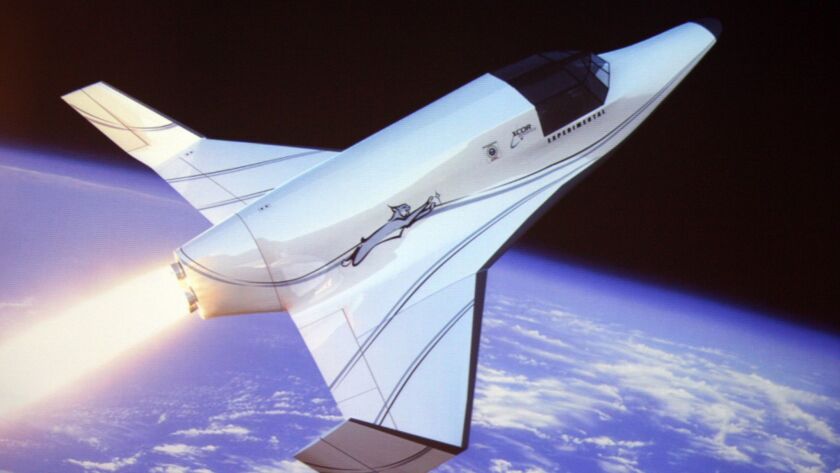 Once a darling of the Mojave aerospace start-up scene, space plane builder Xcor Aerospace has filed for Chapter 7 bankruptcy.
A court document filed last week with the U.S. Bankruptcy Court for the Eastern District of California says the company has more than 100 creditors and assets estimated between $1 million and $10 million.
Xcor's liabilities are estimated in the filing to be between $10 million and $50 million.
In a message sent last week to investors and company shareholders, Xcor Chief Executive Michael Blum and Chairman Tom Burbage said their effort to "find a financial future for Xcor has not succeeded."
The company said it had had "promising" discussions about potentially joining a consortium led by a "large aerospace firm" that would develop space access capabilities in Britain, and also held extensive talks with several groups of investors who were interested in developing a space tourism business.
As recently as two weeks ago, a new party had expressed interest in Xcor but "did not have the financial capabilities initially portrayed to us," the letter states. Ultimately the company said its senior secured creditor became "difficult to work with, necessitating a bankruptcy filing."
"Today it is my sad duty to inform you that Xcor has failed," the letter states. "I am sorry that XCOR has let you down. I share your disappointment."
Nearly 10 years ago, Xcor unveiled plans for its Lynx suborbital space plane that was intended to take tourists to the edge of space for at least $100,000 a ride.
The company was seen as a rival to British billionaire Richard Branson's space tourism start-up, Virgin Galactic, and even got the attention of NASA, which awarded Xcor a contract that did not provide funds but indicated the agency's interest in eventually purchasing flights from the company to take experiments into suborbital space.
But Xcor underestimated the project's complexity and the funding needed to develop the Lynx. Though Xcor also had an engine business, analysts said it did not have a diverse customer base.
In 2015, Xcor relocated its headquarters from Mojave, Calif. to Midland, Texas. Last year, it said it would suspend construction on the Lynx space plane and laid off 50 to 60 employees — about half of the company's workforce. Over the summer, the company said "adverse financial conditions" forced Xcor to terminate its remaining employees.
Twitter: @smasunaga
---
Your guide to our new economic reality.
Get our free business newsletter for insights and tips for getting by.
You may occasionally receive promotional content from the Los Angeles Times.