Fed will wait to raise interest rates, Janet Yellen signals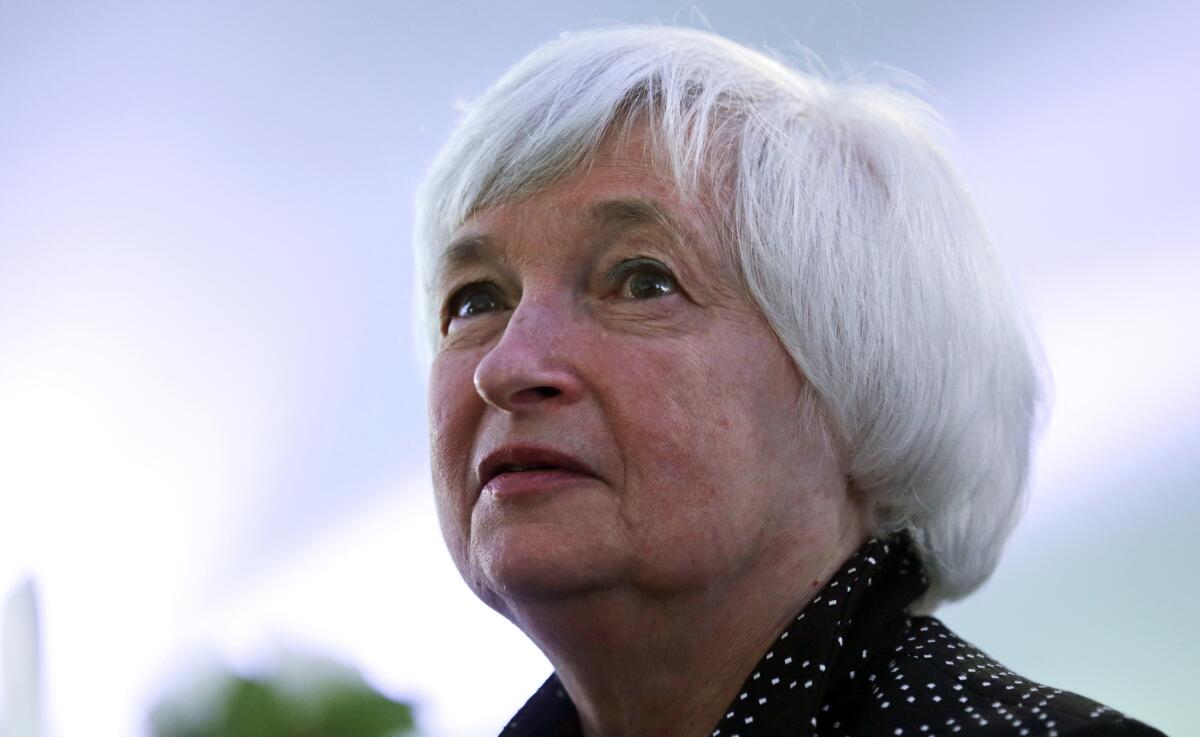 Reporting from Washington —
Federal Reserve Chairwoman Janet L. Yellen on Monday called the surprisingly weak May jobs report "disappointing" and signaled that central bank policymakers would wait at least a month on another interest rate hike.
In her last public comments before next week's Fed meeting, Yellen told the World Affairs Council of Philadelphia that "recent signs of a slowdown in job creation bear close watching."
Yellen said she expected the economy to continue improving and that "further gradual increases in the federal funds rate will probably be appropriate."
But Yellen notably didn't say she expected such a rate increase "in the coming months" as she did in comments on May 27. Those remarks came before Friday's Labor Department report showing the economy added just 38,000 net new jobs last month.
May's job creation was the worst since 2010 and shocked analysts who had been anticipating the economy added about 158,000 net new positions.
SIGN UP for the free California Inc. business newsletter >>
The 38,000 figure was pushed down by a Verizon strike last month that has ended. But even taking those temporarily unemployed workers into account, the job creation was anemic.
Yellen cautioned that "one should never attach too much significance to any single monthly report." She indicated that she remains optimistic about the health of the labor market and the U.S. economy.
But Yellen said the May jobs report – which she also described as "concerning" and a "surprise" – raised some key questions that she and her colleagues "will be wrestling with."
"Is the markedly reduced pace of hiring in April and May a harbinger of a persistent slowdown in the broader economy?" she said. "Or will monthly payroll gains move up toward the solid pace they maintained earlier this year and in 2015?"
Chris Rupkey, chief financial economist at Union Bank in New York, said Yellen's speech "largely rules out a move in rates next week."
"July is not a strong bet either," he said. "The Fed will want to see some more data first, and one more jobs report before the July meeting is unlikely to resolve the extent of the two-month slowdown in jobs."
Rupkey and other analysts predicted the Fed would wait until at least September to nudge up the rate again after hiking it in December for the first time in seven years.
Michael Gapen, chief U.S. economist at Barclays, said Yellen's "lack of specificity on timing keeps the door open for a July rate increase," but he believes September is more likely.
Earlier Monday, another Fed policymaker also called May's jobs report "disappointing" and indicated he wanted to hold off on raising the rate at the June 14-15 meeting.
Eric Rosengren, president of the Federal Reserve Bank of Boston and a voting member of the central bank's policymaking committee, said economic data recently have been "choppy" and that "it will be important to see whether the weakness in this report is an anomaly or reflects a broader slowing in labor markets."
Also on Monday, Dennis Lockhart, president of the Federal Reserve Bank of Atlanta, said central bank policymakers should wait until at least July to enact a rate hike.
"I don't personally see a lot of cost to being patient to the July meeting at least," Lockhart, who does not have a vote this year on monetary policy, told Bloomberg Television. "I think we can be watchful and see how things develop over the next few weeks."
In addition to determining if May's jobs report was an anomaly, waiting would allow Fed officials to see the results of a British vote on leaving the European Union. The June 23 referendum could roil financial markets if voters opt to pull out of the EU.
In the days before the jobs report, Yellen and other Fed policymakers had indicated they could inch up their benchmark short-term interest rate as soon as this month.
Because of those statements, a widely watched gauge by the CME Group futures exchange showed investors put the odds of a June rate hike at about 21% before the jobs report was released Friday.
The odds dropped after the report and were down to 5.6% on Monday before Yellen's speech. After she spoke, the odds fell to 1.9%.
On Monday, Yellen cited the British vote as well, saying a decision to "exit the European Union could have significant economic repercussions."
Yellen declined to weigh in on another issue with such potential impact.
She was asked during a question-and-answer session after the speech if a victory this fall by presumptive Republican presidential nominee Donald Trump would cause "an economic crash all over the world."
Yellen laughed and in unusually blunt language for her said, "I'm sorry, I've got nothing for you on that."
ALSO
The economic recovery just turned 7, and here's why it feels so weak
Car thieves love L.A.: California leads the nation (again) in auto thefts
Mark Zuckerberg's Twitter account is hijacked
Follow @JimPuzzanghera on Twitter
---
UPDATES:
12:27 p.m.: This article has been updated with additional information from the CME Group's FedWatch tool and reaction from Michael Gapen, chief U.S. economist at Barclays.
10:51 a.m.: This article was updated with additional quotes from Federal Reserve Chairwoman Janet Yellen and from Chris Rupkey, chief financial economist at Union Bank in New York.
This article originally was published at 9:59 a.m.