Trump meets with Janet Yellen as decision on next Fed chair nears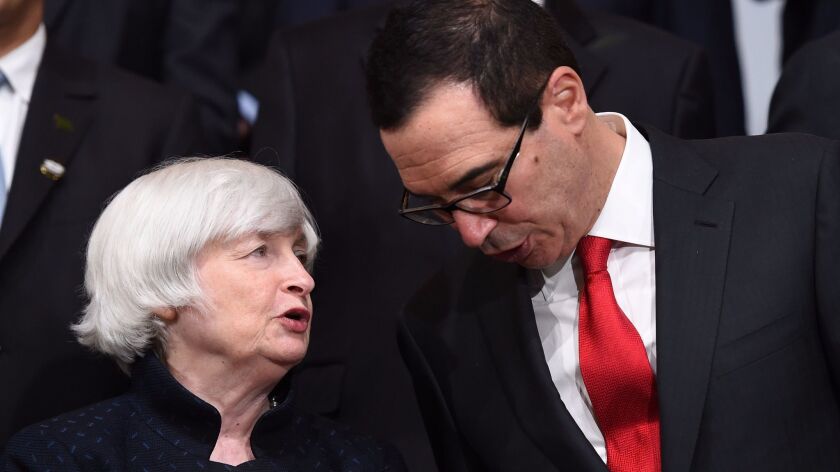 Reporting from Washington —
President Trump met at the White House on Thursday with Federal Reserve Chairwoman Janet L. Yellen as he neared a decision on who will lead the central bank after her first four-year term ends in February.
Yellen, 71, a Democrat nominated to the job by former President Obama, is one of five candidates and was the last to meet with Trump, a White House official said.
Trump told reporters this week he was nearing a decision on a job that could have a major influence on his efforts to boost economic growth by reshaping the world's most powerful central bank.
"I would say within those five you'll probably get the answer," Trump said Tuesday. "And I'll be making the decision over the next fairly short period of time."
The other candidates Trump reportedly is considering are more conservative: Fed governor Jerome Powell, Stanford economist John Taylor, former Fed governor Kevin Warsh and top White House economic advisor Gary Cohn.
Asked which candidate was his favorite, Trump said, "Honestly, I like them all .… I have a great respect for all of them."
Yellen, a former UC Berkeley economics professor, became the first woman to lead the century-old Fed when Obama tapped her in 2013.
Under Yellen's leadership, the Fed has been slowly raising its benchmark interest rate, a strategy opposed by many conservatives.
Taylor and Warsh would be inclined to raise interest rates faster in an attempt to head off potential inflation, while the policies of Powell and Cohn are unclear. Powell, a member of the Fed's monetary policymaking committee, has supported Yellen's interest rate strategy.
Trump probably is pleased that the rate remains historically low because that provides additional stimulus to the economy. He described himself in 2016 as a "low-interest person."
But Trump also wants to scale back some of the stricter financial regulations put in place after the 2008 financial crisis. Yellen has strongly backed most of those rules while the other candidates are likely to favor reducing them.
Trump was highly critical of Yellen during the 2016 presidential campaign, accusing her of keeping the Fed's key interest rate "artificially low" to help fellow Democrats Obama and Hillary Clinton.
"I think she is very political and to a certain extent, I think she should be ashamed of herself." Trump told CNBC in a September 2016 interview.
But Trump's views on Yellen softened after he took office. On July 25, about a week after Yellen had breakfast with Trump's daughter and advisor, Ivanka, the president said he was considering renominating her.
"I like her. I like her demeanor. I think she's done a good job," Trump told the Wall Street Journal. "I'd like to see rates stay low. She's historically been a low-interest-rate person."
But some analysts thought Yellen hurt her chances of renomination by strongly defending tougher financial regulations during an August speech.
Twitter: @JimPuzzanghera
---
Be your money's boss! Learn how to make a budget and take control of your finances with this eight-week newsletter course.
You may occasionally receive promotional content from the Los Angeles Times.