Trump's chance to reshape the Federal Reserve could be his biggest economic legacy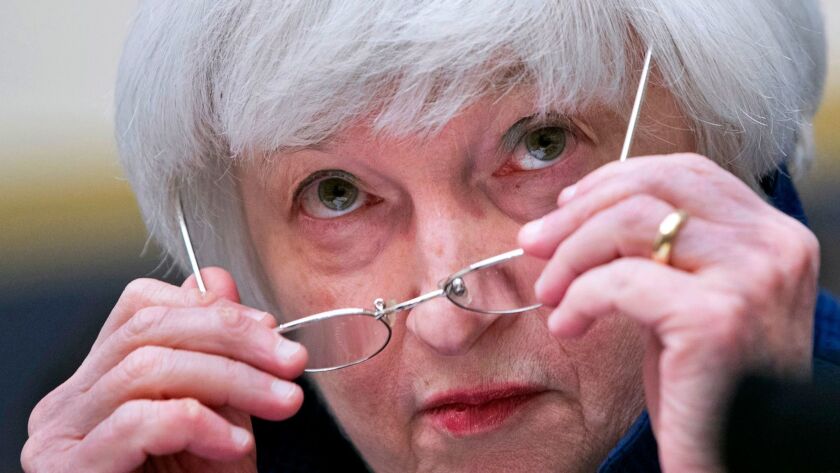 Reporting from Washington —
President Trump is betting he can turbocharge the U.S. economy with tax cuts and trade deals, but his greatest leverage to influence growth may rest with an unparalleled opportunity to reshape the world's most powerful central bank.
Because of a wave of vacancies, Trump will have the ability in the coming months to appoint as many as four people to seats on the seven-member Federal Reserve board, including the top two positions. That's in addition to his first Fed nominee, investment fund manager Randal Quarles, who is awaiting Senate confirmation.
With its power to move interest rates, regulate financial institutions and provide emergency lending, the Fed plays a pivotal role in stimulating the economy, encouraging job growth, controlling inflation and recovering from recessions. At the same time, a misstep or rash decision by the Fed has sometimes been blamed for a downturn.
Today the Fed is stewarding the economy at a time of unusual uncertainty as central bank officials try to gently unwind the dramatic steps they took after the Great Recession, without ending a long, but slow, economic expansion that some say is already overdue for a reversal.
"The amount of turnover, the number of vacant seats, I think this is historically unprecedented — certainly in my lifetime," said Princeton economist Alan Blinder, 71, who was the Fed's vice chairman from 1994 to 1996.
A lot is riding on who will be the next Fed chair. Janet L. Yellen, a former UC Berkeley economics professor, became the first woman to lead the bank in its century-old history. Her four-year term expires in February and it's not known if Trump will renominate her. The decision has been complicated by an apparent falling-out between Trump and his top economic advisor, Gary Cohn, who had been seen as Yellen's likely replacement.
Typical of his administration, Trump is approaching the decision differently than other recent presidents. In a nod to market stability and confidence, recent presidents have kept Fed leaders in place, even if appointed by the rival political party. And they've telegraphed their decision much earlier.
Trump, by contrast, has replaced the usual narrow search of establishment economists with a broader contest of candidates, including a former banker who has spoken favorably of returning the United States to the gold standard.
Trump also is considering Yellen — something that seemed unthinkable a year ago, when he accused her during the campaign of keeping the Fed's benchmark interest rate "artificially low" to help fellow Democrats President Obama and Hillary Clinton. He also said Yellen was "very political" and "should be ashamed of herself."
Trump told reporters last Thursday, "I do respect Chairman Yellen a lot. I like her and I respect her, but I haven't made that decision yet."
Though she opposes his push to scale back financial regulations, Yellen might be Trump's best bet for keeping interest rates low, which as president he now supports as a way to produce economic growth.
Renominating the well-known policy maker could also reassure investors warily eyeing all the Fed vacancies, said Michael D. Bordo, director of the Center for Monetary and Financial History at Rutgers University.
"It seems to me if you're a new president — and I know Trump's much more of a wild card than anyone we ever had and might not be thinking in these terms, but his advisors probably are — you don't want to give people anything more to worry about," Bordo said.
But Yellen might not be interested in another term — particularly if Trump stacks the board with conservative members who could come with competing economic theories and form a majority. Yellen has been known to be particularly collegial in her approach to building consensus on monetary policy.
"I don't think her chances are very good," said Blinder, who is friends with Yellen. "She is, among other things, not going to give Donald Trump whatever loyalty oath he wants. What he would ask of the new Fed nominee, I don't know. But I think she'd be disinclined to grant it."
Yellen has declined to comment on her future plans. Alice Rivlin, a former vice chair at the Fed under President Clinton and now with the Brookings Institution, says it's very possible that Yellen no longer wants the position. "It's a wearing, difficult job," Rivlin said, adding that Yellen would have to ask herself if she wants "to take it on for another four years."
Yellen, 71, is likely to be pressed on her plans when she holds her quarterly news conference Wednesday at the conclusion of the Fed's two-day policy meeting. The meeting will be the last for her top ally on the board, Vice Chairman Stanley Fischer, whose recent unexpected announcement that he would step down next month added to speculation that Yellen would soon follow him out the door.
Joshua Feinman, chief economist and managing director at Deutsche Asset Management in New York, says Fischer has been "one of the key intellectual proponents" of reversing low interest rates and other stimulus efforts.
"His departure also does complicate the operation of the Fed and throws a further question mark about how is leadership going to change," Feinman said.
He predicted that Trump would nominate someone other than Yellen. "The chance to put your own guy there will probably carry the day," Feinman said.
In addition to holding interest rates steady, the Fed on Wednesday is expected to launch a long-awaited unwinding of the trillions of dollars in bonds that it bought to stimulate growth during the recession. The move is part of a carefully constructed strategy under Yellen to gradually reduce stimulus. But the recent hurricanes have added to the uncertainties about the economy, and a newly composed Fed board could further complicate those plans.
The Fed's reduction of assets will be a tricky maneuver. Rolling the bonds off the Fed's balance sheet too quickly could disrupt financial markets. Central bank policymakers also must decide if they will continue nudging up the benchmark federal funds rate to try to head off a potential jump in inflation.
Yellen has favored keeping interest rates low to try to continue boosting jobs and the broader economy. Conservative economists worry low rates will trigger more inflation and have pushed the Fed to raise them.
One of the candidates who appears to be under consideration to replace Yellen, or for a seat on the board, is John B. Taylor, a highly regarded economist at Stanford's Hoover Institution. He is the author of the Taylor Rule, which prescribes that interest rate changes follow the movement of inflation and economic output. Under that system, the Fed's interest rates today should be higher.
Cohn, a former Goldman Sachs executive who directs the White House's National Economic Council, was widely believed to be the front-runner. But now he appears to be on the outs after publicly criticizing Trump's response to the violence in Charlottesville, Va., where a counterprotestor at a white nationalist march was killed when a rally participant allegedly rammed his car into a crowd of people.
Meanwhile, Yellen's prospects may have received a boost from Trump's daughter, Ivanka, an unpaid assistant to the president and an influential advisor.
The two had breakfast at the Fed on July 17, according to Yellen's public schedule. A White House official said Ivanka Trump "reached out" to Yellen after reading a speech the Fed chairwoman made last spring about women's participation in the economy and barriers faced by women and minority small business owners. The Fed has declined to comment on the unusual meeting.
Eight days after their breakfast, Trump told the Wall Street Journal in an interview that he thought Yellen had done a good job as Fed chairwoman.
"I'd like to see rates stay low," he said. "She's historically been a low-interest-rate person."
Predictit, an online site where people can bet on political and financial developments, now has Yellen as the favorite to be the Fed chair under Trump. Kevin Warsh, a former Fed governor and also affiliated with Hoover, is second, followed by Cohn and Taylor.
A potential wildcard is John A. Allison, the former chief executive of the banking firm BB&T Corp. and an outspoken critic of financial regulation.
Allison is an ardent fan of author Ayn Rand, whose books such as "Atlas Shrugged" extolled the virtues of libertarian philosophy and free-market capitalism. And in 2014 he wrote that "we need a private, free-banking system based on a market standard such as gold," an idea that many mainstream economists consider impractical if not dangerous.
Judy Shelton, a member of Trump's economic advisory council during the campaign, says Trump might be inclined to renominate Yellen to lead the Fed. But with so many vacancies, Shelton can also see Trump nominating someone such as Allison as a board member to shake things up.
"If I were in his position and had a chance to shape the Fed, I might be inclined to reappoint her as a way to reassure global markets, but at the same time, introduce a nonconventional person at the Fed," said Shelton, an economist at the Atlas Network, a nonprofit organization of free-market groups. From her view, she added: "That's what the Fed needs, a kick in the rear."
don.lee@latimes.com | Twitter: @dleelatimes
jim.puzzanghera@latimes.com | Twitter: @JimPuzzanghera
ALSO
Trump's first speech at U.N. will focus on sovereignty and calls for reform
Nancy Pelosi shouted down at DACA news conference for working with Trump
Treasury inspector general looking into Steven Mnuchin's request for a military jet for his honeymoon
---
Your guide to our new economic reality.
Get our free business newsletter for insights and tips for getting by.
You may occasionally receive promotional content from the Los Angeles Times.