Big banks roll out Zelle, a money-transfer app to take on Venmo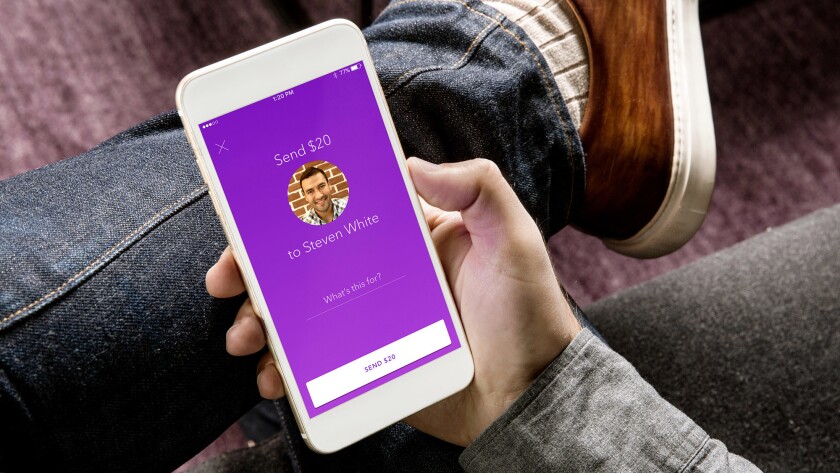 A consortium of banks, including Wells Fargo & Co., JPMorgan Chase & Co. and Bank of America Corp., are rolling out a new money-transfer app to take on Venmo and other mobile payment upstarts.
The app, dubbed Zelle, will offer the same kind of instant, person-to-person payments users of Venmo have been making for years — and that banks have been eager to offer as they try to stay relevant to younger customers.
Zelle users will be able to send money to almost anyone, as long as they have a Visa- or Mastercard-branded debit card. That's a feature that Venmo has long had but something new for the big banks, which have operated a more limited person-to-person payment system for several years.
The money would be transferred immediately and could be used to pay bills or make payments to friends or others.
In addition, customers of the 17 institutions that have founded the Zelle network, who count some 76 million customers, will be able to use Zelle to send money while signed into their bank's mobile apps.
In the long-term, the banks hope that essentially all U.S. financial institutions will be part of the network and that the app might not even be necessary.
"If we're successful, the Zelle app could go away at some point," said Lou Anne Alexander, group president of payment solutions at Early Warning, the bank-owned developer of the app. "The goal is to get every financial institution participating and getting this integrated into their own mobile apps."
The banks and associated payment processors previewed Zelle at an industry conference Sunday, prior to an official announcement Monday.
Early Warning traces its roots back to a 2011 push by Bank of America, Wells Fargo and JPMorgan Chase to build a system that would allow their customers to send money to each using phone numbers or email addresses rather than the older, clunkier system of using account and routing numbers.
That system, called ClearXchange, is still in use now, and processes about $175 million in payments each day, Alexander said. That figure that would put it ahead of Venmo, which processed $4.9 billion in payments in the most recent quarter, or about $54 million a day.
But ClearXchange has a big limitation: It only works if the parties sending and receiving money both had accounts at participating banks.
Zelle would replace ClearXchange and, like its predecessor, is designed to keep Square Cash, PayPal-owned Venmo and other mobile payment platforms from eating into bank business.
Though banks would likely prefer to have their own customers continue to use their own mobile banking apps, rather than giving them the option of a third-party app, Alexander said opening the system up to everyone was necessary.
"I think the banks look at the Zelle app as something that's needed for the immediate growth of the network," she said.
The Zelle app will roll out sometime in the first half of next year, though some banks will begin adding Zelle to their own apps sooner.
Already, Bank of America said in an announcement Monday that Zelle will be part of its mobile app starting in December.
Alexander estimated that Americans make about 1 billion person-to-person payments a year, some electronically but many in the form of cash or checks. That's everything from paying a babysitter or a gardener to splitting rent or a restaurant check.
Those payments totaled about $1.2 trillion in 2014, according to research and consulting firm Aite Group.
But not everyone is comfortable making them electronically. More than 40% of millennials made mobile payments in 2014, compared with only 12% of Baby Boomers, according to Aite.
Zelle's goal, she said, is to handle 60% of those payments — or some 600 million transactions annually — within the next three to five years as the practice becomes more common.
Times staff writer Jim Puzzanghera contributed to this report.
Follow me: @jrkoren
ALSO
California actually benefits a lot from trade with China
Elon Musk describes his vision for human habitats on Mars
The rise of the small screen is what's driving AT&T's $84.5-billion deal for Time Warner
---
UPDATES:
6:30 p.m. This article was updated with comments from Lou Anne Alexander, group president of payment solutions at Early Warning, and other details.
This article was originally published at 9:10 a.m.
---
Your guide to our new economic reality.
Get our free business newsletter for insights and tips for getting by.
You may occasionally receive promotional content from the Los Angeles Times.