Paul Matt, builder of the Broad museum and other L.A. landmarks, dies at 85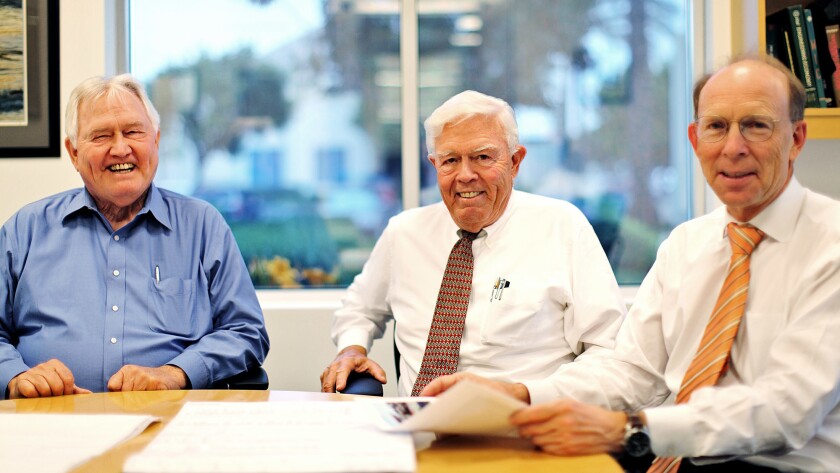 Builder Paul Matt — whose firm constructed the Broad art museum and other L.A. landmarks — died Friday after a nine-week battle with cancer. He was 85.
In a career that spanned seven decades, Matt worked on the Salk Institute in San Diego and the Crystal Cathedral in Orange County before co-founding Matt Construction in 1991 with his son and brother.
Matt Construction served as the general contractor for the Waldorf Astoria Beverly Hills, which opened last month, and the $125-million overhaul of the Petersen Automotive Museum, completed in 2015.
Other high-profile restorations include the Wilshire Boulevard Temple, the Hollywood Bowl and the Natural History Museum of Los Angeles County.
"He'd show up to work at 7 a.m. and wouldn't leave until 6:30 for 25 years," said son Steve Matt, chief executive of the firm. "He worked until he was 85. It was a fountain of youth for him."
The Santa Fe Springs company boasts 250 employees and annual revenue that tops $500 million.
Steve Matt said his father's greatest trait was knowing how to draw on other people's strengths, which led to a deep trust with everyone he worked with — including clients, architects and employees.
Architect Brenda Levin, who worked on the Wilshire Boulevard Temple with Paul Matt, said he became one of her biggest advocates when she started her own firm in 1980 — as "a woman in a man's industry."
"I could call him any time and he'd pick up the phone and give me good counsel," Levin said. "He was a mentor and a supporter to me and filled so many informal roles throughout my career."
Matt partnered over the years with various L.A. power players, including Eli Broad. The billionaire art collector chose Matt's firm to construct his $140-million Bunker Hill art museum, which opened in 2015, as well as the Broad Contemporary Art Museum at LACMA.
"We will miss Paul's collaborative spirit, innovative thinking and his willingness to take on the most challenging of projects," Broad said in a statement.
Born in Rome, N.Y., in 1932, Matt served in the Air Force before working as a welder on the Dalles Dam that spanned the Columbia River in Oregon. That's where he got his first taste of construction.
Then he began his professional career in the industry as a surveyor for the George A. Fuller Co. He was promoted to job superintendent in 1962 overseeing the Salk Institute in San Diego, working alongside legendary architect Louis Kahn.
Matt was employed at general contractor C.L. Peck for 22 years and worked on the Crystal Cathedral in Orange County and the Westin Bonaventure Hotel in downtown L.A. before he started his own company.
Matt is survived by his second wife, Cathy, and three children from first wife — Steven, Colleen and Neil — as well as brothers Francis, Alan, Karl and Vincent, sister Rose Marie and 11 grandchildren.
Matt, who was diagnosed with non-Hodgkin's lymphoma, died at Hoag Hospital in Newport Beach. He was a resident of the city for more than 45 years.
---
Your guide to our new economic reality.
Get our free business newsletter for insights and tips for getting by.
You may occasionally receive promotional content from the Los Angeles Times.