Retailers scramble to woo shoppers in final days before Christmas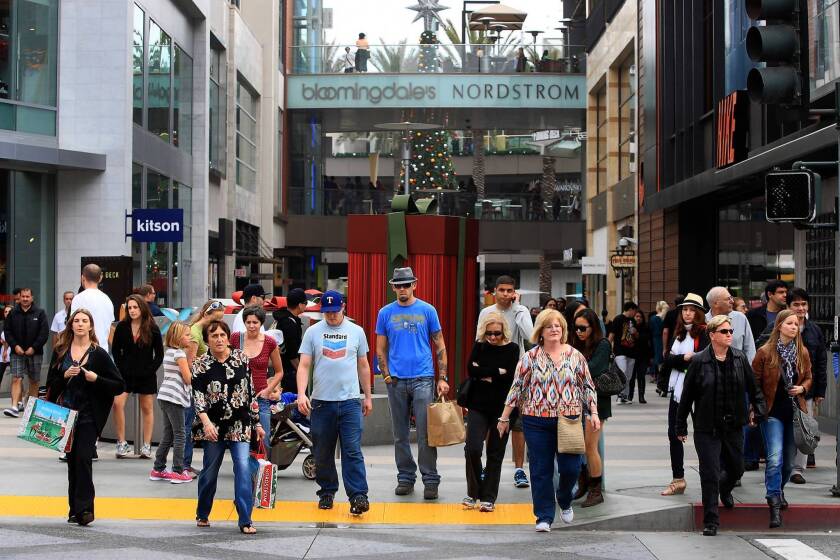 The holiday crunch is on at the mall, and Toys R Us is opening all its stores for 88 straight hours until Christmas Eve. And, for the first time, Macy's is staying open at most stores for 48 hours nonstop the final weekend before Christmas.
In the rush to woo shoppers, merchants this year are upping the ante. Banana Republic is giving away six Fiat cars. Kohl's is picking up the tab for a shopper in each of its stores every day until Christmas Eve. And Sport Chalet will have a scuba-diving Santa at some of its stores Saturday.
Across the nation, retailers are scrambling to draw customers into stores and online in the last days leading up to Christmas, in the hope that shoppers will deliver a last-minute cash infusion at a crucial time for merchants. After a successful Black Friday weekend that netted a record $59.1 billion in sales, stores have seen an unwelcome drop-off in business.
What happens in the next two weeks may be vital not only for merchants but also for the nation's fragile economic recovery, because consumer spending of all kinds makes up about 70% of the U.S. economy.
Quiz: The year in business, 2012
This weekend and next hold the key to boom or bust. "This holiday, the highs have been higher and the lows lower for retailers," industry analyst Marshal Cohen said. "That means we need a good, strong finish to come out even."
The National Retail Federation is sticking to its prediction of $586.1 billion this year, up 4.1% from last year.
With an extra weekend this year between Thanksgiving and Christmas, many stores say that traffic has plummeted in the last few weeks as shoppers gave their credit cards a rest after splurging on Black Friday and Cyber Monday. Independent boutiques and national retailers alike are anxiously waiting for a surge of shoppers at the very end.
Liz Williamson and last-minute shoppers like her may dictate the outcome. With a dozen family members and friends on her holiday list, "I have to get started now or I'm going to end up running through the malls on Christmas Eve," said the Los Angeles accountant, who was hunting at the Americana at Brand shopping center. "It's get-it-done time."
Shopper Colleen Chang, 26, hasn't started shopping either. "I've started feeling a little crazy," said the Los Angeles leasing agent, who has budgeted $400. "You have to know exactly what you want because pretty soon there's just nothing left and you have to take what you can get."
"Procrastinators will be the secret weapon for either a ho-ho holiday or a ho-hum one," Cohen said.
With 11 days to go, shipping deadlines loom for online orders. Christmas parties are in full swing. Advertising blares. Last-minute sales scream for attention. Holiday music won't let you alone. Time is running out.
Retailers have plenty of shoppers to win over. Nearly a fifth of consumers have yet to start holiday shopping, while 21% plan to drop into stores again after taking a break from post-Thanksgiving splurging, the research firm NPD Group estimated Thursday.
"Every day feels like a sprint. Across the board we see a lot of traffic right now both online and in store," said Brian Hanover, a spokesman at Sears, which is rolling out another round of door-busters Friday and Saturday.
Despite the looming fiscal cliff in Washington and the prospect of higher taxes next year, retailers expect that people will open their wallets for last-minute gifts.
Kevin Jewelers in the Glendale Galleria is hoping for the traditional surge of procrastinators after a disappointing two weeks, diamond consultant Grace Figues said.
"We're still waiting for the rush," she said. "Lately it's been high-low, high-low just like a normal month. We would welcome the craziness."
At the Best Buy store in Westfield Culver City, general manager Margie Kenney said this weekend is "tremendously important" and will be "one of our busiest weekends after Black Friday."
Both bricks-and-mortar and Web merchants will probably enjoy a boost during the next two Saturdays, which typically hold the No. 3 and No. 2 spots for top shopping days of the year after Black Friday, said Bill Martin of retail technology firm ShopperTrak.
"There's still plenty of shopping left," he said. "Some people are just willing to outlast the retailer and wait for the next wave of serious discounts."
At the Americana at Brand, Stella Yu of Glendale had just begun searching for gifts for her family and close friends. But the 25-year-old graduate student, a veteran last-minute shopper, is already mentally preparing herself for the thick crowds, jammed parking lots and general mall madness as the clock ticks down to Christmas.
"I hate humans during holiday shopping," Yu sighed, "especially the ones with kids."
---
Your guide to our new economic reality.
Get our free business newsletter for insights and tips for getting by.
You may occasionally receive promotional content from the Los Angeles Times.