Wal-Mart puts iPhone 5 on sale for $127; are iPhone sales dragging?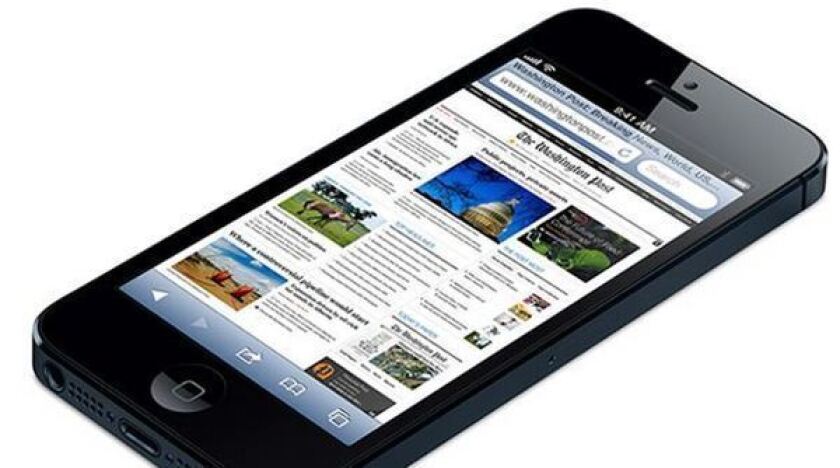 Wal-Mart has put various Apple products on sale, including the iPhone 5, marked down to $127.
The retailer normally sells the smartphone for about $190, and the sale price is $72 less than the $199 price set by Apple and its carrier partners when buying with a contract.
That's an incredible deal for consumers, but the sales' timing raises flags about how well the Apple smartphone is selling. The sale started Friday.
PHOTOS: Apple, from Foxconn uprising to a Mini roll-out
Typically, top-of-the-line smartphones start getting discounted if a new version of the device is close to rolling out. But in this case, the iPhone 5 is being marked down more than 35% less than three months after its release -- and in the middle of holiday shopping season.
Of course, there is a chance Wal-Mart might be simply subsidizing the phone itself to get more shoppers in its store, but you have to wonder if iPhone sales aren't what Wal-Mart or Apple were expecting.
Wal-Mart's Apple-product sale comes shortly after a UBS analyst announced he was lowering his iPhone sales estimates for 2013, saying he expects Apple to sell 5 million fewer phones than his previous estimate for each of the next three quarters.
Regardless, if you're interested in getting the phone for the sale price, you'll have to go into a Wal-Mart store. The big-box retailer also said it is selling the iPhone 4S for $47, or $50 off its regular price.
Wal-Mart also appears to be trying to unload its stock of the third-generation iPad units. The company said it will sell those tablets for $399. If you purchase a third-generation iPad after Monday, Wal-Mart will also throw in a $30 iTunes gift card.
The company said sale prices will be valid for the next 30 days.
ALSO:
Verizon rolling out Galaxy S III Jelly Bean upgrade
Apple names 'Action Movie FX' and 'Paper' as Apps of the Year
Analyst lowers iPhone, iPad 2013 sales estimates; Apple shares fall
---
Your guide to our new economic reality.
Get our free business newsletter for insights and tips for getting by.
You may occasionally receive promotional content from the Los Angeles Times.