Junior's Deli to close at end of year because of rent dispute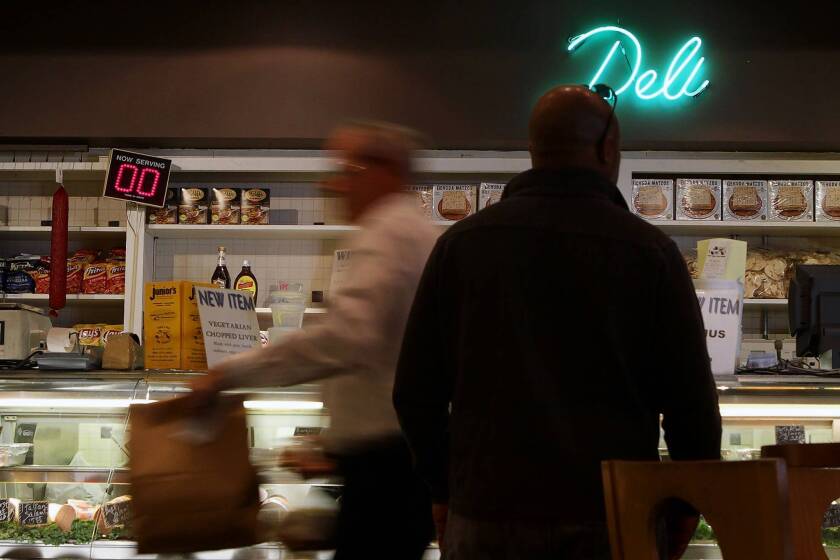 Junior's Deli, which has been serving pastrami and other deli fare on L.A.'s Westside since 1959, will close at the end of the year.
Employees, some of them multi-decade veterans of the business, learned Wednesday of the comfort food haven's impending shutdown, a casualty of a rent dispute over the 11,000-square-foot space.
"It's catastrophic for me," said David Saul, who co-owns the business with his brother, John. "I'm at a loss. It's like I'm grieving a death."
The Sauls' father, Marvin, launched the delicatessen after a failed stint as a uranium miner in Utah. Junior was his nickname as a child.
Celebrities including Bruce Willis and Hank Azaria were known to patronize the restaurant. Mel Brooks purportedly wrote parts of his film comedy "History of the World Part 1" in the dining room.
Originally on Pico Boulevard, the deli was moved to its current location at 2379 Westwood Blvd. in Westwood in 1967. In addition to the restaurant, the space includes a bakery and catering business.
Each year from 1971 on, Marvin Saul hammered out a rental agreement with Beverly Hills-based landlord Four Corners Investments. But just over a year ago he died at 82.
Negotiations this year between Four Corners and the sons broke down over a proposed rise in the rent, David Saul said. "They want a number that we can't give, and they're not willing to bend," he said.
Managers at the real estate firm could not be reached for comment Wednesday.
The eatery has also seen a slump in business in recent years.
In the early 2000s, Junior's was pulling in more than $7 million a year in revenue, Saul said. Sales slumped 20% over the last three years and food costs surged — the Saul brothers were paying nearly $4 for a pound of corned beef, up from $1.15 a pound 10 years ago.
"Customers don't want to pay $13 for a sandwich," Saul said. "For a lot of people in today's economic times, that's a hard thing to stomach. They'd rather go to a Subway or something."
From a high of 150 employees a decade ago, the workforce at Junior's deflated to 95.
Junior's will close within the week, Saul said. But he hopes to eventually reopen the deli somewhere else with a "more 21st century" vibe.
"The allure of delis has been tarnished over the years," he said. "People won't recognize what they had until they've lost it."
---
Your guide to our new economic reality.
Get our free business newsletter for insights and tips for getting by.
You may occasionally receive promotional content from the Los Angeles Times.