Hostess, union agree to try mediation to avoid liquidation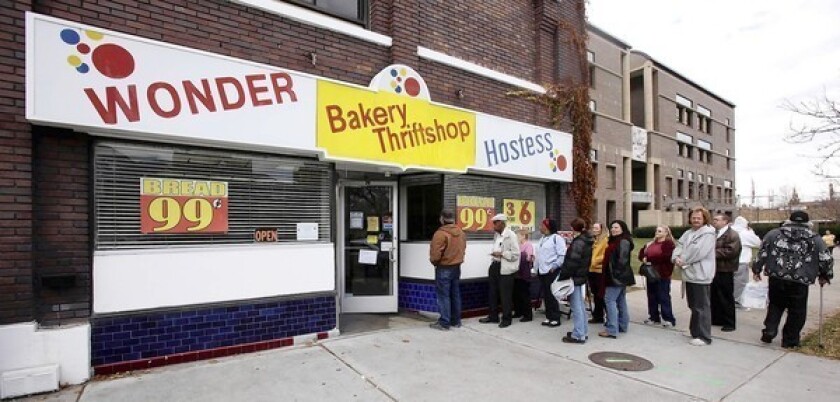 Twinkies may live on after all.
Bankrupt Hostess Brands Inc. and its striking union agreed to enter into mediation to try to resolve their differences, putting the baking company's planned liquidation on hold for now.
At a U.S. Bankruptcy Court hearing Monday in White Plains, N.Y., the 82-year-old company sought permission to start shutting down its business. Instead, Judge Robert Drain urged Hostess and the Bakery, Confectionery, Tobacco Workers and Grain Millers International Union to consider mediation.
Both sides agreed to try to work through the conflict, which could preserve more than 18,000 jobs. Those include 550 positions for workers at two bakeries and seven retail stores in Los Angeles and Orange counties, as of the start of the year.
Altogether, Hostess has 565 distribution centers around the country, as well as 33 bakeries and 570 bakery outlets.
Mediation hearings will begin Tuesday, but the original hearing to consider the wind-down plan was adjourned until Wednesday morning, just in case reconciliation talks don't work out. Production "remains shut down," according to the Irving, Texas, company.
But the scales are out of balance, with the union at a deep disadvantage, said Gene Grabowski, a Washington crisis communications expert at consulting firm Levick.
If discussions fail, Hostess probably will sell itself at a loss and wash its hands of the situation, Levick said. Buyers — potentially major food companies such as ConAgra Foods Inc., Kraft Foods Inc. or Nestle — then probably would absorb the brands into their operations without hiring former Hostess workers.
"It's hard to see what they could accomplish at this point," Grabowski said. "It looks like Hostess management is holding more cards right now than labor. This is really the last hope for employees to save their jobs."
Hostess said Friday that it would go out of business after union members went on strike. Workers accused the company of slashing benefits and wages while rewarding managers with substantial pay raises.
A suite of suitors is already preparing to vie for control of Hostess' brands in case new negotiations fall through.
"There's a whole host of huge food companies out there that have the financial wherewithal to take over Twinkies and make money off of it," said Anthony Michael Sabino, a business professor at St. John's University in New York. "There could be very spirited bidding."
In Bankruptcy Court, investment fund Hurst Capital in Sarasota, Fla., filed a letter of intent to complete what it said was a multimillion-dollar offer to buy Hostess' assets, including intellectual property, computer software and office supplies.
"Hostess has, over the last 80 years, created several of the most recognizable and powerful brands in the United States," said Austin Hurst, the company's managing general partner. "They have undeniable value and, when combined with the other existing assets of the company, represent a compelling acquisition opportunity."
Flowers Foods Inc., the Thomasville, Ga., parent of the Nature's Own brand, said Monday that it has extended its loan agreements, allowing it to access more funds for "acquisition financing" and "expansion goals," among other purposes. To analysts, the move signaled that the Georgia baking company was interested in picking up Hostess.
And private equity firm Sun Capital Partners Inc. in Boca Raton, Fla., told Fortune magazine that it hoped to buy the company using a more union-friendly deal. Reports over the weekend also named Grupo Bimbo, the Mexican company that owns Sara Lee and Entenmann's, as a possible bidder.
Hostess spokesman Lance Ignon confirmed that the company has "had interest from buyers for specific assets" but refused to name the interested parties.
As the future of Hostess remains in doubt, American consumers continued to wallow in Ding Dong despair.
An online petition asking President Obama to nationalize the Twinkies operation and "prevent our nation from losing her creamy center" hopes to garner 25,000 signatures by mid-December. Fewer than 4,000 people have signed it.
"Our heart is breaking," tweeted convenience store chain AM/PM, a major seller of Hostess snacks. "#LongLiveTheTwinkie!"
Workers at Weber's Bakery in Chicago said the company was considering making a Twinkie-like product called Winkies and selling them next year. Hostess' spongy cakes went up for sale on Craigslist and EBay this weekend for thousands of dollars a box.
It was the kind of outpouring Hostess wished it had generated before throwing in the towel. The company has suffered nine straight years of revenue declines, tumbling 30% to $2.45 billion last year from $3.53 billion in 2009, according to a report from research firm PrivCo.
The company's losses nearly tripled to $341 million in 2010 from $128 million in 2006, according to the report. And Hostess is suffering a severe liquidity squeeze, with long-term debt totaling $591 million.
If Hostess ends up selling its assets, Ding Dongs, Ho Hos and their shelf-mates could be headed for some major changes, said Sabino, the St. John's professor.
Inflated ingredient and transportation costs and a growing consumer focus on healthful foods could force the snacks to shrink in size. New owners might try to rush the products back to market to capitalize on the current publicity and the coming holiday season.
But through it all, Twinkies probably will keep its name and look.
"It's not just a yellow cake stuffed with cream. It's a highly recognizable symbol of the ultimate comfort food," Sabino said. "It's worth its weight in gold right now."
---
Your guide to our new economic reality.
Get our free business newsletter for insights and tips for getting by.
You may occasionally receive promotional content from the Los Angeles Times.