Californians rush to get health insurance as deadline nears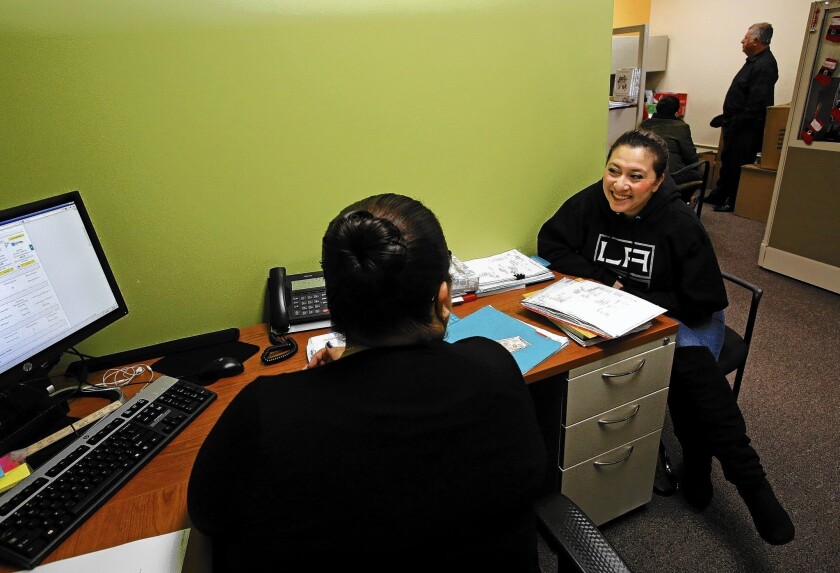 Like shoppers racing to buy last-minute holiday gifts, thousands of Californians are going online — or lining up in person — to get Obamacare insurance ahead of next week's deadline to have coverage starting next month.
And the surge in enrollment is putting pressure on the state's health exchange and insurance companies at a time when they were already struggling to keep pace with a flood of applications.
The state's three call centers have been swamped, plagued by average wait times of 30 minutes, with many consumers unable to get through. California is short of enrollment counselors who can assist people in person.
Some consumers who have already signed up for insurance are still waiting to get a bill from their insurance company and other proof of insurance starting Jan. 1. Without it, they say, they worry about being able to get a prescription filled or having coverage for an emergency-room visit next month.
Monday is the deadline to enroll for coverage starting Jan. 1. People who miss that cutoff date can still sign up as part of the Affordable Care Act through March 31.
Covered California, the state insurance exchange, has added staff, extended its service center hours and updated its website in preparation for high demand ahead of the deadline.
On Friday, Lizabeth Guzman, who is 23 and uninsured, showed up early at a crowded enrollment center in East Los Angeles. About 20 people were waiting for it to open at 8 a.m., near a Starbucks and a nail salon.
Guzman said she tried enrolling on the Covered California exchange website about a month ago, but she said it wasn't working then. So on Friday, she sat in a small cubicle with a state-certified enrollment counselor who works with AltaMed, a nonprofit health center.
"I know Monday is the deadline and I think everybody should have health insurance," said Guzman, who doesn't qualify for coverage yet at her retail job.
Wearing jeans, black knee-high boots and an L.A. Kings sweat shirt, Guzman leaned one elbow on the desk and stared at the counselor's computer screen listing her insurance options. She picked a Silver plan from Anthem Blue Cross that will cost her $86 a month after taking into account a premium subsidy based on her income.
"That was easy," she said after wrapping up in about 30 minutes.
Healthcare groups, local officials, unions and insurance agents are holding enrollment events this weekend across the state at libraries, churches and other locations. The state's website at https://www.coveredca.com lists some upcoming events.
Peter Lee, executive director of Covered California, said the exchange is working overtime to accommodate every applicant that meets the Monday deadline. He said the exchange will even try to squeeze in applications received Christmas Eve, if possible.
The state said 53,510 people enrolled in health plans over a three-day period this week, culminating with more than 20,000 people picking an insurance company Wednesday. Through Dec. 7, California had signed up 156,000 in health plans and an additional 179,000 in Medi-Cal.
"This is a big operational and administrative lift for Covered California, the federal government and for all 11 health plans" in the exchange, Lee said.
The state's goal is to enroll 500,000 to 700,000 people in subsidized health insurance by March 31, the end of the six-month enrollment period. California also wants to add more than 1 million people to Medi-Cal, the state's Medicaid program that takes applicants all year.
"Given the rate at which people are applying, I think we could easily exceed those projections," Lee said. "The enrollment we are seeing is remarkable by any count."
Insurance agents and enrollment counselors assisting people said the Covered California website has slowed down at times, but it appears to be handling the latest surge in traffic.
Getting answers by phone has been much more difficult.
Russ Furie said his Aetna policy for his two children runs out at year's end because the company is leaving the state's individual insurance market. The Santa Clarita father enrolled his two children, ages 12 and 15, in Medi-Cal at the end of October.
But he says he still doesn't have proof of their insurance. Furie is covered by Medicare because of a disability.
"It seems to me they had three years to get their act together, but confirmation and verification of the insurance has been a nightmare," Furie said. "I'm scared out of my mind because I don't want my kids to go without insurance."
Costa Mesa tutor Krista Wilson has run into a similar problem. She said she signed up for a Bronze plan from Anthem Blue Cross Nov. 15. But she still hasn't received a bill from the insurer, and Covered California told her last week to mail a check to a company post office box.
"I did my part and went on early to avoid any problems," Wilson said. "It's extremely frustrating."
Healthcare experts say rising enrollment is an encouraging sign, but more troubles will no doubt arise as people try to use their new policies.
Consumers may be surprised to find out that their long-standing doctor or nearby hospital isn't covered by their new health plan. They might be alarmed at relatively high co-pays and deductibles on some of the exchange's cheaper plans.
"There will be peace of mind for a lot of people who are able to access care for the first time," said Sabrina Corlette, research professor at Georgetown University's Center on Health Insurance Reforms. "But there will still be a significant group of people who for whatever reason run into bureaucratic and technical glitches."
Some critics of the healthcare law have discounted the California exchange's initial success at enrollment by drawing attention to the roughly 1 million Californians who are losing their existing health coverage Dec. 31.
"More people have lost coverage than received coverage," said Assemblyman Dan Logue (R-Loma Rica). He disagreed with the decision by the state exchange to reject President Obama's call to extend health policies for another year.
Another wrinkle introduced this week was the Obama administration's waiving the individual mandate for people who had their coverage canceled and allowing them to buy cheaper, bare-bones coverage that was intended primarily for people younger than 30.
But the exchange and health insurers say exchange enrollment is just one part of a broader insurance market. Consumers can still purchase individual insurance outside the exchange and they are only required to use Covered California if they want to tap into federal premium subsidies.
"It may be a while before we have a complete picture of individual enrollment in California," said Patrick Johnston, president of the California Assn. of Health Plans, an industry group.
Azizur Rahman, 59, an appliance salesman in Montebello, was among those waiting for the enrollment center to open Friday. He has battled high-blood pressure and says he's a borderline diabetic.
He wants to get health insurance so he can see the doctor regularly.
"My wife told me I needed to go sign up," Rahman said. "I'm a little scared for the future if I don't get health insurance."
Twitter: @chadterhune
---
Your guide to our clean energy future
Get our Boiling Point newsletter for the latest on the power sector, water wars and more — and what they mean for California.
You may occasionally receive promotional content from the Los Angeles Times.