NASA observation satellite blasts into orbit from Vandenberg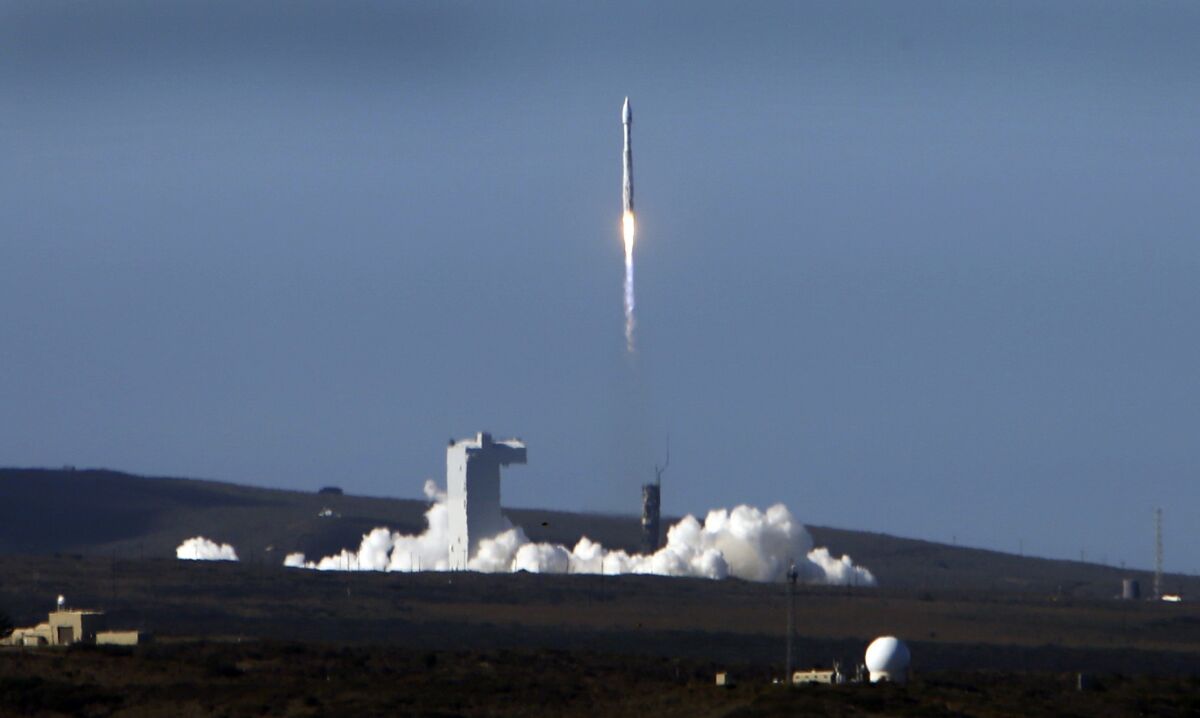 VANDENBERG AIR FORCE BASE -- A 19-story white rocket successfully lifted a NASA science satellite into orbit from Vandenberg Air Force Base, located northwest of Santa Barbara.
The picture-perfect launch, which took place Monday at 10:02 a.m. PST, occurred at the base's Space Launch Complex-3 along the Pacific Ocean.
The Atlas V rocket, built by United Launch Alliance, boosted the Landsat 8 satellite about 410 miles above the Earth. The satellite's first signal was received 82 minutes into the mission at a ground station in Svalbard, Norway, the space agency said.
The satellite, made by Orbital Sciences Corp., is set to monitor forests and observe disaster recovery as well as agriculture, energy and water management. It is the eighth in a series of satellites that have been observing Earth's land surfaces since 1972.
NASA and the U.S. Geological Survey share responsibility for the satellite. But the Geological Survey will operate the satellite and image-processing.
The blast off was observed by a crowd of thousands. Vandenberg's 30th Space Wing and NASA hosted a rocket launch viewing party at nearby Providence Landing Park in Lompoc that brought in nearly 1,800 spectators from all over California.
Personnel at the base and other visitors paused to see the rocket slowly climb into space.
Also in attendance was NASA Chief Charles Bolden, who held a post-launch news conference at the base.
"Landsat is a centerpiece of NASA's Earth science program, and today's successful launch will extend the longest continuous data record of Earth's surface as seen from space," Bolden said. "This data is a key tool for monitoring climate change and has led to the improvement of human and biodiversity health."
ALSO:
White House, defense industry officials meet to discuss cuts
FAA approves test flights for grounded Boeing 787 Dreamliner
NTSB traces Boeing 787 Dreamliner fire to battery cell, but questions remain
Sign up for the California Politics newsletter to get exclusive analysis from our reporters.
You may occasionally receive promotional content from the Los Angeles Times.