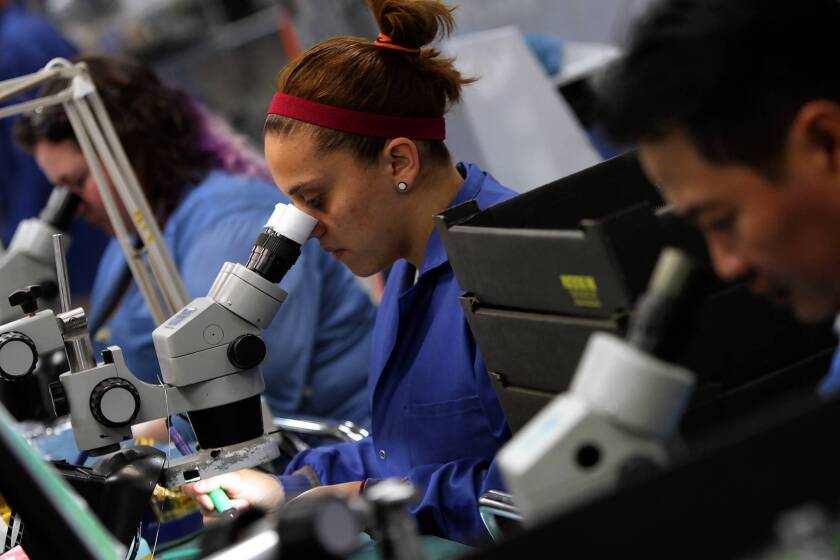 For the last several months, Gregory Bloom has worried about his small Irvine aerospace business and what would happen if federal funds were held back — or "sequestered" — because of Congress' inability to reach a budget agreement.
And now his worst fears are approaching. Cuts in the nation's defense budget could total $3.2 billion in California alone, and Bloom knows the Southland could be hit hard in the months ahead with payrolls, contracts and plans all in doubt.
"We could wake up and face a world we've never seen before," Bloom said. "We can't make long-term decisions on an uncertain future."
As president of Seal Science Inc., a maker of rubber gaskets for fighter jets, Bloom made several trips to Washington to warn lawmakers that the defense industry could be severely harmed by the cuts.
On Friday, $85 billion in federal spending is set to be slashed over the final seven months of this fiscal year unless Congress reaches an agreement on reducing the mounting federal deficit. Defense programs are expected to be cut about 15% for the remainder of the fiscal year, according to the White House.
Specific cuts to programs remain largely a mystery, but for companies such as Seal Science, with 120 employees, alarm bells are ringing. Bloom has held back on hiring and investing in new machinery because he has no idea what to expect.
He's not alone. Thousands of Southern California aerospace suppliers — many with only a handful of workers — collectively employ more than 162,000 people in California. With jobs on the line and state unemployment already at 9.8% at the end of 2012, all eyes are on Washington.
Sequestration's biggest effect would be to California with an estimated $3.2-billion cut in military spending on procurement, wages and grants, according to data compiled by Federal Funds Information for States, a service created by the National Governors Assn. and the National Conference of State Legislatures.
Rep. Howard P. "Buck" McKeon (R-Santa Clarita), chairman of the House Armed Services Committee, said he believes sequestration will go forward and that Congress is playing political chicken with people's jobs by not coming to an agreement.
"There's going to be drastic consequences for California," he said. "The large companies will survive, but the small companies don't have the finances to wait this thing out."
McKeon said he was working on a resolution to fund the government through the remainder of 2013. He said that although it wouldn't reverse all the effects of sequestration, it would give greater flexibility to the Pentagon. He expects his resolution to clear the House of Representatives and be sent to the Senate next week.
Until recently, aerospace has been one of the few bright spots in Southern California's struggling economy, offering high-wage engineering, manufacturing and administrative jobs at a time when construction, real estate and banking work has grown scarce.
Most of the small aerospace shops depend on subcontracts from giant defense contractors, which have announced waves of job cuts in recent months, citing expectations of a protracted contraction of Pentagon spending.
According to the state's Employment Development Department, California hit a peak in 2002 with 82,100 aerospace manufacturing jobs. And that's only one sector of the aerospace industry. As of December, that number had fallen to 68,200.
"The damage of sequestration will fall largely on smaller, third- and fourth-tier suppliers," said Dan Stohr, spokesman with the Aerospace Industries Assn., an Arlington, Va., trade group. "Smaller companies with unique product lines and tighter margins are not going to be as resilient in the face of losing substantial orders."
Larger companies have larger cash reserves and more diverse portfolios, he said. They are better-positioned to withstand the downturn in sales that is coming in the defense sector.
Still, aerospace giant Northrop Grumman Corp. of Falls Church, Va., is concerned about what would happen if sequestration hits. The company has nearly 30,000 employees in the Southland, including those building satellites at the company's Space Park in Redondo Beach and manufacturing center fuselages for the F/A-18 fighter jet in El Segundo.
Northrop spokesman Randy Belote declined to speculate on the possible outcomes of sequestration and how it might affect the company. He did say the company is "very concerned" on the budget cut's long-lasting effects on "the defense industrial base" and "all of the communities that rely on the defense industrial base."
The Aerospace Industries Assn. has estimated that 1 million jobs of all kinds nationwide, including 126,000 in California, would be lost if sequestration occurs.
Still, there is doubt whether sequestration will take place. If it happens, it would affect both the military, which is a core issue for Republicans, and social spending, which is important to Democrats.
But the Southland aerospace industry has already been downsizing to reflect new budget realities in Washington, where Congress has tightened purse strings on the Pentagon. U.S. military spending — which grew by double digits after the Sept. 11, 2001, terrorist attacks — is now expected to decline $487 billion over the next decade.
Andrew Carolus, an investment banker with Mesirow Financial Holdings Inc., which specializes in the aerospace industry, said many smaller companies have begun taking on more non-defense work.
"Many of the middle-market smaller firms have begun to focus on industries outside of their knitting," he said. "They don't want to be stuck holding the bag when the defense programs dry up."
Qual-Pro Corp. in Gardena, a 125-employee company that makes high-tech electronics, spent last year steering away from defense.
Brian Shane, chief executive of the company his father started in 1971, said defense work made up 60% of its business in 2012. This year, it will be less than 30%.
Now the company's six robots that tack together microchip components the size of a pepper flake no longer work on missile and rocket parts. They are instead building parts for medical devices.
"It's almost like during World War II when car factories changed to build tanks," Shane said. "Only it's the other way around for us."
---