Lenovo debuts IdeaCentre table-top PC at CES 2013: Feels intimate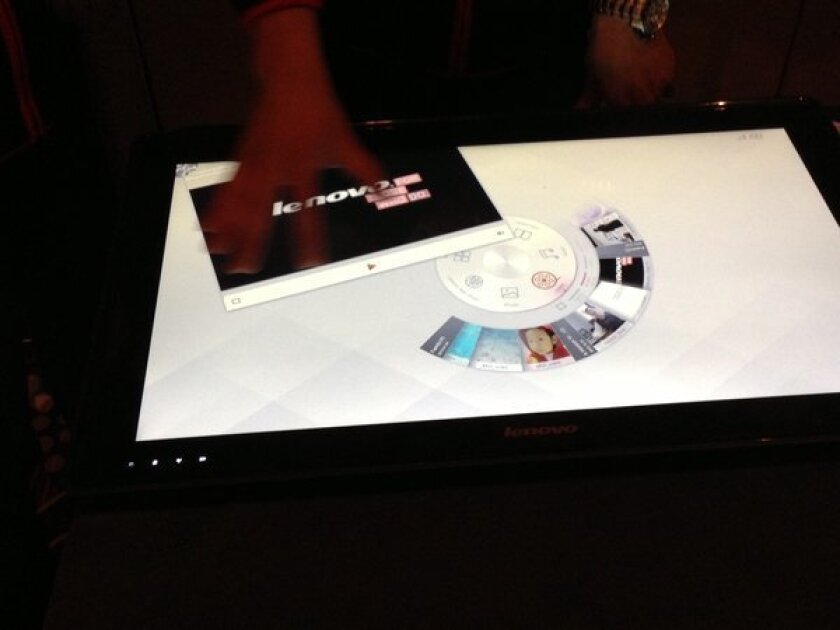 Amid the big and small ideas floating around at a Sunday evening media preview at CES 2013, Lenovo and 3M seemed to hit the sweet spot in terms of bringing a big idea closer to reality while still capturing our imagination.
The two companies demonstrated table-top PCs that allow multiple users. It's a relatively new form factor, although it's one that people have been dreaming about and showing off in beta for years now. Indeed, I can remember one Microsoft executive showing off a table-top PC during a talk at the UC Berkeley three years ago.
Although there are key differences in the approaches by both companies, each product points to the way that touch interfaces, thanks to tablets and smartphones, are coming to dominate computing and expanding the types of forms it takes.
I'll start with Lenovo's IdeaCentre Horizon Table PC. This product is clearly aimed at consumers. Despite have a 27-inch screen, it has an intimate feel. It's easy to imagine this in your living room. The IdeaCentre runs on a Linux operating system that allows for several pairs of hands to use it at the same time. With full Internet connectivity via Wi-Fi, you can play games, view and edit photos, and stream video. It has a crisp resoution at 1080 pixels yet remains thin as it sits atop a stand that allows you to tilt it.
When you do tilt it, it switches to the full Windows 8 interface with its live-tile look. It basically becomes a big ol' tablet at this point.
The IdeaCentre will go on sale this summer. And with an expected price range of $999 to $1,700, it's not hard to imagine this product finding its way into a decent number of homes over the next couple of years.
Across the room, 3M was showing off its 84-inch multi-touch system that will debut this summer. No price has been set yet. But the company has already been selling a 46-inch version that did well enough to convince it to go even bigger. That smaller version clocked in at $6,500.
This technology is squarely aimed at the business market. 3M sells the technology to other companies that build them into devices. Maybe a retail store will use it to demonstrate some products on their sales floor. Or a company will use them to create a collaborative design station. Or they'll pop up in airports for information and entertainment.
It's also a nifty toy, although one big difference from the IdeaCentre is that 3M uses a projector system. The demonsration at the show was running on Windows 7, and because the images were being beamed on the back of touch screen, they were not nearly as crisp as the IdeaCentre.
That may not make much difference given the audiences they are targeting.
Still, put together, its seems a good bet that these types of devices are going to start to permeate even more corners of our work and home lives.
"It's one of those things people have talked about for a long time," said Scott Hagermoser of 3M Touch systems. "But now it's here."
Also:
Global gadget spending projected to hit $1.1 trillion in 2013
CES 2013: Pure brings connected wireless speakers to the U.S.

Follow me on Twitter @obrien.
---
Must-read stories from the L.A. Times
Get the day's top news with our Today's Headlines newsletter, sent every weekday morning.
You may occasionally receive promotional content from the Los Angeles Times.