Best of CES 2023: Wireless TV, delivery robots and in-car VR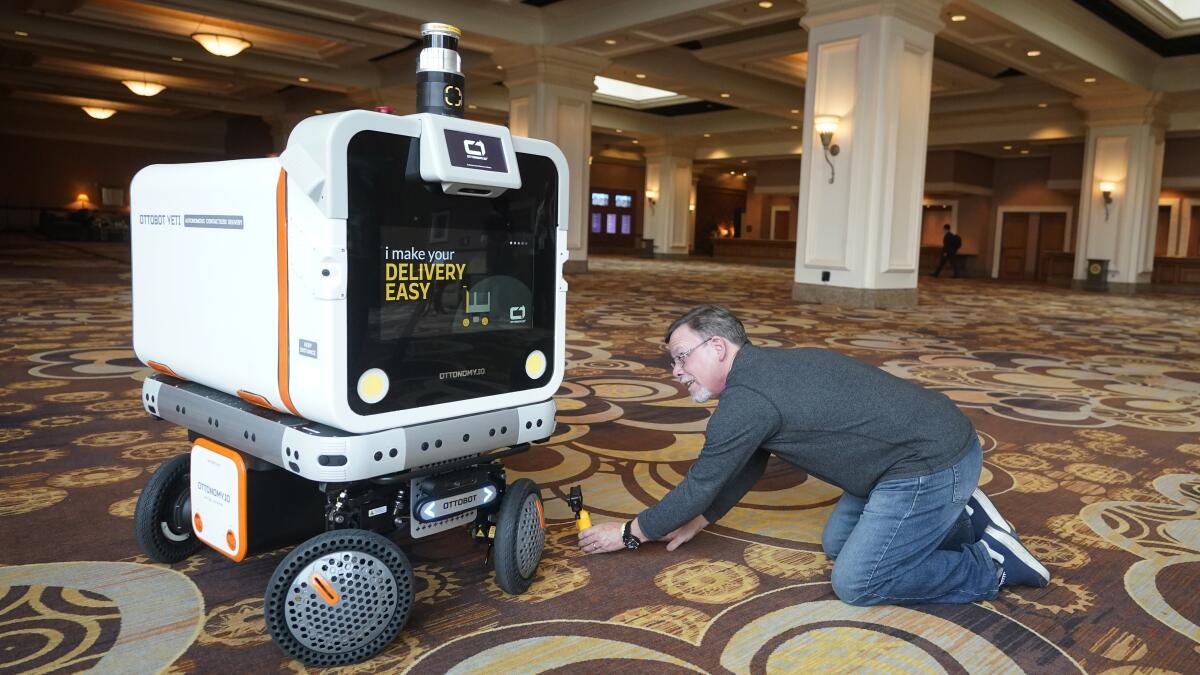 LAS VEGAS —
Tech companies of all sizes are showing off their latest products at CES, formerly known as the Consumer Electronics Show.
The show is getting back to normal after going completely virtual in 2021 and seeing a significant drop in 2022 attendance because of the pandemic.
Big names, including LG and Samsung, kicked off the show Wednesday demonstrating their latest products for the media in Las Vegas. Smaller startups were due to exhibit at a later event.
Here are some highlights:
Roku on Wednesday announced it will make its own branded TVs as it faces rising competition and a possible recession.
NO MESSY WIRES
LG Electronics unveiled a 97-inch OLED TV with what it calls a Zero Connect Box that streams content wirelessly. The box, which still needs to be plugged in, must be within 30 feet of the display.
But why would anyone want a wireless 4K television?
David M. Park, senior marketing manager at the South Korean tech company, said it means owners can place a TV in the center of the room without all the messy wires, or maybe mount it above a fireplace or perhaps on a hard-to-drill concrete wall.
LG says the 97-inch LG Signature OLED M (model M3) will be available in the second half of 2023. The price has not been announced.
As sidewalk bots proliferate, they turn on the charm — flashing cute eyes, emoji hearts — to keep safe and get deliveries to their intended destinations.
ROBOT DELIVERIES
Picture yourself weaving through crowds at the airport on a busy holiday weekend, ignoring the rumble in your stomach as you speed past restaurants to make it to your gate on time.
Brooklyn-based Ottonomy.io is looking to ease that all-too-familiar travel anxiety with its fully autonomous delivery robots.
If you're traveling through airports in Cincinnati, Pittsburgh or Rome, for example, you might cross paths with one of these robots as they bring food directly to travelers at their gates.
Ottonomy unveiled its newest robot, the Yeti, on Wednesday at CES. It showed off its new self-dispensing feature, which eliminates the need for a human to be present to collect deliveries.
The company also provides outdoor curbside delivery services up to 4 miles.
Ottonomy co-founder and CEO Ritukar Vijay said the price tag on its services varies depending on the number of robots a company wants to deploy and how many restaurants or retailers are included in the delivery footprint.
In a class-action lawsuit, customers say they were duped by Tesla's $15,000 Full Self-Driving feature. Company lawyers say failure isn't fraud.
VR FOR YOUR CAR
Holoride, based in Munich, Germany, wants to make car rides more fun and less dizzy. The company's VR headset allows passengers to play video games, watch Netflix or scroll through Instagram while they ride.
If the car is moving, you move in the virtual world, helping to prevent car sickness, according to co-founder Daniel Profendiner. Rather than seeing the road, you might be flying and fighting robots or swimming under the sea.
"The car industry is super-focused on the driver but with more autonomous driving on the horizon, the passenger gets more into the focus as well," he said.
Previously, holoride was available only for Audis with an in-system retrofit so the headset could recognize when the car was moving. On Wednesday at CES, the company announced a new product that can be used in any car.
The $799 retrofit pack includes the VR headset, holoride retrofit, a safety strap and a one-year subscription to holoride.