Facebook introduces new search tool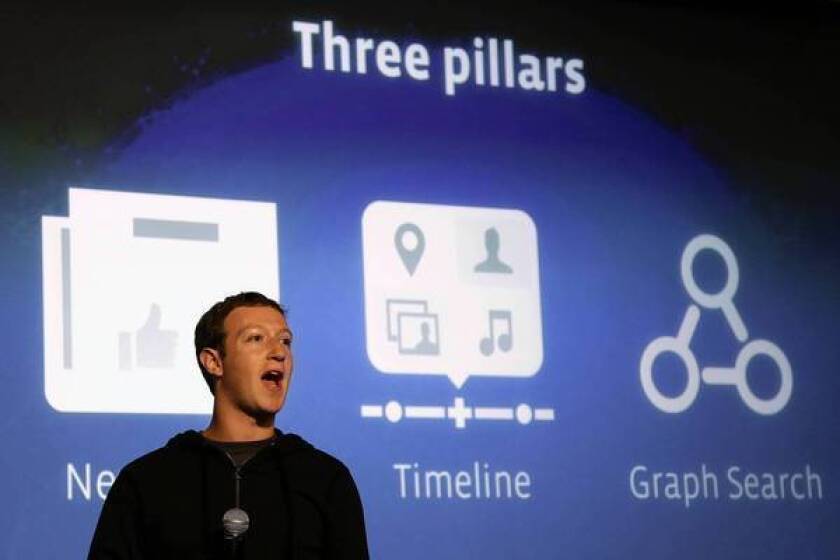 MENLO PARK, Calif. — Facebook Inc. has begun rolling out a new search feature that will eventually let 1 billion-plus users around the world unearth and sift through vast amounts of information that they and their friends have shared on the social network.
The new tool, dubbed Graph Search, takes aim at major rivals such as Google Inc. and promises to open up a whole new way of searching online. With the tool, users can find a single guy in San Francisco to date, a friend of a friend who knows of a job or friends who live in a 10-mile radius and are fans of "Game of Thrones."
"It's going to cause people to do all kinds of searches they have never done before because you couldn't do these searches before," said Danny Sullivan, founding editor of SearchEngineLand.com.
But the feature — Facebook's first major product launch since its rocky initial public stock offering in May — is already raising privacy concerns. It also did not immediately allay deep anxiety among investors over Facebook's moneymaking prospects.
Still, Facebook Chief Executive Mark Zuckerberg called it "one of the coolest things we've done in a while."
"Graph Search is a completely new way for people to get information on Facebook," Zuckerberg said.
For now, Facebook plans to roll it out slowly and said it could take more than a year for the search tool to reach all of its users around the globe. It plans to tweak the service to match how people use it.
If it proves popular, Facebook users may begin to spend more time on Facebook and less time elsewhere.
And that potentially threatens competitors — not just Internet search giant Google, which can't index the personal information on Facebook, but also other major players in Silicon Valley such as professional networking service LinkedIn Corp. and business review service Yelp Inc.
They aren't the only ones who may feel uneasy — at least at first. Facebook users will probably be wary of the new feature too. All of a sudden, Facebook pals will be able to easily uncover heaps of personal details about the user that already existed on Facebook but weren't quite so visible.
During an hourlong news conference at the company's Menlo Park, Calif., headquarters, Zuckerberg took pains to emphasize that the search feature was designed to give users control over the information people can search.
"We take this really seriously," he said.
Facebook is introducing the feature very slowly rather than flipping the switch overnight the way it did with News Feed to calm those fears, said Woodrow Hartzog, assistant law professor at Samford University in Birmingham, Ala. Graph Search will be available at first to only hundreds, or possibly thousands, of users, with more being gradually added over the coming weeks and months.
Hartzog said he expects Facebook users will eventually find the feature to be useful but would first have to overcome qualms over "a loss of obscurity."
"People who interact socially online respond much better when they have a little time to remove or make more obscure information that is going to become more obvious with a particular technology," Hartzog said.
But privacy watchdog Marc Rotenberg said Facebook is giving users whiplash by "constantly changing the rules for access to user data."
"And Facebook telling users that it's on them to check their privacy setting is not right," said Rotenberg, executive director of the Electronic Privacy Information Center.
Zuckerberg said the initial rollout marks the beginning of Facebook's years-long investment in Graph Search that will eventually be available on mobile and in more languages.
The feature has been in the works for years. Current rudimentary search capability on Facebook has been clunky and mostly useless.
The effort kicked into high gear in spring 2011, when Zuckerberg recruited Lars Rasmussen from Google to join Facebook's search team. Rasmussen's challenge: to make it easier for Facebook users to discover information about the people they care about and connect with people with similar interests. Rasmussen was soon joined by another former Google employee, Tom Stocky.
Zuckerberg hinted that Facebook was working on a search feature during his first post-IPO interview at a technology conference in September. But no one knew how search on Facebook would work until Tuesday, when the company held the news conference to demonstrate it.
Graph Search lets users combine phrases to find out information that's been shared with them on Facebook such as: "My friends in Los Angeles who like the Beatles." Users can search for people, places, photos and interests. If there are no answers to the query on Facebook, Microsoft Corp.'s search engine Bing will supply results from the Web.
"Graph Search is a really big product. It's going to take years and years to index the whole map of the graph and everything we have out there," Zuckerberg said.
Forrester Research analyst Nate Elliott said Facebook is hoping to keep people glued to Facebook and to get them to add new friends.
"Facebook's worst nightmare is a static social graph," Elliott said. "We haven't seen significant growth in the average number of friends per user recently. Graph Search seems designed to encourage users to add more friends more quickly. If it means users' personal networks change more frequently and become more active, then that keeps them coming back to the site, which is vital to Facebook's success."
Zuckerberg said Facebook is not currently thinking about how to make money from search.
"This potentially could be a business over time, but for now we've been focused on building out this user experience," Zuckerberg said. "We first need to build something high quality. That is mission No. 1."
That news landed with a thud on Wall Street. Facebook shares fell 85 cents, or 3%, to $30.10 after the announcement.
Analysts said the new feature, which taps the wealth of information that Facebook users share, may prove powerful for advertisers.
"This feature is something that is so obvious that it leaves us wondering: What took so long? What's not obvious is how well this is going to monetize," Wedbush Securities analyst Michael Pachter said.
Karsten Weide, an analyst with research firm IDC, said the new search feature is interesting but not a significant development for Facebook's business.
"The problem for Facebook is that it desperately needs more revenue and growth to justify its completely bonkers valuation," Weide said. "This will increase traffic a little bit, but it's not like Facebook is getting into the search advertising business in a big way. Facebook needs more growth desperately, and this is not going to do it."
Weide wants to see Facebook take the plunge into Web search and compete directly with Google. He said Facebook has been reluctant to do so because it would involve sending users away from Facebook rather than trying to keep them on the service, but Facebook no longer has a choice.
"That would be something that would give [Google CEO] Larry Page sleepless nights," Weide said. "That could threaten Google's dominance in search."
Facebook is a long ways from doing that. Google has 10 times more annual revenue than Facebook and a 14-year head start in search. Neither company has released its 2012 financial results, but analysts predict Google will rake in $52 billion in revenue while Facebook will collect a far more modest $5 billion.
EMarketer analyst Debra Williamson said search could be a promising business for Facebook down the road, but for now there's a yawning gulf between Facebook and Google.
EMarketer predicts that Google will reap $15 billion in U.S. search advertising revenue this year. It predicts Facebook's total U.S. advertising revenue will be just shy of $2.7 billion.
---
Your guide to our clean energy future
Get our Boiling Point newsletter for the latest on the power sector, water wars and more — and what they mean for California.
You may occasionally receive promotional content from the Los Angeles Times.