TSA agents are slow but methodical, study finds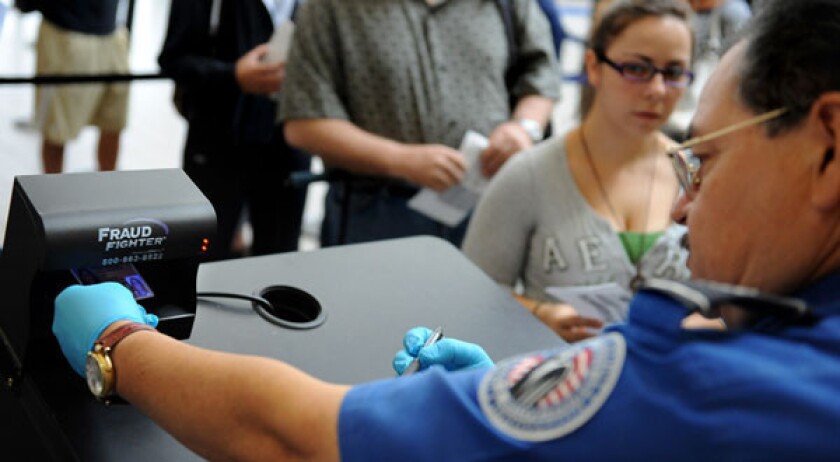 Grouse all you want about how long it takes to move through airport security lines, but there may be a good a reason for the wait: Screening agents are trained to be slow and thorough.
A study by Duke University found that screeners for the Transportation Security Administration are slower at performing visual searches than amateurs, but are more accurate.
The study, which was partly funded by the Department of Homeland Security, suggests that the experience TSA agents gain from searching for weapons and explosives in luggage makes them slower and more methodical at performing visual searches, not faster.
The university's Department of Psychology and Neuroscience gave 206 TSA agents and 93 university students a visual search test. The two groups were asked to find the letter T on computer screens littered with images of L shapes. Some of the screens did not include Ts so the researchers could gauge accuracy.
The University students had an accuracy rate of 82%, while the TSA agents had a rate of about 88%. But the nonprofessionals were faster, completing the task in under 4 seconds, while the TSA agents took more than 6 seconds, on average, the study found.
The study's conclusion: TSA agents are slower because they are more systematic about how they search for weapons and bombs.
"Transportation Security Officers effectively and efficiently screen nearly 2 million passengers per day, relying on a variety of techniques to ensure the safe transportation of passengers," TSA spokesman David A. Castelveter said in response to the study.
But how accurate are TSA agents at finding weapons and bombs at the airports?
The TSA won't discuss error rates on tests performed on airport screeners. But a TSA report released in 2007 said security screeners at Los Angeles International Airport missed 75% of fake bombs and explosives that passed through the airport.
TSA officials said they continue to improve the training of its officers.
ALSO:
TSA stops using 'nude scanners'
Fees for airline extras have made the trip to Europe
Airline satisfaction: below post office, above subscription TV
---
Your guide to our clean energy future
Get our Boiling Point newsletter for the latest on the power sector, water wars and more — and what they mean for California.
You may occasionally receive promotional content from the Los Angeles Times.