As Twinkies hit stores, Hostess plans new snack cakes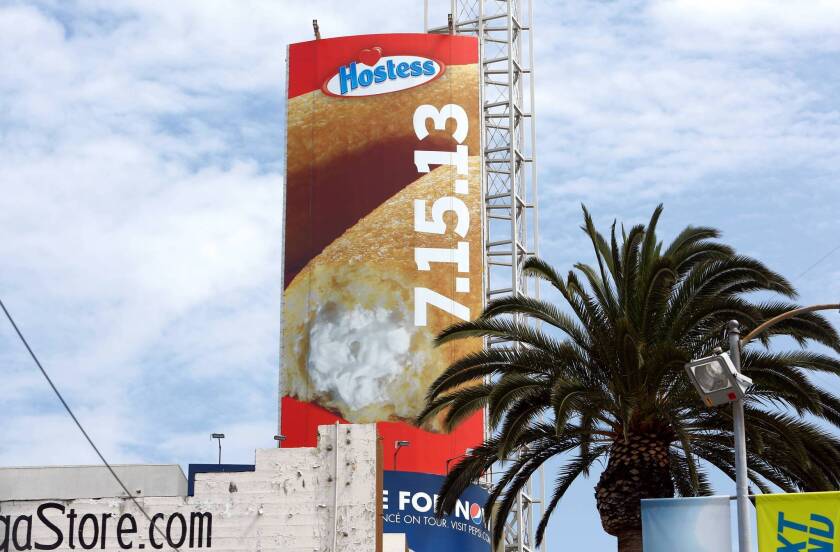 Twinkies are returning to store shelves Monday, retaining the same spongy golden exterior and sugar-laden cream filling that made the Hostess Brands snack cakes such a potent symbol of Rockwellian Americana.
But Hostess has plans in the works to update its snack cake line to include products that are more appealing to younger consumers, lighter on the calories and possibly gluten free. Don't rule out new treats flavored with peanut butter or packaged in bite-sized portions, said executives at Hostess, which was hauled out of bankruptcy this spring for $410 million by two private equity firms.
Rather than have their products gather dust on supermarkets' bottom shelves, Twinkie marketers are entertaining proposals to sell the treats at sports stadiums, with continental breakfasts at hotels, at movie theater concession stands and on cruise ships.
"We want to capitalize on the nostalgia of the brand, but we also want to make sure we're relevant to this generation and not just the generations of the past," Hostess President Rich Seban said.
Early last year, Hostess filed for Chapter 11 bankruptcy — its second such filing in a decade. In the fall, after a bitter fight with one of its unions, the company received a judge's permission to close and sell its brands to the highest bidders.
In recent months, Sara Lee owner Grupo Bimbo picked up the Beefsteak bread business, and Flowers Foods Inc. got bread labels such as Wonder Bread. McKee Foods Corp., maker of Little Debbie snack cakes, took over the Drake's line of goods.
Private equity firms Apollo Global Management, which owns Carl's Jr. parent CKE Restaurants Inc., and C. Dean Metropoulos & Co., which runs beer favorite Pabst Brewing Co., claimed the rights to the bulk of Hostess' most popular snack cakes in March.
Moving ahead, Hostess' key goal should be to reinvent itself without leaning on the appeal of its 83-year history, said Allen Adamson, managing director of brand consultancy Landor Associates' New York office.
"Having been around a long time is not the most powerful selling proposition unless you're Champagne," he said. "Making the most of their one moment in the sun, before they disappear into the sea of brands competing for people's attention, is key."
To herald the comeback of Twinkies, CupCakes, Ho Hos, Ding Dongs and other products, the Kansas City, Mo., company's new owners are spending "several million dollars" on a marketing blitz, Seban said.
The campaign is sprawling across social media, Vine videos, billboards, building walls and a website called Prepare Your CakeFace. Street teams are handing out T-shirts and "I Saved the Twinkie" buttons. A food truck is visiting county fairs, music festivals and other locations.
Wal-Mart, in an attempt to get a jump on the expected rush, said it was stocking certain stores with Twinkies on Friday, with all its other stores in the contiguous U.S. selling the treats Sunday — still a day early.
Hostess has an ambitious new business strategy in place for Twinkies: "to be sold wherever candy bars are sold," Seban said.
In its pre-liquidation days, the company sent its own truck drivers to deliver products to each store in its system. Of the nation's approximately 150,000 convenience stores, Hostess drivers could reach only 50,000.
Next week, third-party delivery vehicles will start taking snack cakes to grocery retailers' warehouses. Hostess will also send goods to distributors to spread among convenience stores — some 110,000 within a year and 140,000 within 18 months.
To fill the expected demand, Hostess is allotting 50 million Twinkies for next week — five times as many as were on store shelves a year ago.
But to do so, the company is using fewer facilities and less manpower. The number of bakeries has slimmed down to four from 11 since last year's shutdown. Hostess has already invested $30 million in bakery facilities and plans to pump in as much as an additional $100 million over the next year to upgrade sites and equipment.
When the company is fully staffed in three months, it will have some 1,800 employees, Seban said. Previously, the workforce was more than 10 times that.
Even the product list has shrunk, to 44 items from 185, with Hostess' Muffin Loaf and Strawberry CupCake lines disappearing along with other "products that people may generally have never heard of," Seban said. "We focused on the top-selling items that did 90% of our business."
The surviving brands may be headed for major changes.
Hostess holds a nearly 5% share of the $36.9-billion bread production market, according to research group IBISWorld. The company has long contended with knock-offs and similar versions of its products. This week, Bimbo Bakeries USA unveiled its new Sara Lee Snack Cakes, which it described as "individually wrapped, portioned and portable snacks" filled with cream.
In the last five years, the industry has seen revenue slide 1% annually as it was "knocked around by changing health trends, low-carb diets, the popularity of the paleo diet and gluten concerns," IBISWorld analyst Natalie Everett said.
The economic recession and high unemployment rates also hurt, especially as the bread industry suffered from higher processed food costs and rising wheat prices, she said.
But from 2013 through 2018, she said, bread companies will enjoy a 1.1% upswing each year, boosted by "foodies who aren't as concerned with counting nutritional ingredients but just want good-tasting food." And as more consumers return to work, they are expected to increasingly seek out convenient packaged products that allow a quick nibble.
A bonus: Although Twinkies arriving on shelves next week won't be able to ride out the apocalypse, they will last 45 days. Earlier versions had a 26-day shelf life.
Seban said the company is "focused on innovation."
"We're not just going to continue to market the same products we always have," he said. "We're aiming at consumers that probably don't purchase our products today."
That includes young men 18 to 34 years old. Hostess is also targeting women in the same age range, who Seban said "tend to be eating healthier and are more calorie conscious."
With them in mind, he said, snack cakes with fewer calories, more fiber and whole grain and no gluten are "in various stages of development." The company, he said, is also considering smaller packaging.
And to "enhance the eating experience," Hostess products could someday feature textures such as crunchy nuts, he said.
Perhaps, in honor of Hostess' new owners, a Pabst-flavored Twinkie? "Not a chance," Seban said.
Twitter: @tiffhsulatimes
---
Your guide to our clean energy future
Get our Boiling Point newsletter for the latest on the power sector, water wars and more — and what they mean for California.
You may occasionally receive promotional content from the Los Angeles Times.