Allergan thrives with Botox but is unloading Lap-Band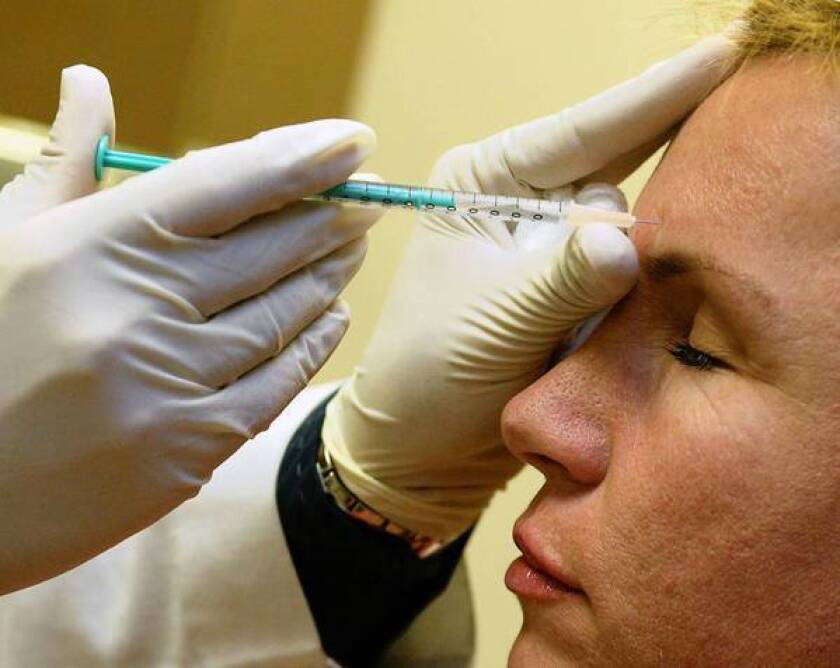 The company: Allergan Inc.
Headquarters: Irvine
Ticker: AGN
Employees: 10,800
Leadership: David E.I. Pyott, chief executive since 1998
Revenue: $5.8 billion in 2012
Net income: $1.1 billion in 2012
Stock price: $108.60 at Friday's close
52-week range: $81.28 to $109.31
P/E ratio: 22.8 based on 2013 estimated earnings
Annual dividend: 5 cents, a current yield of about 0.2%
The business
This is the company that makes Botox. The wrinkle-erasing drug is Allergan's top-selling product — with sales expected to reach $2 billion in 2013.
But there's more to Allergan than wrinkle medicine. The self-described "multi-specialty healthcare company" also sells breast implants, a prescription drug that enhances eyelashes, a line of ophthalmic pharmaceuticals and, at least for now, the Lap-Band weight-loss device.
The company reported record sales of $5.8 billion in 2012 and expects robust sales again this year —$5.9 billion to $6.2 billion. Its stock hit an all-time high of $109.31 on Feb. 19.
Allergan decided to unload its "obesity intervention" division — primarily the Lap-Band — amid declining sales and patient deaths. The company expects to complete the sale by the end of June.
Revenue will grow this year even without the Lap-Band, said David E.I. Pyott, the company's board chairman, president and chief executive. Allergan's weight-loss division had $160 million in sales in 2012 — less than 3% of its total revenue.
Recent acquisitions could make up for the lost weight-loss business. In the last three months, Allergan announced acquisitions of MAP Pharmaceuticals Inc. (its inhaled migraine drug Levadex is under review by the Food and Drug Administration) and SkinMedica Inc.'s skin care business.
The latest
Botox has some new competition.
German pharmaceutical company Merz was cleared in January to sell its injectable, anti-wrinkle drug Xeomin in the United States, creating a second rival to Botox. The other competitor is Dysport, sold by Medicis Pharmaceutical Corp.
All three products include botulinum toxin, which is injected into the face to temporarily paralyze muscles, easing the appearance of wrinkles.
Allergan could offset sales lost to Xeomin because Botox is now used for more than wrinkles. It is used to fight migraine headaches and recently won Food and Drug Administration approval as a treatment for overactive bladders.
Finding multiple uses for its drugs is nothing new for Allergan. The company is conducting clinical trials of bimatoprost, the active ingredient in its eyelash enhancer Laitsse, as a treatment for baldness.
Pyott said the firm will spend more than $1 billion on research and development this year and expects to secure "several regulatory approvals."
In a Feb. 5 earnings call with analysts, Pyott disclosed that the company had "formally committed" to selling its weight-loss division, which included the Lap-Band, a silicone ring surgically implanted around the stomach to discourage overeating.
The Lap-Band was widely advertised on Southern California freeway billboards as well as on radio and television by a company called 1-800-GET-THIN. At least five people died from 2009 to 2011 after surgeries at clinics affiliated with the ad campaign, according to autopsy reports, lawsuits and other public records. The Los Angeles Police Department is investigating one of the deaths.
Allergan stopped selling the product to companies affiliated with 1-800-GET-THIN last year, before opting to sell the division.
Accomplishments
Allergan has been one of the most consistent growth stories on Wall Street. Since Pyott became CEO in 1998, the company's revenue has increased from $700 million to $5.8 billion. It has the best-known brand in the wrinkle-fighting business, and its stock recently hit an all-time high. It has found new uses for Botox, has several new products in the works and is forecasting a record year for sales in 2012, even after unloading the Lap-Band.
Challenges
Botox is facing new competition. The sale of the Lap-Band device will cut revenue. Allergan is considering a higher dose to improve bimatoprost's effectiveness in treating baldness, a move that would require additional testing and delay its approval.
Analyst opinions
Twenty-three analysts have the stock rated as a buy or strong buy, while seven recommend holding the stock. The average one-year target price for the stock is $114.87.
Voices
"We believe the opportunities available through the launch for Botox in chronic migraine and overactive bladder should lead to top-line growth in the mid teens through 2015," said analyst Tim Lugo of William Blair & Co.
"AGN delivered on the results and demonstrated its confidence going forward for both the top and bottom lines. The 2013 guidance in particular looked very strong to us with healthy revenue of $5.9 billion to $6.2 billion," said Gary Nachman, an analyst with Susquehanna Financial Group.
"Further expansion opportunities for Botox appear to be drying up," said David Amsellem, a PiperJaffray analyst.
Stock Spotlight is a weekly profile of a notable public company in Southern California.
---
Your guide to our new economic reality.
Get our free business newsletter for insights and tips for getting by.
You may occasionally receive promotional content from the Los Angeles Times.