CES 2014: Global consumer spending on tech projected to fall 1%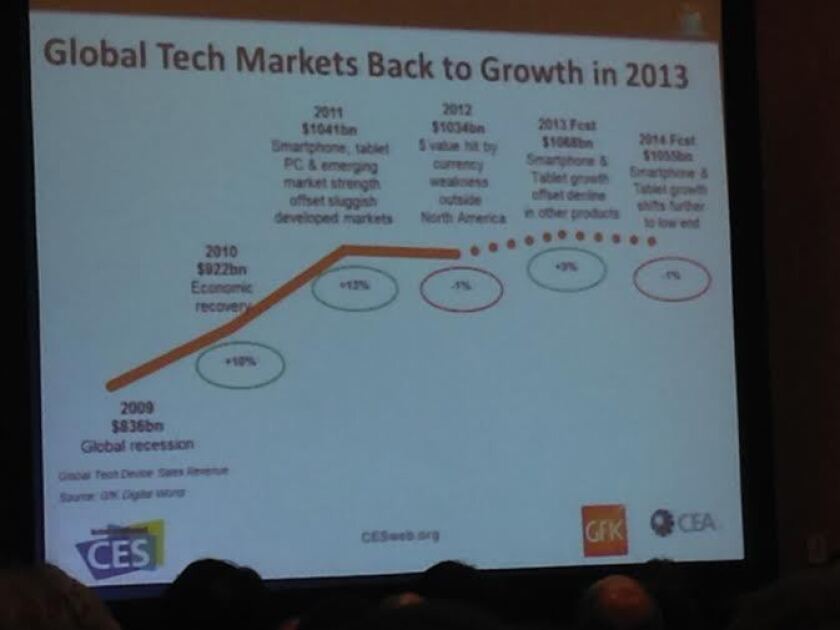 Las Vegas —
A number of forces will combine to drive global consumer spending on technology down 1% in 2014, according to a study by the Consumer Electronics Assn.
The projected decline was released Sunday as part of a press day at the International Consumer Electronics Show. CEA hosts CES, and each year offers up a series of reports that examine market trends and offers an outlook for the global consumer electronics market.
The picture painted in the latest report is not a pretty one for the industry, according to Steve Koenig, director of industry analysis for the CEA.
CES 2014: Follow out full coverage of the Consumer Electronics Show
Overall, Koenig said he expected global consumer spending on tech to decline by 1% in 2014, down from about 3% growth in 2013. CEA reported that consumers spent $1.068 trillion on gadgets in 2013, but will shell out $1.055 trillion in 2014.
In general, consumer spending on tech has hit a plateau in recent years, thanks to a number of factors that have combined to halt growth.
After driving big growth in tech spending for several years, spending on tablets and smartphones is slowing as consumers around the world opt for lower-priced gadgets. Koenig said that as more consumers in more emerging markets embrace these devices, they are opting for simpler, cheaper versions.
"We've really taken the cream off the top," Koenig said. "Now we're really trying to penetrate these developing markets."
But the consumer electronics industry is also facing big macroeconomic and demographic shifts, Koenig said.
For instance, most growth in recent years had come from developing markets. Spending in these regions grew by as much as 20% in 2011. These regions will grow by 2% in 2014, Koenig said.
At the same time, mature markets such as the U.S. and Western Europe will see consumer electronics spending fall by 4% in 2014, he said.
Increasingly, smart phones and tablets have come to dominate consumer tech spending. These two categories will account for 43% of consumer spending in 2014, while almost every other category of consumer tech is falling, Koenig said.
Within tablets, 66% of devices sold will have screens smaller than 9 inches. Koenig pointed to this as another reason why overall spending has hit a wall: Consumers in all markets are simply opting for smaller gadgets.
What will change all of this? It's not clear, Koenig said. In general, it may will take a new breakthrough that supercharges spending.
"We're waiting for that next phase of innovation," he said.
ALSO:
DreamWorks Animation partners with Fuhu on new tablet
CES 2014: Consumer electronics show to feature 'Internet of things'
Ford to debut C-Max solar concept car at Consumer Electronics Show
chris.obrien@latimes.com
---
Your guide to our new economic reality.
Get our free business newsletter for insights and tips for getting by.
You may occasionally receive promotional content from the Los Angeles Times.