TWC is offering customers little in return for its latest rate hikes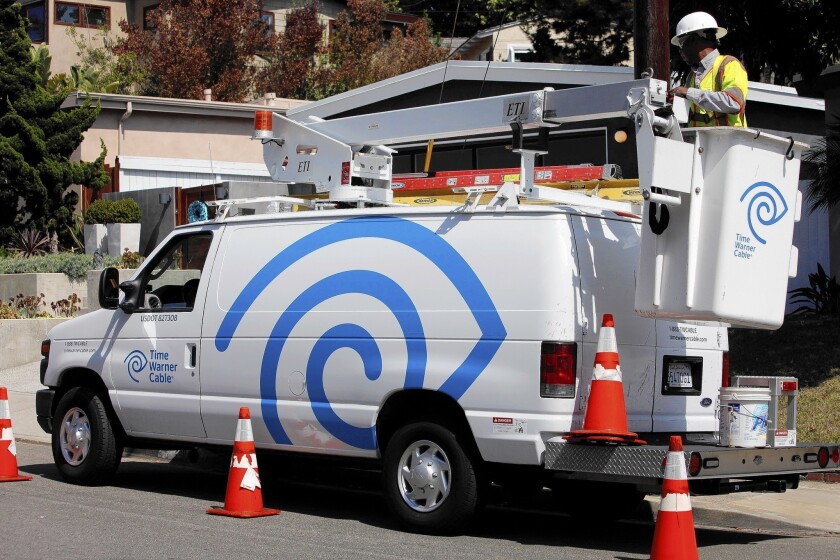 Time Warner Cable has assured customers that the company's $45-billion acquisition by Comcast will improve service and innovation.
Customers might wonder how the pairing of two profit-hungry cable giants will remedy the biggest problem: ever-increasing monthly bills.
Time Warner Cable has just sent out notices of its latest rate hikes, which take effect with the next bill. As usual, the company says higher prices were unavoidable.
On the one hand, it says, "the rates that TV networks and programming providers are charging us to deliver your favorite channels have risen to new highs."
At the same time, "the cost to maintain and grow our infrastructure has also increased."
Both of those explanations are valid. But what Time Warner isn't saying is that it needs to keep shareholders happy at a time when its number of TV subscribers is steadily decreasing and more people want high-speed Internet access.
Time Warner lost 831,000 TV subscribers last year but gained 154,000 broadband Internet customers.
The company's new rates reflect efforts to squeeze more money out of both camps.
On the broadband front, Time Warner's Lite Internet service will now cost $37.99 a month, Basic Internet will be $47.99 and Standard Internet will be $57.99. But, frustratingly, the company neglects to say on its notice to customers what the former prices were.
Dennis Johnson, a Time Warner Cable spokesman, said the company is required by regulators to provide such information for some fees, but Internet rates aren't one of them.
So Time Warner kept the size of the rate hikes to itself. What it apparently doesn't want people to know is that the increase for each Internet tier adds $3 to monthly bills.
That means the 11.1 million broadband customers Time Warner had as of Dec. 31 could be coughing up an extra $33.3 million in monthly revenue, or nearly $400 million a year, depending on their service plan.
Meanwhile, the company's 11.4 million TV subscribers will face an array of higher charges. The monthly cost of set-top boxes and digital video recorders, for example, will rise to $11.25 from $10.
That 12.5% increase will produce more than $14 million a month in additional revenue, or almost $170 million a year.
Johnson said the higher price for boxes reflects "investments to improve customers' experience," including revamped guide and search functions.
I don't know about you, but I haven't noticed my box performing any better, certainly not in any way that merits an extra $15 a year.
Time Warner also is introducing a $2.25 monthly "broadcast TV fee" to address higher costs involved in providing local channels — and presumably to avoid the sort of spats that resulted in a month-long blackout of CBS stations last summer.
That fee will produce more than $25 million a month in revenue, or more than $300 million a year.
To be sure, Time Warner is correct when it says programmers such as Disney, Fox and Viacom are soaking pay-TV customers by making them take fat bundles of channels, regardless of whether they want them.
"Our largest competitors — DirecTV, Dish, Verizon FiOS and AT&T; U-verse — have also recently raised prices of their TV services, all citing increased programming costs as a major factor," Johnson said.
The thing is, each of those other companies posted gains in subscribers last year, suggesting higher levels of customer satisfaction. Time Warner is making its shrinking pool of TV subscribers pay more yet is doing precious little to ease their pain.
What Time Warner and other pay-TV companies should do is offer smaller packages of channels that at least hew closer to subscribers' interests. Movie buffs should not be paying for sports channels they don't want. English speakers should not be paying for foreign-language channels.
Ideally, people would pay only for the channels they want — so-called a la carte programming — but this would require programmers and distributors to cooperate in serving consumers' best interests.
That's not going to happen without a prodding from lawmakers, who have grown complacent enjoying a steady diet of political donations from the industry.
Time Warner says things will only get better once Comcast takes over.
"This deal truly is a dream combination," Time Warner Cable Chief Executive Rob Marcus said at an investment conference last week. "It allows us to innovate at a rapid pace. And the value creation opportunity is huge."
Unfortunately, it looks like all that value creation will benefit the companies, not customers.
An elite edge?
This is the time of year when many high school students receive glossy packets saying they've been selected to participate in an elite "leadership" event that can only improve their chances of getting into a top college.
A young reader in Monrovia passed along a packet she received recently from the National Student Leadership Conference, a nonprofit organization that helps high-school students "develop essential leadership skills" at get-togethers held on college campuses.
"For over 25 years, a select group of student leaders from across the country and around the world have come to the NSLC for a truly unique experience," the accompanying letter said.
"We have found that participation in the NSLC is of interest to college admission officers, who seek motivated and academically talented students like you," it said.
Is that true? I asked Michael K. McKeon, dean of admissions at Saint Mary's College of California.
"That's absolute crap," he responded. "The only thing something like that would tell me is that you got fleeced."
And these things aren't cheap. The National Student Leadership Conference comes with a so-called tuition of about $3,000.
It's entirely possible that attending such events can be enriching for young people. But McKeon said college admissions officers would be more impressed by conferences held by actual universities or by a well-known organization such as Model United Nations.
My advice? Save your cash, kids, and crack open the books.
David Lazarus' column runs Tuesdays and Fridays. He also can be seen daily on KTLA-TV Channel 5 and followed on Twitter @Davidlaz. Send your tips or feedback to david.lazarus@latimes.com.
---
Your guide to our new economic reality.
Get our free business newsletter for insights and tips for getting by.
You may occasionally receive promotional content from the Los Angeles Times.