Column: Another downside to U.S. healthcare system: Way more opportunities for fraud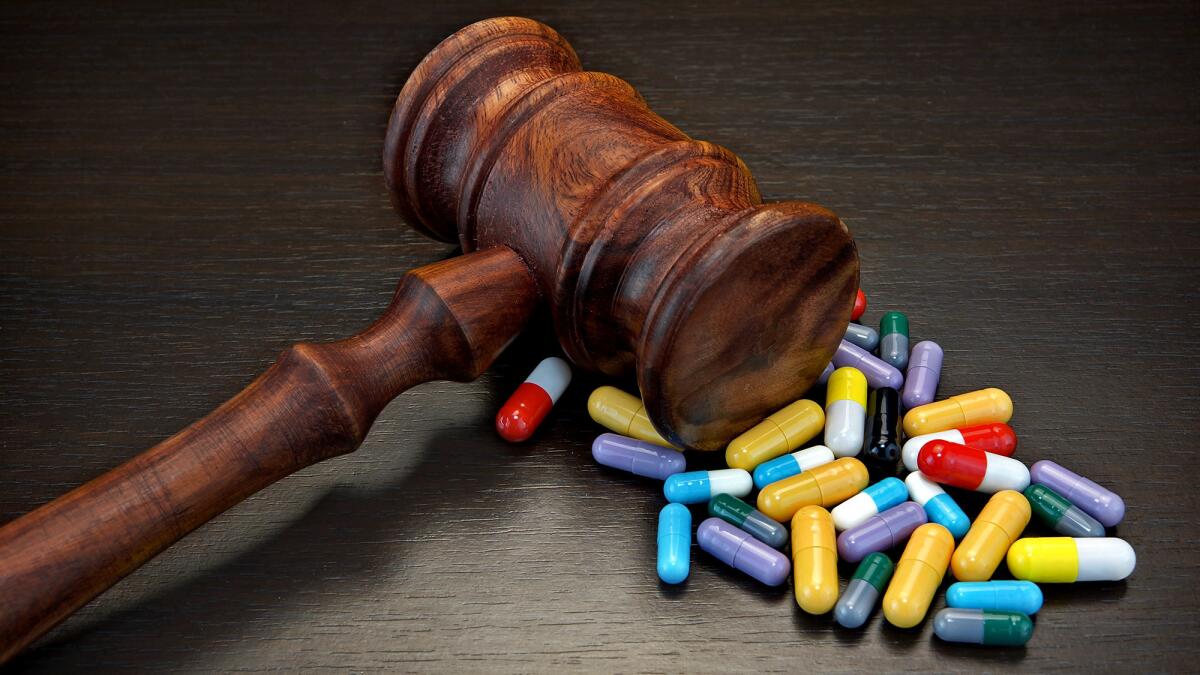 It's no secret that Americans pay more for healthcare than people in all other developed countries. And a big reason for that is because our $3 trillion healthcare system is focused to a large extent on generating profits for businesses, rather than the well-being of patients.
Much of that profit-seeking is perfectly legitimate, by which I mean it's frequently outrageous, unethical and immoral, but within the letter of the law.
Then there's all the profiteering that occurs in the shadows, seeking to exploit the insane complexity of the U.S. healthcare system and in so doing drive costs even higher.
"All healthcare systems have fraud," said David Frankford, a law professor at Rutgers University. "But the U.S. system is so complicated and so fragmented, it just makes it easier to get away with."
A good example arose this week with the indictment of the owner of a Sacramento company, Trina Health, that offers what it calls "one of the most important advancements in the treatment of diabetes since insulin."
G. Ford Gilbert was charged by the U.S. Justice Department with bribing an Alabama lawmaker to help expand Trina Health's business by forcing an insurance company to cover the company's treatment, which most major insurers, including Medicare, had deemed medically useless.
The indictment is eye-opening on a number of levels, not least the extremes this California business owner allegedly went to in order to pad his own pockets and enrich investors — all at the expense of insurers, which pass along costs to policyholders, and people with diabetes, who struggle daily with a chronic disease that's the country's seventh-leading cause of death.
Trina Health is named after Gilbert's daughter. According to the company's website, he was "driven by a father's love" to help her after she was diagnosed as a child with Type 1 diabetes, which is the autoimmune kind, as opposed to Type 2, which is often the obesity kind.
Gilbert devised a treatment called "microburst insulin infusion," which the site says is "nothing short of a miracle."
The treatment "utilizes a precise high-pressure pulsation algorithm to intelligently perfuse insulin into a diabetic patient," Trina Health says, claiming that "the serious complications from advanced diabetes are halted or reversed."
I'm no doctor but I do know a thing or two about this disease (I have Type 1 diabetes myself). My sense is that although Gilbert says his treatment turned his daughter's life around, it seems more snake oil than miracle cure. If it were as effective as he purports, it would be commonly prescribed by endocrinologists. It's not.
Nor is there much of a case to be made for Trina Health's claims that microburst insulin infusion can help not just with diabetes complications but also hypertension, chronic fatigue, wounds and erectile dysfunction.
The Centers for Medicare and Medicaid Services concluded in 2009 that the treatment, which consists of three hours of intravenous insulin injections on a weekly basis, "does not improve health outcomes in Medicare beneficiaries." As such, it wasn't worthy of coverage, Medicare said. Many private insurers followed suit.
Here's where things get hinky. Allegedly.
According to the indictment, Gilbert, 70, who had licensed his technology to investors in various regions, came up with ways to alter billing codes so Medicare wouldn't know it was paying for "insulin microbursts."
"In 2014 and 2015, Trina Health opened three clinics in Alabama," the Justice Department said. "Soon thereafter, the state's largest health insurer, Blue Cross and Blue Shield of Alabama, informed Trina Health that it would not cover the treatments provided by them. Gilbert then schemed to force Blue Cross to change its position."
He concocted legislation that would require the insurer to cover the procedure and "then made payments to State of Alabama House Majority Leader Micky Hammon in exchange for his efforts on behalf of the bill," according to the Justice Department.
Gilbert hired a local lobbyist, Marty Connors, who helped persuade the chairman of the Commerce and Small Business Committee of the Alabama House of Representatives, Jack D. Williams, to hold a public hearing on the bill, the indictment says.
Williams knew of the payments to the majority leader, the Justice Department said, "and acted in part to help Hammon, who, as everyone in the scheme knew, was experiencing grave financial problems." The bill eventually failed.
Gilbert was charged this week with wire fraud, healthcare fraud and interstate travel in aid of racketeering. Williams and Connors face similar charges. If convicted, each man could be imprisoned for up to 20 years.
Hammon pleaded guilty to mail fraud last September in a separate case involving use of campaign money for personal expenses. He was sentenced in February to three months in prison.
Neither Gilbert nor his lawyer returned calls requesting comment.
I don't want to suggest we wouldn't see alleged shenanigans such as this if we had a Medicare-for-all insurance system similar to just about every other developed country.
Despite the fact that most Europeans pay about half what Americans pay for healthcare, there's still a European Healthcare Fraud and Corruption Network to keep tabs on scammers.
But it seems indisputable that the needless complexity of the U.S. system, and the emphasis on profits rather than patient protection, create an environment that doesn't just encourage fraud, but greatly facilitates it.
By some estimates, 10 cents of every dollar spent on healthcare in this country is lost to fraud. That's almost twice the global average.
"The vast number of providers and suppliers in our healthcare system will naturally lead to more opportunities for fraud," said Pat Souter, a professor of healthcare studies at Baylor University School of Law.
While single-payer insurance systems found in other developed countries also have fraud, he said, "having a system such as ours, with the number of payers, contributes to increased opportunities."
Each expert I spoke with said a higher rate of fraud is to some extent the price we pay for our free-market-driven medical system, which may be strong on innovation but is woefully lacking in transparency.
For me, the alleged actions of Gilbert and Trina Health demonstrate that this may be too high a price to pay.
It's time this country explored a precise high-pressure pulsation algorithm to intelligently perfuse a little rationality into the healthcare market.
Which is to say, it's time we simplified things.
David Lazarus' column runs Tuesdays and Fridays. He also can be seen daily on KTLA-TV Channel 5 and followed on Twitter @Davidlaz. Send your tips or feedback to david.lazarus@latimes.com.