Column: Looking for new glasses? These companies are focused on disrupting the eyewear market
The eyewear industry, dominated by a handful of major players bent on stifling competition, is ripe for disruption.
It turns out that a number of ambitious start-ups are seeking to do just that, with California being a particularly fertile breeding ground for innovative approaches.
As part of a series of columns looking at the eyewear industry, I've already written about Los Angeles-based Lensabl and online glasses store Zenni Optical, based in Novato, north of San Francisco.
Here are a few other companies online worth checking out, with products that range from dirt-cheap to high-end. Each is trying something new, with hopes of reinventing how people buy frames and corrective lenses.
And remember, in all cases you'll need to get your prescription first from a bricks-and-mortar optometrist, and there's a good chance you'll need that person's help in getting mail-order glasses to fit right. Most optometrists will do it for free.
Pixel Eyewear, based in Culver City, wants to become the eyewear provider of choice to denizens of the digital age, with glasses intended to reduce the strain of staring for hours at a computer screen or hand-held device.
"I was working in an office and my eyes were hurting all the time," said Ian Chen, the company's founder. His "eureka" moment came when he asked himself why no one had combined stylish frames with the effectiveness of tinted gamer glasses.
"Our lenses use a pigment that's baked into the lens," Chen told me. "So instead of a special coating, it's the lens itself filtering out the blue light."
Pixel sells completed glasses — frames and lenses — for about $125. Like much of the eyewear industry, including some of the best-known brands, it outsources its manufacturing to China.
I was impressed by the quality. The plastic frames appear durable and, more important, the lenses seemed well-made despite the relatively low price.
Maybe it was just my imagination, but I found over several days of use that my eye strain was reduced and that I didn't experience customary headaches from having focused for hours on a bright screen. The subtle blue tint of the lenses wasn't visible to others.
Pixel offers only single-vision lenses at the moment but says progressives are in the cards. The glasses come with a 30-day trial period. If you're not happy, you can return them for a full refund.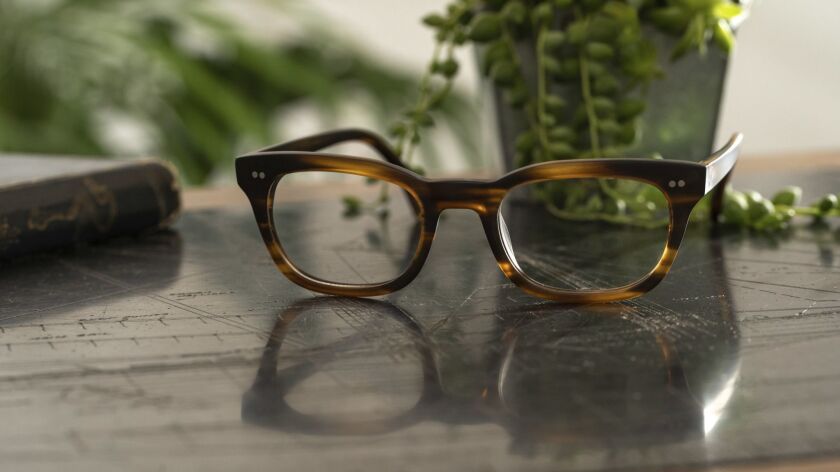 When Darren Rosenberg founded Lens & Frame Co., with offices in Long Beach and Santa Monica, he knew he was heading down a path of quality and style blazed by Warby Parker.
"I feel comfortable saying thank you to Warby Parker for making it easy, convenient and fun to buy glasses online," Rosenberg said.
What he wanted to do, though, was take things up a level for people willing to pay a little more for frames and lenses manufactured to higher specifications.
"The goal," Rosenberg explained, "was to mash up the quality of Oliver Peoples or Salt with the direct-to-consumer convenience of Warby Parker."
I'd say he succeeded. Lens & Frame Co. offers bold, solid frames (mostly manufactured in China) and top-quality lenses (produced locally). Complete single-vision glasses start at $245, progressives at $345.
Not only is the quality high, but the company also goes for a nice personal touch. All glasses include a personal note from whoever inspected them to make sure everything's right, and it's easy to reach someone (likely Rosenberg himself) if there's a problem.
The acetate styles available lean toward the chunky-cool look that's popular right now. There are a few metal frames offering a more subtle fashion statement.
Lens & Frame Co. does both prescription eyewear and reading glasses.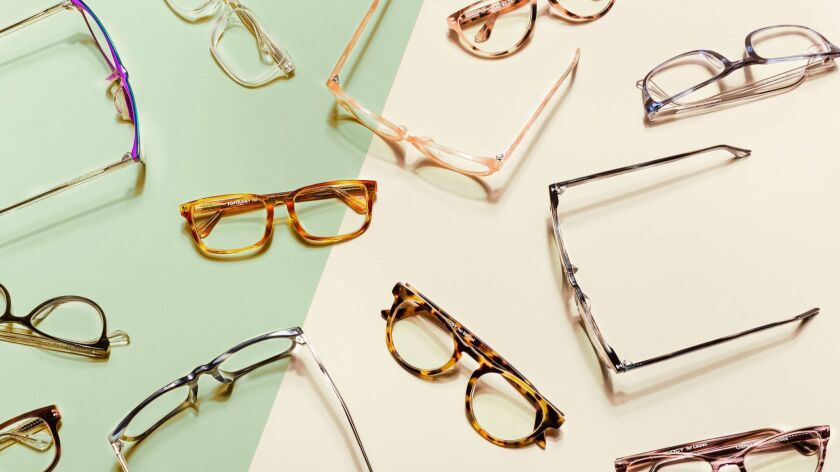 San Francisco's Topology set out to do something "radically different" with eyewear — custom frames and lenses. For founder and Chief Executive Eric Varady, the mission was personal.
"I wanted to solve a problem for myself," he said. "I have kind of a large nose and my ears are set back a little. I couldn't find glasses that fit."
Topology's solution is an app that scans your head, figuring out exactly how long the arms should be, how large or small the bridge should be, how wide the frames should be, how the lenses should work.
Customers pick frames they like, see what they'd look like using a photo uploaded to the app, and tweak as desired.
I've never owned a custom-made anything, so the idea of bespoke glasses seemed extravagant. But when I tried on a pair that had been been designed for my face, it was a revelation.
Like Varady, I have a proud schnoz. These were the first glasses that settled on my nose as though they were born to be there, which, of course, they were. I needed the help of my local optician to get everything exactly right, but the fit, and the lens quality, were exceptional.
Not surprisingly, bespoke glasses aren't cheap. Topology frames cost about $350. Lenses can run a couple of hundred more. Basically, you can expect to pay about as much as you pay for designer glasses at a brick-and-mortar optician.
The difference is that the glasses will be manufactured for you and you alone. They'll even have your name on the inside of the arm.
Topology minimizes risk by offering a money-back guarantee if you're dissatisfied. It's also launching a try-before-you-buy plan in which customers pay only 10% of the cost upfront.
"We stand 100% behind it," Varady said. "If you don't like it for any reason, return it for a full refund."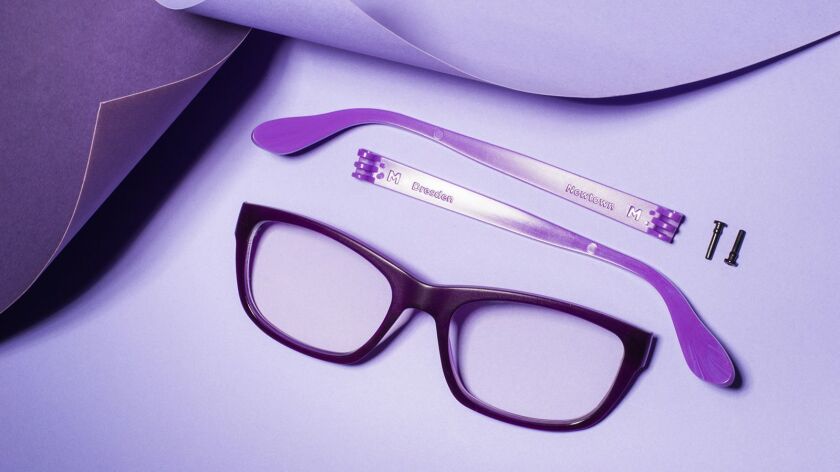 An Australian company called Dresden Vision is doing the exact opposite of Topology. Dresden's position is that everyone can afford glasses if you offer only one style and mass-produce it as cheaply as possible.
"I started Dresden because I couldn't understand why the glasses experience was so crap," said Bruce Jeffreys, the company's founder. "I'd worn glasses since I was a teen and found them really impractical for someone living a normal busy life. They broke, they were hard to repair.
"Our intent was to make glasses simple and convenient by stripping back the product, taking out some of the personalization and making them more of a consumable than a bespoke fashion statement," he said.
Dresden offers modular eyewear components — fronts and arms — in different sizes and colors. Customers pick the ones they think will look best, connect the pieces using colored pins and, voila, prescription glasses for a starting cost of $35.
I knew the nylon polymer frames would look plasticky, but they weren't as toy-like as I expected. Most important, the single-vision lenses (that I had to snap into the frames myself) were absolutely fine.
I use them for dog walks and watching TV. My wife says the rectangular shape makes me look like a hipster, which I think she intends as a compliment.
They're obviously a great choice for kids. The fact that they can be customized so easily by swapping out different-colored arms adds to the fun.
Jeffreys sees Dresden partnering with nonprofits to get his glasses throughout the developing world. He also hopes to expand the company's retail footprint into drugstores, bookstores and elsewhere.
The long-term goal, he said, is to get the cost of a finished pair of glasses down to about $7.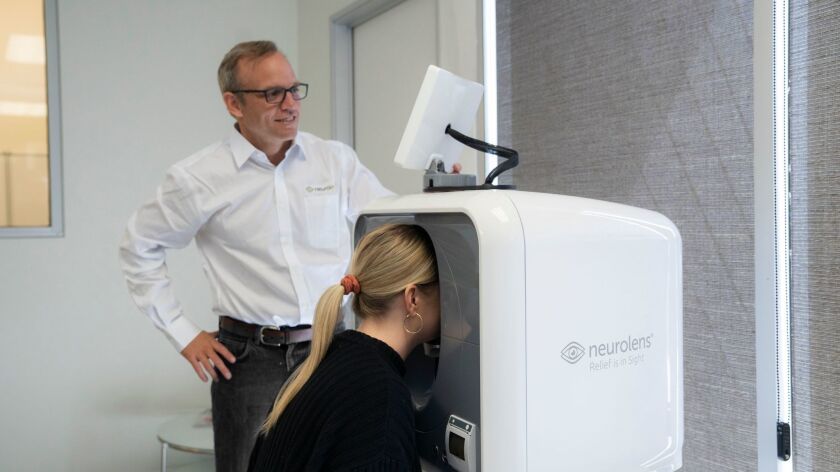 A Costa Mesa company called EyeBrain Medical also wants to change the eyewear world. Unlike Dresden, though, it's doing so at a significantly higher price point.
EyeBrain's "neurolenses" offer what the company calls "the first and only prescription lenses that add a contoured prism to bring the eyes into alignment."
Such prisms, it says, can relieve "the headaches, neck/shoulder pain and eyestrain that many people experience when using digital devices, reading or doing detail work."
I'm one of those people, so I approached neurolenses with high hopes.
The verdict? Yes, they work. They are better than other prescription lenses.
But the improvement, at least for me, was relatively modest, making it a little easier to read and focus up close. And neurolenses are really expensive.
They start at $650 for a single-vision pair and $850 for progressives — not including frames. Complete glasses, therefore, can run more than a thousand bucks.
Davis Corley, EyeBrain's CEO, said the company is aware that neurolenses are pricey. "We're always looking for ways to reach more patients," he said. "We'll be looking to make this more widely available."
That includes a current 100% money-back guarantee if you're dissatisfied for any reason. Financial assistance may be a possibility down the road.
Prisms aren't new for prescription lenses — I've had them in my glasses for years. They help to align the eyes so it's easier and more comfortable to focus.
Neurolenses are different in that, for the first time, the prism strength can vary from the distance portion to the reading portion, even in single-vision glasses. This makes neurolenses more versatile than lenses with the same prism strength throughout.
Costs are high because optometrists need to invest in special machines to test your eyes for neurolenses, and the only labs that currently make neurolenses are in Japan.
Corley observed that for a person with severe vision-related headaches or muscle pain, the cost of neurolenses can be cheaper over time than visits to a chiropractor or masseuse, or regular doses of medicine.
That's perhaps true. So in light of the money-back guarantee, I recommend neurolenses for anyone with chronic symptoms.
For everyone else, the price point needs to come down to where a contoured prism is about as costly an add-on as anti-glare coating.
It's one thing to build a better mousetrap, which EyeBrain has done. It's quite another to make it affordable.
David Lazarus' column runs Tuesdays and Fridays. He also can be seen daily on KTLA-TV Channel 5 and followed on Twitter @Davidlaz. Send your tips or feedback to david.lazarus@latimes.com.
---