Column:: The GOP's big lie: Healthcare bill 'protects people with preexisting conditions'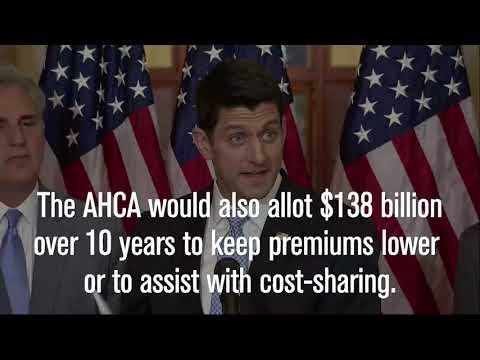 Under the American Health Care Act, states can apply for waivers to allow insurance companies to consider a person's health status when determining premiums. (May 4, 2017) (Sign up for our free video newsletter here http://bit.ly/2n6VKPR)
Last-minute wrangling over the Republican healthcare bill, approved by the House on Thursday, centered largely on what's known as the MacArthur Amendment. House Speaker Paul Ryan said it "strengthens" the legislation and "protects people with preexisting conditions."
It strengthens the bill only from the perspective of maintaining support from far-right lawmakers who have sworn blood oaths to undo the healthcare-reform legacy of former President Obama.
And it protects people with preexisting conditions much as starving people may be welcome at a restaurant, but only if they order the most expensive dishes on the menu.
"The MacArthur Amendment is a Band-Aid on a very bad plan, and it likely won't staunch the bleeding," said Dana Goldman, director of the USC Schaeffer Center for Health Policy and Economics.
I spoke with the amendment's namesake, Rep. Tom MacArthur (R-N.J.). He painted a sunnier picture.
"We have to make sure the most vulnerable are protected, but we also have to bring down costs for everyone else," he told me. "I think we're doing that."
This much is clear: Republican lawmakers have provided a textbook example of how not to enact major legislation.
They're aiming to radically overhaul the $3-trillion U.S. healthcare system yet have shunned the input of major stakeholders such as medical organizations, hospitals and patient-advocacy groups, which are uniformly against the measure.
A key focus of the GOP has been a provision of the Affordable Care Act that people with preexisting conditions not be discriminated against in any way by health insurers. Prior to Obamacare, insurers could deny coverage to such people or charge premiums beyond most people's ability to pay.
The MacArthur Amendment would empower states to waive protections for those with preexisting conditions as long as they come up with some alternative way of making insurance available.
The catch, however, is that the amendment would not require insurers to charge the same rates that healthy people enjoy. That's why the likes of the American Medical Assn. and AARP have warned that, under the Republican plan, sick people could face rates so high that they'd be unaffordable for any but the wealthy.
Dr. James Madara, chief executive of the AMA, said in a letter to Congress last week that claims the MacArthur Amendment would protect people with preexisting conditions are "illusory."
The reason he can say this is because the Republicans would rely mostly on so-called high-risk pools to provide coverage for the sick. This means such people would be grouped together for insurance purposes, which would relieve healthy people of the financial obligation of covering their needs.
While that would lower premiums for the healthy — which, along with tax cuts, appears to be the Republicans' primary goal in tackling healthcare reform — it would cause rates to soar for those in the high-risk pool.
We know that because this isn't a theoretical idea. High-risk pools have been tried in nearly three-dozen states, and in almost all cases resulted in limited access to coverage and skyrocketing costs.
California's high-risk pool was the Major Risk Medical Insurance Program, which was intended only as insurance of last resort for the up to 400,000 people with preexisting conditions who, prior to Obamacare, kept having doors slammed in their face by profit-hungry insurers.
The program was chronically underfunded, meaning that it eventually had to limit the number of people covered to only about 7,000 — a small fraction of the state's uninsured. Thousands languished on the waiting list.
And even when people obtained coverage in California's high-risk pool, monthly premiums would run as much as $1,000, annual coverage would be capped at $75,000 and there would be a lifetime limit of $750,000. It was, in other words, too little coverage at too high a price.
The Republican bill now includes a potential $130 billion in subsidies over a decade, plus another $8 billion over five years, to fund high-risk pools. But some experts say that's nowhere near enough.
The Center for American Progress estimates that, depending on the number of states involved, an additional $200 billion could be needed.
Jennifer Kent, director of the California Department of Health Care Services, told me the Republicans' $138 billion might sound like a large amount until you face the actual costs of covering people with serious conditions.
"We had one person, a child with hemophilia, in Medi-Cal who cost $21 million last year," she said. "We had five other people who cost over $10 million each. Put them together and that's just six people costing almost $100 million."
The simple fact, Kent said, is that any risk pool comprised solely of sick people will be very, very expensive.
"The problem with California's high-risk pool was that there was never enough funding," she said. "We had to close enrollment because the money ran out."
This shouldn't be news to MacArthur, the Republican lawmaker. He's a former insurance executive who got rich selling his company, York Risk Services Group, for about half a billion dollars in 2010.
MacArthur told me the Republicans are prepared to make "a tremendous down payment" on funding high-risk pools. "If we find that things have to be tweaked, we'll make adjustments," he said.
That's a surprising commitment to flexibility considering the Republicans adamantly refused to consider even a single tweak to Obamacare. It also displays an optimism about taxpayer funds being used for the sick that doesn't seem warranted.
Republicans currently say that healthy people shouldn't have to cover those with preexisting conditions through higher premiums. Yet those same healthy people will be willing to shoulder a possibly higher tax burden?
MacArthur insisted that "we're not leaving people high and dry." And the Republican bill does contain responsible-sounding language that makes it seem like people with preexisting conditions have little to fear.
The reality, however, is that it lays the groundwork for the sick to be ghettoized. It punishes people not for misdeeds but for medical misfortune.
That's not healthcare. It's an act of cruelty.
David Lazarus' column runs Tuesdays and Fridays. He also can be seen daily on KTLA-TV Channel 5 and followed on Twitter @Davidlaz. Send your tips or feedback to david.lazarus@latimes.com.