Pasadena's most expensive home aims for $39.8 million
A massive Pasadena estate is listing for sale Saturday at $39.8 million, making it by far the most expensive listing in the city.
The asking price for the 31,415-square-foot mansion is more than three times that of the city's second-most-expensive home for sale, which is asking $11.68 million. Should the new listing sell for close to the asking price, it would be Pasadena's biggest deal since 2013, when the so-called "Dynasty" mansion changed hands for $20 million.
The Beaux Arts-inspired house, built in 1991 and designed by noted architect Richard Landry, sits on 4.6 acres surrounded by formal gardens, covered arbors, fountains, statuary and a private lake with a waterfall. Handmade stained-glass domes top two gazebos. The Olympic-size swimming pool is lined with green and white marble imported from Mexico.
The estate has a total of 16 bedrooms and 19 bathrooms.
(Juwan Li)
Corinthian columns support a massive portico.
(Juwan Li)
The swimming pool.
(Juwan Li)
Handmade stained-glass domes top the gazebos.
(Juwan Li)
The property features a private lake.
(Juwan Li)
A domed gazebo.
(Juwan Li)
Statues found throughout were imported from Europe.
(Juwan Li)
Box hedges frame a massive fountain.
(Juwan Li)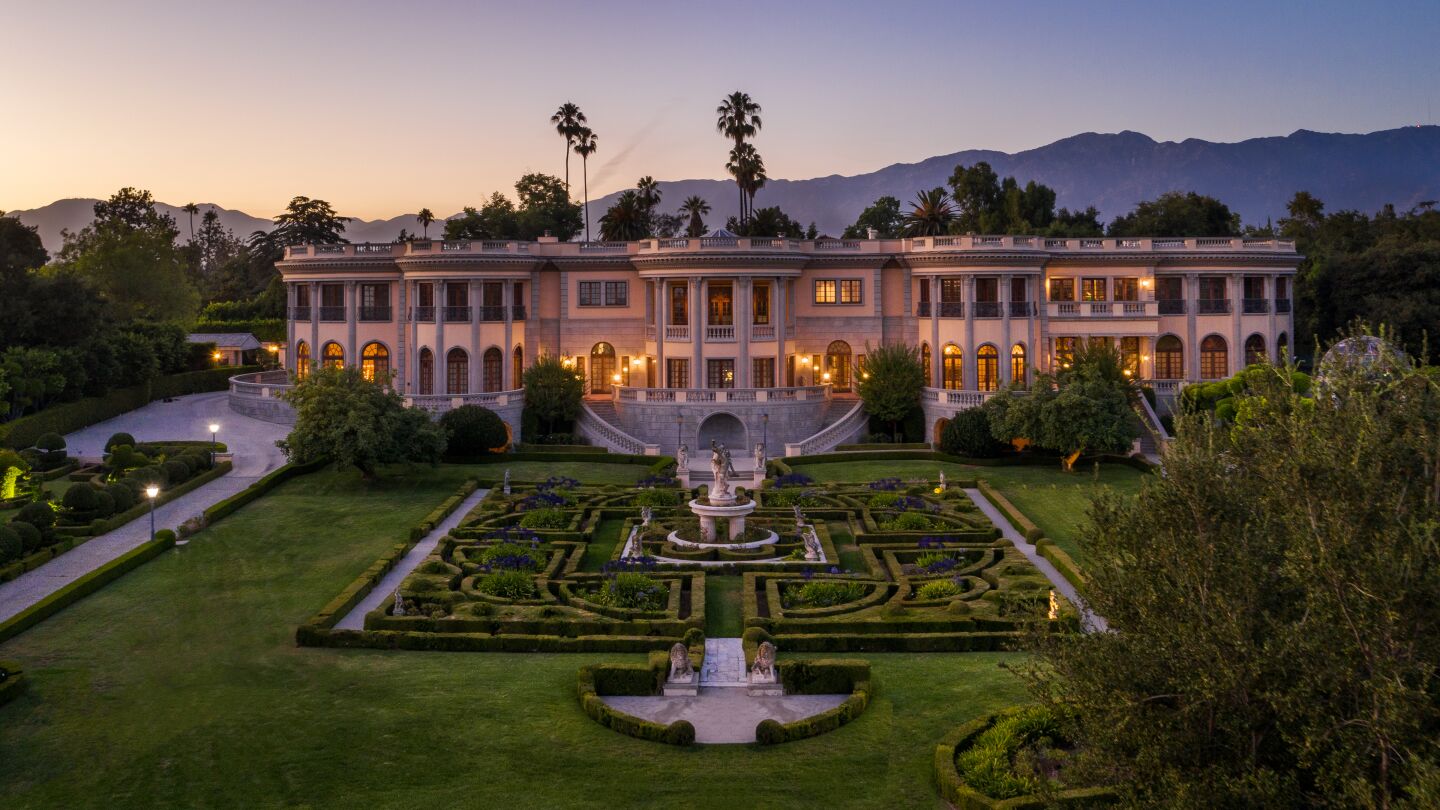 The estate spans 4.6 acres.
(Juwan Li)
An aerial view.
(Juwan Li)
The exterior gates.
(Juwan Li)
Eastern and western wings divide the blank-slate interior, which includes a two-story foyer, multiple formal rooms, a grand ballroom, a media room, spa facilities and an indoor resistance pool. The main house has 14 bedrooms; the guesthouse has two more. There are a total of 19 bathrooms.
The $39.8-million asking price is something of a reduction for the mega-mansion. In the late 2000s, the property was briefly offered for about $52 million, records show.
Of the 10 highest home sales in Pasadena last year, only one topped $10 million: "Avengers" director Anthony Russo's $15.58-million purchase of the "Dynasty" mansion.
Sabrina Wu at Compass and Kirby Gillon, Bryce Lowe and Aaron Kirman of Aaron Kirman Group at Compass share the listing.
---
The mansions, the prices, the market.
See inside amazing properties and read the latest news about housing and commercial real estate in our weekly newsletter.
You may occasionally receive promotional content from the Los Angeles Times.