Newsletter: Hot Property: Starstruck by houses
We're reminded this week how much some Hollywood celebrities dig houses. Talk show maven Ellen DeGeneres takes them on as projects, lives in them and moves on. Jeremy Renner and Kristoffer Winters survived their starving-actor stage by flipping houses; now Winters devotes himself full-time to the endeavor.
A Laguna Beach listing that surfaced recently was once owned by Oscar winner Diane Keaton, whose name has appeared in the Hot Property column dozens of times since 1990. She was one of the earliest serial home remodelers we chronicled.
Once you're done reading about these star-studded transactions, visit and like our Facebook page, where you can find Hot Property stories and updates.
– Neal J. Leitereg and Lauren Beale
Her old Spanish stage
An oceanfront home owned by actress Diane Keaton from 2004-07 has come on the market in Laguna Beach for $15.989 million.
Built in 1928, the renovated house sits on a quarter-acre bluff with sweeping ocean views. Original colorful tilework and iron embellishments are among the types of details that have caught Keaton's eye over the years.
Today the 4,149 square feet of living space include an updated kitchen, an office, a family room, four bedrooms and 5.25 bathrooms. Picture windows and glass doors bring ocean views into the living and dining rooms.
Multiple terraces and a front courtyard with a fireplace extend the living space outdoors. A private staircase provides access to the sand below where there's a "beach garage" for storing kayaks and surfboards.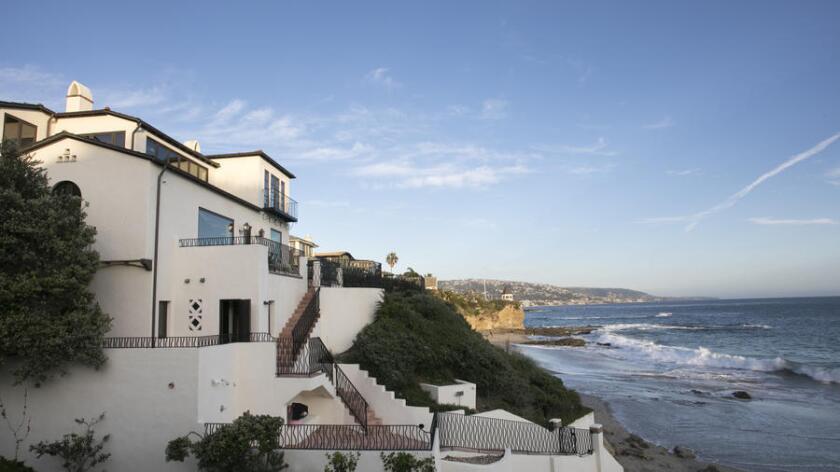 Her final home
Unlike Keaton, iconic actress Marilyn Monroe was more of a renter – at least when she was between husbands. The Brentwood home where she died is now on the market for $6.9 million.
The hacienda-style house, on a half-acre, was purchased by Monroe in the early 1960s following the end of her marriage to playwright Arthur Miller. It was the only home the singer, actress and model owned independently of a spouse.
Times reporting after her death in 1962 noted that she paid $75,000 for the property, which came partially furnished. Her mortgage payments were $320 a month.
Built in 1929, the one-story house contains a formal living room, a family room, an office, four bedrooms and three bathrooms in 2,624 square feet of living space. Interior details include arched doorways, Saltillo tile floors and cathedral ceilings with exposed beams.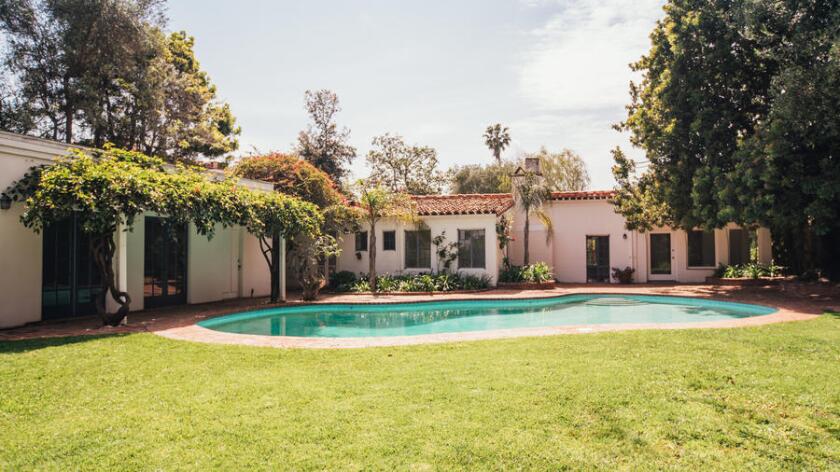 Old Hollywood connections
A Mediterranean Revival in the Little Holmby area is listed for sale at $6.495 million.
Set on more than half an acre, the 1932 house has ties to both actress-singer Marlene Dietrich, who hosted scores of stars at the property during her stay, and actress Dorothy Dunbar, who leased the home after her marriage to the fifth of her seven husbands was annulled. Dunbar was later sued by the owner for property damage allegedly caused by her beloved cocker spaniel, Duke.
"He was never a bad dog when I was around," Dunbar told The Times in 1937.
The two-story house has been restored and retains its vaulted and beamed ceilings, wood and terra-cotta floors and stained-glass windows. A circular foyer with a sweeping staircase sits just inside the entry.
The 6,167 square feet of living space include a wood-paneled den, a screening room with a wet bar and four bathrooms.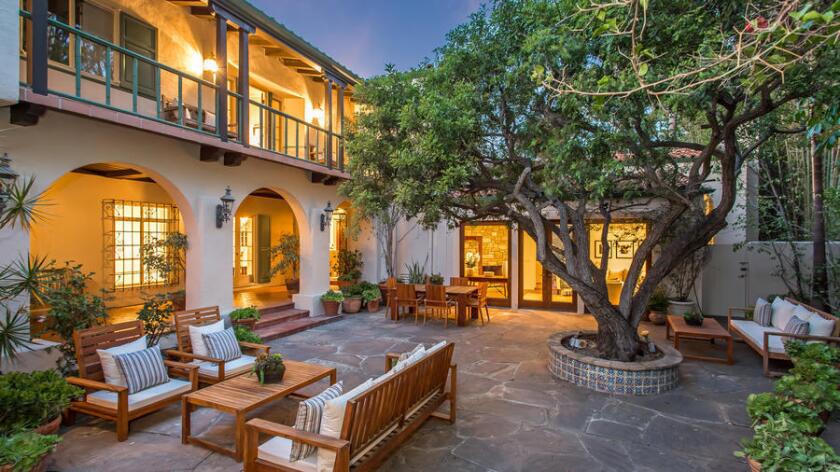 Where he kicks it
Los Angeles Galaxy midfielder Jermaine Jones has put his place in Encino up for sale at $4.495 million.
The gated Mediterranean estate was previously owned by actors Tori Spelling and Dean McDermott and regularly featured in their reality show, "Tori & Dean: Home Sweet Hollywood" (2007-11).
Bold colors, wallpaper and murals enliven the living spaces, and a dramatic chandelier tops the two-story foyer. A cabana with a bar/kitchen and bathroom was added in the backyard and sits at the end of the swimming pool.
More than 6,700 square feet of living space include six bedrooms and 7.5 bathrooms.
Jones, 35, bought the house in 2011 for $2.5 million. He joined the Galaxy this year after three seasons in Major League Soccer with the Colorado Rapids and the New England Revolution.
Cleaning up in Venice?
Jonathan Vandenbroeck, the Belgian singer-songwriter better known as Milow, has paid $3.199 million for a home in Venice.
Set on a walk street, the multilevel contemporary features a second-story balcony and a rooftop deck with a spa. Views take in the city lights, mountains and ocean.
The roughly 3,700 square feet of living space contain an office/den, an exercise room and five bedrooms. Hope this guy's a clean freak. There are two laundry rooms.
Milow, 35, has released seven studio albums including last year's "Modern Heart."
Ready to play ball
Former Angels outfielder Gary Matthews Jr. has listed his home in Corona del Mar for $3.995 million.
Built in 1961, the shake-sided traditional sits behind walls and gates and has a swimming pool with multiple waterfall features in the front courtyard. French doors and picture windows along the rear of the home take in ocean views.
The 3,000 square feet of single-story living space include an office, three bedrooms and 2.75 bathrooms. Beamed tongue-and-groove ceilings top a great room with a fireplace.
Matthews, 42, played for nine teams in 12 big league seasons, including stints with the Chicago Cubs, Texas Rangers and New York Mets.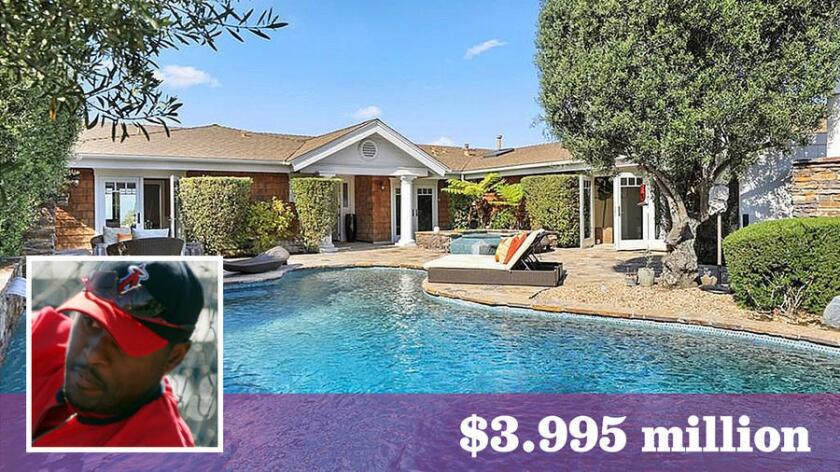 His favorite room
Television personality Hal Sparks, of Netflix's "Fuller House," makes his home in Chinatown, where he rents a two-bedroom apartment. His favorite space is the living room and kitchen area. "I'm in the process of tuning and training the space to do what I say. I have [Apple's] Siri and [Amazon's] Alexa hooked up to do everything from the lights to the television. Essentially, I can speak to my apartment."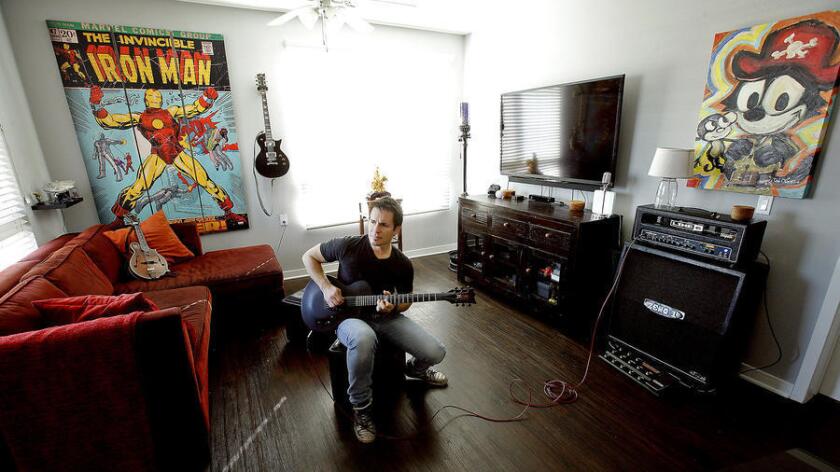 From the archives
Ten years ago, supermodel Gisele Bundchen sold her 4,000-square-foot Hollywood Hills home for $4 million and relocated to New York. The one-story, gated Spanish hacienda in the Sunset Strip area had a media room, a gym, city views and a swimming pool.
Twenty years ago, tennis great Andre Agassi bought a Las Vegas house for just under $2 million shortly before his wedding to actress Brooke Shields. The home, set on an acre, had four bedrooms in 6,000 square feet plus a guest cottage.
Thirty years ago, pop singing/wife-husband duo Marilyn McCoo and Billy Davis sold their Beverly Hills home for $2.5 million. The onetime Fifth Dimension bought a newer house in upper Benedict Canyon with a tennis court.
What we're reading
Deep down, don't you hate design trends? They keep changing. Realtor.com had some fun looking at what's out in bathrooms … already. Reader beware: The list includes that huge bathtub, dual sinks and subway tile.
A short sale can short circuit your credit scores, reports The Times' Liz Weston. What matters is how your lender reported the transaction to the credit bureaus.
ICYMI: Americans bought homes in March at the fastest pace in more than a decade for a strong start to the traditional spring buying season. Sales of existing homes climbed 4.4% last month to a seasonally adjusted annual rate of 5.71 million, according to the National Assn. of Realtors. That was the fastest sales rate since February 2007.
---
Inside the homes of the rich and famous.
Glimpse their lives and latest real estate deals in our weekly Hot Property newsletter.
You may occasionally receive promotional content from the Los Angeles Times.