Hot Property: New stock on the shelves
With all the houses popping up on the market these days, we've spied a fair number that were listed last year, now at lower prices. But they're not all reruns. Among those fresh to the market is a Beverly Hills mansion owned by a big-screen standout and an actress' recently completed Cape Cod-inspired house in Encino.
For a video peek at a celebrity home, actor Sam Daly takes us inside his son's nursery, a room with "lots of blue and gray tones with wood mixed in." Warmth was created by finishing off the space with family mementos.
Once you're done reading about these deals, visit and like our Facebook page, where you can find Hot Property stories and updates throughout the week. That's also a great place to leave us a tip about a celebrity home deal.
– Neal J. Leitereg and Lauren Beale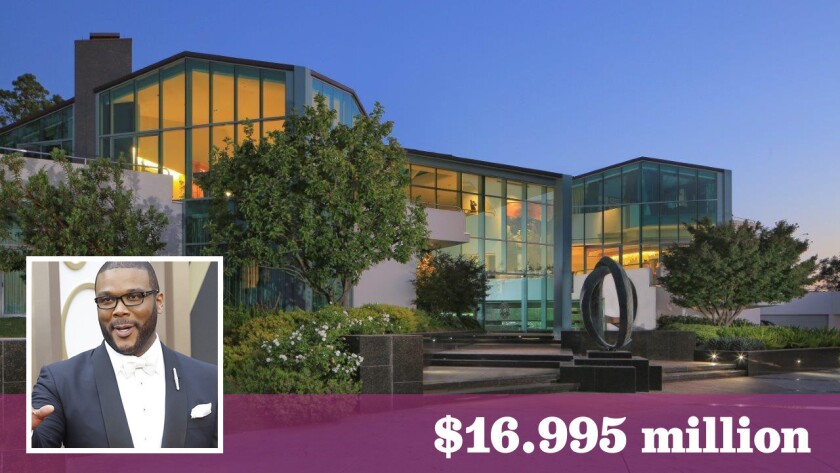 He's ready for a sequel
Actor-comedian Tyler Perry has listed his modern mansion in Beverly Hills' gated Mulholland Estates at $16.995 million. That's roughly $2.5 million more than what he paid for the property last summer.
The custom home sits on more than four acres and features a dramatic façade of glass walls and steel beams.
Pyramid-shaped skylights brighten the 17,245 square feet of living space, which include a crystal chandelier-topped dining room, an open-plan living room, 10 bedrooms and 11 bathrooms.
The grounds contain a resort-style pool with a slide and grotto, a koi pond, a sports court and multiple dining terraces.
In addition to a plethora of Madea films and plays, the 48-year-old Perry also created the sitcom "Tyler Perry's House of Payne."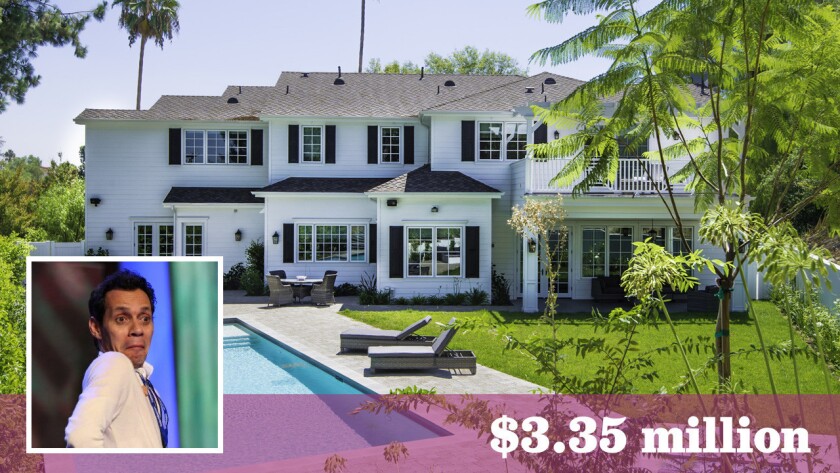 Priced to sell in Tarzana
It's been on again, off again and now it's seriously on again. Latin music artist Marc Anthony and his wife, model Shannon de Lima, have put a second home they own in Tarzana back on the market. This time the asking price is $3.35 million – less than the $4.125 million they paid for the place three years ago.
The East Coast-inspired traditional, built in 2014, sits behind gates on a half-acre knoll with a built-in barbecue, a swimming pool and spa, a fire pit, a covered patio and a gazebo.
Within the 6,590-square-foot two-story are formal living and dining rooms, two family rooms, a two-island kitchen, a den with a wet bar, a library/office, five bedrooms and seven bathrooms.
The salsa singer, 49, has won five Latin Grammy awards and two Grammy awards, including one for Best Latin Pop Album in 2004.
Hoping everybody loves Cape Cod
Alex Meneses, whose credits include "Everybody Loves Raymond" and "The Flintstones in Viva Rock Vegas," has put a Cape Cod-inspired traditional home on the market in Encino for $4.499 million.
The newly built house sits on a roughly half-acre lot that previously held a 1940s ranch-style house. She bought the property three years ago for $1.91 million.
The 6,000-square-foot home and an attached guesthouse are approached by a brick driveway.
The grounds include a swimming pool and spa, a covered patio and an outdoor kitchen.
Meneses, 52, has appeared in "Telenovela" and "Jane the Virgin."
English manor has a Hollywood history
An investment property owned by singer-songwriter Dean Torrence of the surf-rock duo Jan & Dean is for sale in Hollywood Hills at $1.699 million.
The country English manor, built in 1926, was home in the late 1930s to actor Humphrey Bogart. The property has a storybook quality with its thatched-style roof, stone accents and walking paths.
Leaded glass windows, a formal living room with beamed ceilings, a two-story stone fireplace, an office, three bedrooms and three full bathrooms are within the 2,081 square feet of living space.
Torrence, 77, co-founded Jan & Dean with high school friend Jan Berry in the late 1950s. Among their hits were "Surf City" and "Dead Man's Curve."
Doubled as O.J.'s house
A Beverly Hills estate that has come back on the market at $32 million is a star in its own right.
The property doubled as O.J. Simpson's mansion in the FX series "The People v. O.J. Simpson."
Set on more than an acre with a tennis court and guesthouse, the Tudor revival/French country main house has the distinctive half-timbering in keeping with the style and herringbone-patterned brick insets.
Updates include Italian leaded windows, wood beams from a church in England and a 16th century fireplace from the Palace of Versailles.
The house and guesthouse contain seven bedrooms and nine bathrooms within 12,220 square feet of living space. Rooms used in the O.J. Simpson series include the living room, a bedroom, the screening room and the den. The garden was also used in some scenes.
The house came on the market two years ago for $40 million and was reduced to $36 million in June.
His favorite room
Actor Sam Daly's favorite space in his 1,440-square-foot Mar Vista home is his son's nursery. Treasured family heirlooms fill the room, including the original cel art from "Teenage Mutant Ninja Turtles" that Daly was given as a baby by his father, actor Tim Daly. "It's an eclectic hodge-podge," said Sam, 33, who next appears in the zombie movie "Office Uprising" and the post-Katrina heist film "Cut Throat City."
From the archives
Ten years ago, Mike Piazza, the former Dodgers catcher and fan favorite, bought a second property in the Miami Beach area. The home, purchased for $10 million, had been listed at $12.5 million.
Twenty years ago, singer Patti LaBelle sold her Westside condo for about $500,000 and bought a larger, more expensive one nearby. She sold an 1,800-square-foot penthouse.
Thirty years ago, actor Dustin Hoffman sold his Malibu home and moved into another, which he built on a beach lot. The listing price for the home he sold was just under $1 million.
What we're reading
Apparently the buyers who spent $3.2 million for the "American Horror Story" house in L.A.'s Arlington Heights don't read Hot Property or watch television or use Google. The new owners of the 1908 Tudor are suing the brokers for not disclosing its use in the FX series, reports the Real Deal. They claim they have been overrun by fans and experienced break-ins.
We love an interesting reuse. This $979,000 house in East Quogue, N.Y., was once a barn, reports Newsday. As a four-bedroom, 2.5-bathroom house, the structure has high, wood-beam ceilings and wide-plank wood floors.
ICYMI: In the wake of the Montecito disaster, The Times' David Lazarus looked at whether homeowner's insurance covers mudslides. The answer may have to be decided in court. The typical homeowner's insurance policy doesn't cover floods, but does cover fire-related damage.
---
Inside the homes of the rich and famous.
Glimpse their lives and latest real estate deals in our weekly newsletter.
You may occasionally receive promotional content from the Los Angeles Times.