Last week we focused on the San Fernando Valley hotspot of Encino. A couple sales of note this week reminded us of another celeb-magnet in the Valley: Studio City. Just as the name implies, it's studio adjacent.
Our Home of the Week is a bright and shiny new contemporary in Beverly Crest. Walls of glass open to connect the 8,000 square feet of interiors with the sparkling swimming pool outside. The asking price for all that bling is $19.8 million.
Once you're done reading about these deals, visit and like our Facebook page, where you can find Hot Property stories and updates throughout the week.
– Neal J. Leitereg and Lauren Beale
A Warrior's off-court move
Golden State Warriors point guard Steph Curry has made an off-market move in Northern California, selling his Alamo home of roughly three years for $6.3 million.
Set in a gated community, the 1.5-acre property includes a Traditional-style main house, a detached guesthouse and a six-car garage. The 2006 build has more than 10,000 square feet of living space, five bedrooms, 8.5 bathrooms and five fireplaces.
Amenities include a billiard room, a climate-controlled wine cellar and a Finnish-style spa.
The landscaped estate holds various fountains, a lawn, an infinity-edge swimming pool and an outdoor pavilion.
Curry, 30, is a two-time league MVP and a six-time All-Star. The prolific scorer has spent his entire 10-year career with the Warriors, winning three NBA titles with the team.
The doctor has left the house
Actress Lucy Liu has sold her Studio City home for $3.06 million. She bought the place in 2001 for $2.3 million.
Built in 1959, the updated Craftsman has 4,100 square feet of living space, four bedrooms and five bathrooms. In a departure from Arts and Crafts details, the media room and master bedroom are lined in leather panels.
The property, which encompasses more than a third of an acre, contains a swimming pool and spa, mature trees and a rustic cabana.
Liu, 50, has scores of television and film credits including the show "Ally McBeal" and the films "Payback" (1999) and "Shanghai Noon" (2000). She currently appears as Dr. Joan Watson on the television series "Elementary."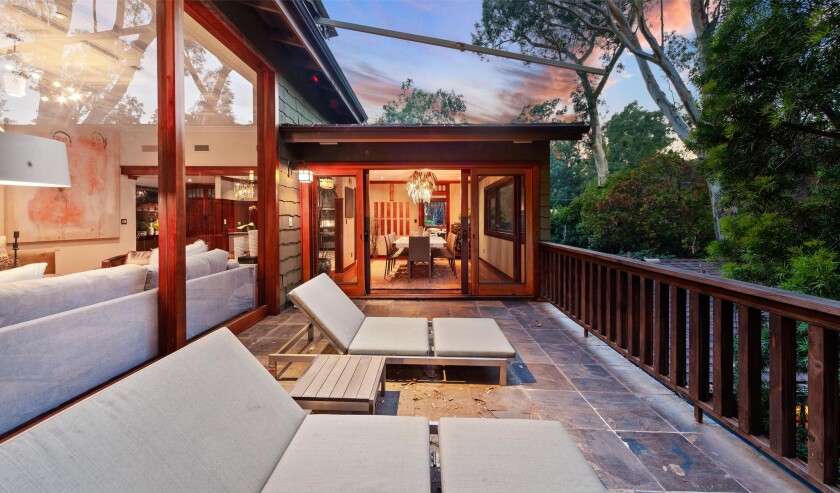 His season in Studio City is over
Legendary television writer-producer Donald P. Bellisario has wrapped up a finale of sorts in Studio City, selling his longtime home for $5.85 million.
Obscured from the street by mature trees, the Traditional-style house sits on more than an acre of grounds and has a guesthouse and a stone-rimmed swimming pool.
The two-story home, built in 1940, has a roughly 5,300-square-foot interior and features four bedrooms and six bathrooms.
Bellisario, 83, is the co-creator and writer for such television series as "Magnum P.I.," "Quantum Leap," "JAG" and "NCIS."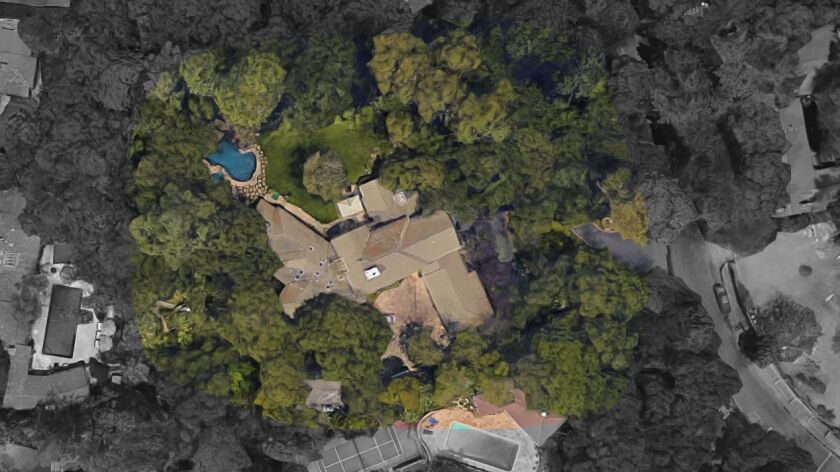 Reprising her role as a landlord
Actress Kristen Dalton has a Beverly Hills investment property up for lease at $6,500 a month, long-term.
Built in 1962 in the French Normandy style, the house has 2,016 square feet of white-walled interior space including a living room with a fireplace, an 800-square-foot bonus room, two bedrooms and three bathrooms.
Dalton's acting credits date back to "Tango & Cash" in 1989. Her film work includes "Steel Rain" (2017), "Jack Reacher" (2012) and "The Departed" (2006). She appears this year in the series "Hawaii Five-O."
Dalton bought the property in 1999 for $557,000.
A buyer is ready to bond
"Brotherhood" creator Blake Masters has a home for sale in the Hollywood Hills at $1.849 million and there's a buyer on the hook.
The remodeled Spanish-style house was built in 1927 as part of the Hollywoodland development. A dramatic two-story great room with soaring wood-beamed ceilings sits at the heart of the more than 3,000-square-foot house. There's an open-plan living and dining room, a pantry and dual master suites for a total of four bedrooms and four bathrooms.
Views take in the cityscape and Griffith Observatory.
Masters co-created the 2016-'18 mystery series "Falling Water" as well as "Law & Order: L.A." (2010-'11).
Listing to the tune of $5.25 million
A Los Feliz home originally built for silent and sound film director Victor Schertzinger has come on the market at $5.25 million.
Dating to 1921, the Mediterranean Revival-style estate has 6,655 square feet of living space and a lower level that includes an original theater and a temperature-controlled wine room. A full pipe organ was relocated to the residence in 1925 from a theater in Monterey. There are five bedrooms and five bathrooms.
The nearly three-quarter acre of lush grounds contain a 1920s scallop-shaped swimming pool, a pool/guesthouse and a dining pavilion with a kitchen. Views take in the ocean and downtown L.A.
Schertzinger, who died at the home in 1941 at age 53, was also a composer, film producer and screenwriter with credits including "Something to Sing About" (1937), "Road to Singapore" (1940) and "Road to Zanzibar" (1941). His compositions live on in soundtracks for such films as "The Wolf of Wall Street" and series including "The Sopranos."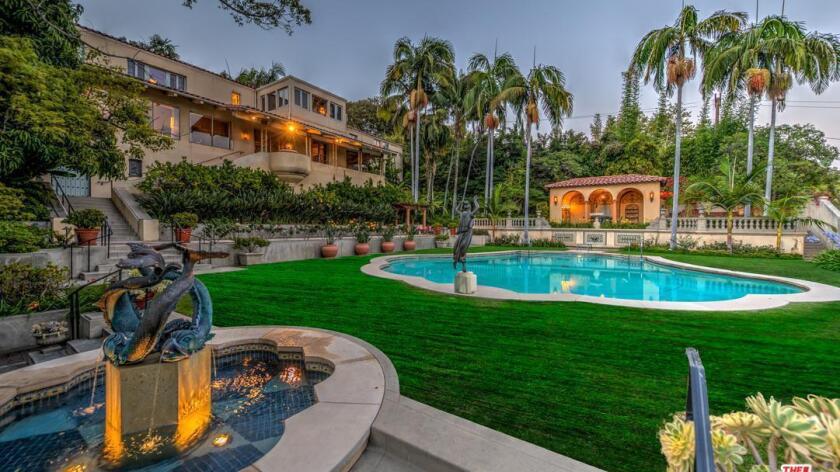 From the archives
Ten years ago, Latin music superstar Jenni Rivera closed escrow in seven days on an Encino home for $3.3 million. The 9,527-square-foot house had seven bedrooms and sat on four acres.
Twenty year ago, actor Don Johnson listed his Beverly Hills-area home of a decade for $3.25 million. Built in 1941, the gated Cape Cod-inspired house had five bedrooms and five bathrooms within its 6,000 square feet of living space. It sat on more than an acre with a tennis court and a swimming pool.
What we're reading
The onetime home of Broadway legend Mary Martin (who gained fame flying around the stage in a harness as Peter Pan) is for sale in Norwalk, Conn., at $1.385 million. The three-bedroom, 3,160-square-foot home dates to 1790, reports SecondShelters.com.
A charming 130-year-old church redone as a house, along with a modern guesthouse, is for sale at $1.2 million in Amador City, Calif. The 1.7 acre-property is in the heart of the wine country, says Circa Old Houses. That must have made it easy to stock up for communion.
Despite a nearly 20% price slash to around $640,000 U.S., buyers aren't exactly dying to get in on a deal for a former chapel turned modern residence near Diss, Norfolk, England. There are 36 gravestones marking burial plots in the front garden, which is still owned by church authorities on a 999-year lease, according to the DailyMail.com.
---