Tobey Maguire ponies up $3.375 million for Googleplex architect's WeHo home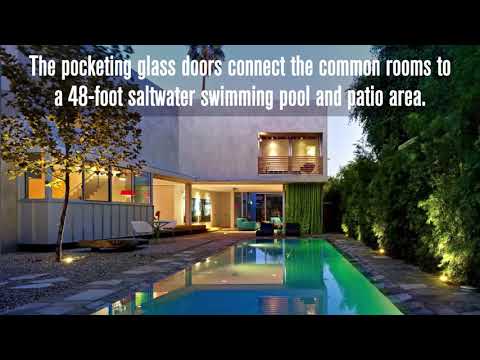 An LLC tied to actor-producer Tobey Maguire paid $3.375 million for the West Hollywood home of architect Clive Wilkinson.
A limited liability company tied to actor-producer Tobey Maguire was the buyer of architect Clive Wilkinson's West Hollywood home, which sold last month for $3.375 million.
Wilkinson, known for designing Googleplex, Google's city-like headquarters in Mountain View, built the contemporary-style residence for himself in 2007.
The architect removed walls and added glass doors to facilitate an indoor-outdoor lifestyle. The pocketing glass doors connect the common rooms to a 48-foot saltwater swimming pool and patio area. High ceilings and clerestory windows add a sense of volume to the open-concept floor plan.
Architect Clive Wilkinson.
(R. Daniel Foster / For The Times)
A staircase with steel cable railings leads up to the second floor, where a Douglas fir-sheathed workspace is suspended from the ceiling using wooden planks. Around the corner is another social space that opens to a private balcony.
The minimalist-vibe master suite — one of three bedrooms and four bathrooms — is equipped with a blue-tiled rain shower and a freestanding soaking tub.
Wilkinson bought the property in 2003 for $690,000, records show.
Billy Rose and Eric Lavey of the Agency were the listing agents. Jessica Pasternak of John Aaroe Group represented the buyer, according to the Multiple Listing Service.
Maguire, 42, has film credits that include "The Great Gatsby" (2013) and "Seabiscuit" (2003) as well as three installments of the "Spider-Man" franchise. More recently, he lent his voice to the animated comedy "The Boss Baby," released in March.
Twitter: @NJLeitereg
MORE FROM HOT PROPERTY:
Galaxy great Landon Donovan looks to retire high-rise condo at L.A. Live
Jeff Bridges unloads his vineyard estate in Montecito for $15.9 million
1923 Mediterranean displays a fresh face in Hollywood Hills
Leonardo DiCaprio dips his toe in Malibu's summer lease market