To land the big L.A. home sale, this agent flies to overseas clients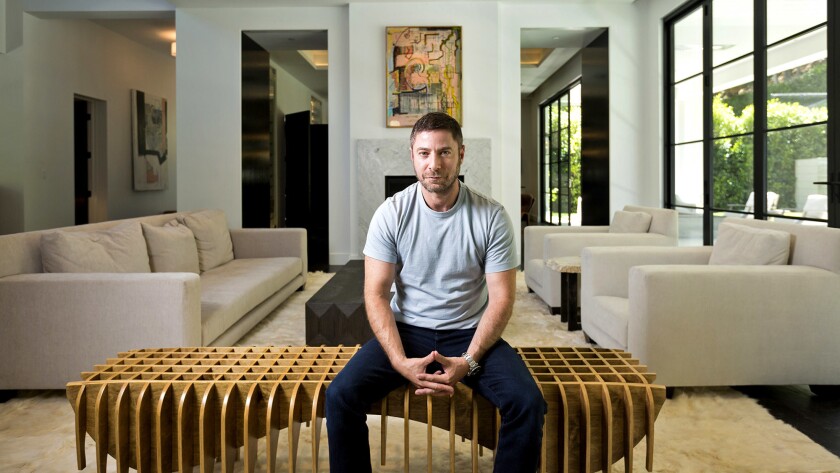 To sell a Los Angeles mega-mansion, Aaron Kirman grabs his passport and heads to the airport.
"I'm not waiting for someone to knock on my door to buy a $40-million house," said Kirman, 39, president of the international estates division of John Aaroe Group. "I'll go and get them."
He flies up to 300,000 miles a year to see wealthy clients, whether it's to tell them about a substantial home in his $600-million-plus portfolio or to nab a new listing. By late June, Kirman had racked up 175,000 miles of air travel this year, including trips to Asia, South America, Europe and the Middle East.
"I've met my biggest clients through traveling," he said on a recent morning in his Beverly Hills office, which was decorated with a tall chunk of citrine quartz.
He funds his own trips and estimates that each can cost between $20,000 and $50,000.
It's more than just airfare and hotels. He likes to host dinners, and he factors in expenses for side trips; on a recent visit to London, his client wanted to visit Capri, so Kirman rented a yacht.
"Some cultures — like the Chinese or Saudis — don't like to do business on the phone," he said. "They want to meet face to face. I flew to St. Petersburg to see a client over coffee for 20 minutes. But I ended up selling him a $38-million house."
Kirman has long been a believer in the power of travel. As a child in Encino, he struggled with dyslexia. He looked forward to summer trips with his family — to Mexico, Peru, Ecuador — to learn Spanish.
He also loved houses and was fascinated with the work of a family friend who was a real estate agent.
"I'd take his key to the lock boxes, go into empty houses and fake being an agent," he said.
At 18, Kirman got fired from his first job as an intern at a real estate firm before joining another company where he sold his first house — a $200,000 home in Reseda.
But after a trip to Paris, it dawned on him that there were much more expensive homes to be sold.
"Somehow I was upgraded to business class on the flight home, where I met someone looking for a multimillion-dollar home in Los Angeles," he said. "They bought through me. It made me realize I needed to be where the wealthy people are."
Kirman's approach during his around-the-world trips is to avoid the hard sell.
"I keep it low-key," he said shortly before jetting off to Geneva to see a Saudi royal who wanted to buy another Los Angeles property. "We'll be at dinner, and if it's right I might bring up a house that I can show on my phone. If it's not, I don't say anything. I play it by ear."
Longtime client Brenda Adderly saw Kirman's global sprawl of clients work in her favor when she was trying to sell a 6,500-square foot-Mediterranean mansion in the Pacific Palisades a few years ago.
"The American market didn't understand it, so Aaron tapped into his network in London," said Adderly, a Los Angeles author.
Kirman flew there for lunch with a prospective buyer and his family and then discreetly brought up the property. They ended up purchasing it for around $10 million.
"They were comfortable with him," Adderly said. "And that's what sold the house."
Sometimes Kirman will board a flight without a meeting lined up on the other side.
Once, he was hoping to meet with a Chinese billionaire looking to sell a $48-million home. But the billionaire wouldn't take Kirman's calls.
"I took a chance and flew to Beijing," he said. "I finally got him and said, 'I'm here; when are we going to dinner?' It was a risk, and I could have wasted my time. I got the listing."
MORE FROM HOT PROPERTY
Modern perch serves up a bird's-eye view of San Diego Bay
David Geffen unloads home on Billionaires' Beach for $8 million
Nine Inch Nails' Trent Reznor sells his modern mansion for $5.3 million
---
Inside the homes of the rich and famous.
Glimpse their lives and latest real estate deals in our weekly newsletter.
You may occasionally receive promotional content from the Los Angeles Times.