The Brady Bunch house has a new look — inside and out
Dubbed the most epic home renovation ever (besides your own, of course), the revamp of a 1959 Studio City home into a phantasmagoric delight for "Brady Bunch" superfans is complete.
Recognizing a real estate bonanza, HGTV last year paid $3.5 million (nearly twice the asking price) for the residence, used only for exterior shots on "The Brady Bunch." Interior scenes for the ABC series, which ran from 1969 to 1974, were all filmed in a studio.
But now those retro rooms have been replicated within the home, turning the property into a groovy gallery of 1970s Americana.
Eight HGTV stars and six surviving cast members (the children of the show's forward-thinking blended family) helped gut the house in recent months. The crew painstakingly reproduced the set's rooms and 1970s decor — right down to cabinet hardware.
Now, 50 years after the series debuted, HGTV's "A Very Brady Renovation" documents the transformation; the show premieres in September.
A Massachusetts couple recently bid a winning $7,777 for a private tour of the home with Jasmine Roth, host of HGTV's "Hidden Potential," and Susan Olsen, who played Cindy Brady. The IfOnly auction benefited Robert F. Kennedy Human Rights.
We spoke with Roth about augmenting the two-bedroom split-level property to a house fit for a fictional family of eight — along with its screwball housekeeper, Alice (Ann B. Davis), who had a room off the kitchen.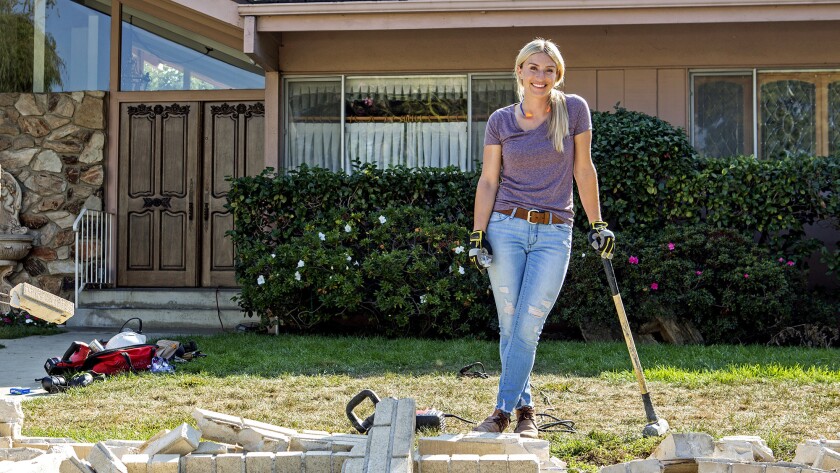 To use '70s vernacular, give us the skinny on the home's groovy new floor plan.
We needed a two-story house, so we had to figure out how to fit two stories without compromising that iconic roofline. The way to do that was to dig down. We sunk the living room further, and by doing that we were able to put the girls' and boys' rooms and the Jack-and-Jill bathroom upstairs at the top of the staircase. We also added a window to the front of the house — they had hung a fake window for establishing shots.
A rear addition that nearly doubled the 2,477-square-foot home accommodates new rooms, including that mod avocado-orange kitchen.
The kitchen was definitely a group effort. It's one of those kitchens where you walk in and start smiling. Figuring out how to get those appliances, and ones that work, was a challenge. Karen [Karen Laine of HGTV's "Good Bones"] drove somewhere near her house in Indiana to pick up the refrigerator.
In 1969, the set's open floor plan, floating staircase and color-blocked Mondrian-inspired translucent panels were ultramodern designs.
I asked my mom about it, and she said, "It was the best of the best, whether it was the design of the master bedroom, that staircase, or Marcia's outfit — anything on that show was cutting edge. Like if you could have a life like that, you were doing really, really well." Jonathan and Drew Scott [HGTV's "Property Brothers"] built the staircase. Codes have changed a lot in 50 years so we've added Plexiglas panels to pass inspection.
How much did you rely on cast members' memories to replicate the looks?
We only had screenshots from the series, and they were color-corrected over the years. Each time we saw one it looked different. I'm in charge of the master bedroom. I reached out to Mike Lookinland, who played Bobby Brady. I got as many paint colors up that would be close and he picked the final — a powder blue. Barry and Maureen [Barry Williams and Maureen McCormick — a.k.a. Greg and Marcia Brady] remember the most because they were older. Barry and I worked on the den's green shutters. Just hearing his stories — he was taught a lot of life lessons in that den.
What's the most dated look in the house?
Paneling — with black lines between each board, or what was supposed to look like each board. Nobody is making that paneling, so we bought birch plywood and painted the walls black, then installed it over the black wall to look like paneling.
What are the ongoing plans for the house?
Honestly, I wish I could tell you more, and everybody keeps asking me. I've heard nothing. It's in a residential neighborhood, so that precludes some things. [A network spokeswoman confirmed that "HGTV does not have any additional information to share at this time."]
---
Inside the homes of the rich and famous.
Glimpse their lives and latest real estate deals in our weekly Hot Property newsletter.
You may occasionally receive promotional content from the Los Angeles Times.