Kyle Richards converts home gym into dressing room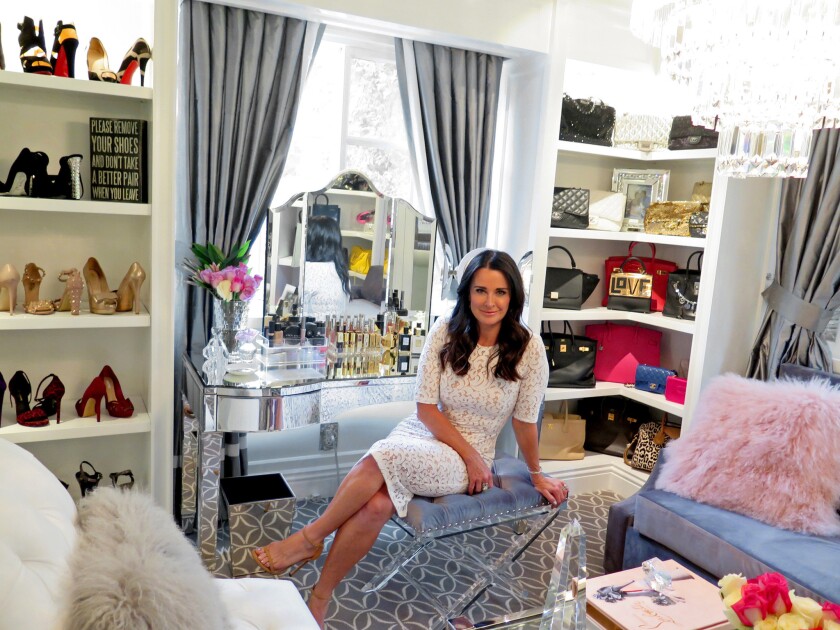 Kyle Richards feels less guilty when she thinks of her new space as a "dressing room" instead of a "closet."
To create it, the "Real Housewives of Beverly Hills" reality star took over the area that was a gym and moved the gym to a guest room. Richards then enlisted interior decorator Faye Resnick to design the dressing room in her Bel-Air home, outfitting it in shades of white and silver-gray.
She takes the term "dressing room" to heart, using it primarily to store her formal attire. Spotlighted shelves hold a series of artfully arranged shoes and bags that are displayed as they might be at Barneys. But it is also a retreat of sorts for the mother of four, who is married to high-profile Realtor Mauricio Umansky.
Why is this your favorite room?
It's my happy place. I come in here with my laptop, or for some quiet time. My 8-year-old daughter has sleepovers here with her friends. They do their makeup and watch TV. It's a little girl's paradise.
Why and when did you decide to have a dressing room?
I finished it six months ago. When we first built it, I didn't know if I would ever use it. Then we started shooting "Celebrity Apprentice," and I had 4:30 a.m. call times. I didn't want to wake my family, so I would ask my hair and makeup people to meet me in here.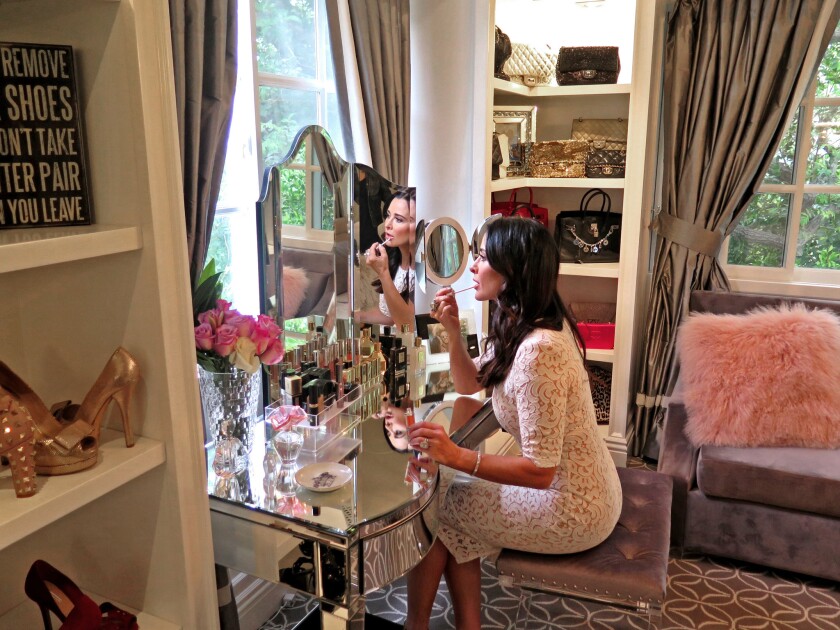 What were you going for, design-wise?
Feminine, glamorous, a little dramatic. The most difficult thing was finding the dressing-table bench. I wanted one with Lucite legs, and it took forever. I finally found one at Bedfellows. And I got two chairs at Gilt.
It sounds like you're a bit of a bargain hunter.
If I find something I love, I think I can get it for a better price. It's like a game for me. I love flea markets, like the one at the Rose Bowl in Pasadena. If I see something somewhere for $3,000, I know I will find it for less somewhere else.
Did Mauricio contribute anything to this room?
We were at Bergdorf Goodman in New York, and my husband saw a Prada bag that was the same color as this [dusky pink] cushion. It's not even my color, but he said, "That would look pretty in your closet." Even now, I look at some of my shoes and don't think I'd wear them again — but they do look pretty on the shelf.
---
Inside the homes of the rich and famous.
Glimpse their lives and latest real estate deals in our weekly newsletter.
You may occasionally receive promotional content from the Los Angeles Times.