My Favorite Room: Jake Miller lives his dream in his 'manly music room'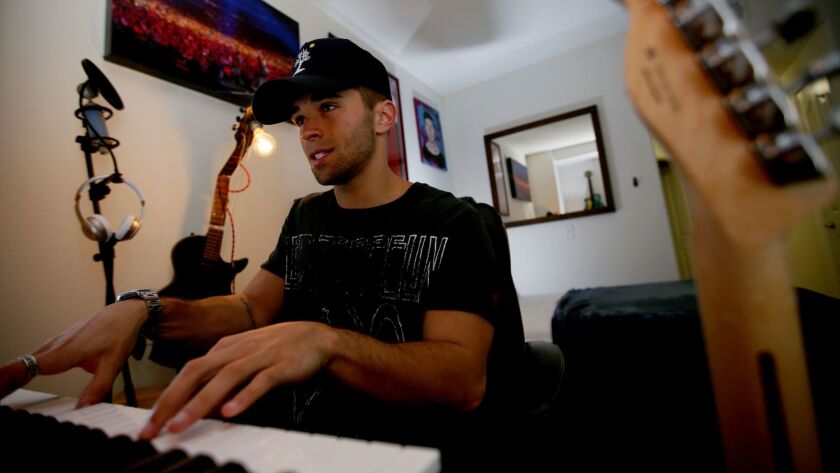 Singer-songwriter Jake Miller got his start posting YouTube videos of himself singing from his Florida bedroom when he was a teen.
He's come a long way since then, both professionally and when it comes to home decor.
"In my childhood bedroom, you couldn't see the walls or ceiling because I would collect Sports Illustrated and Rolling Stone magazine covers and tack them to the walls," the 24-year-old said. "You literally couldn't see an inch of wall space. My aesthetic now is more mature."
These days, the pop star lives in a Hollywood apartment. And, just like a decade ago, he enjoys making music in his bedroom.
Miller — who landed his first live performance opening for Snoop Dogg in 2011 — spent the summer touring with Fifth Harmony and released his sophomore EP, "Overnight," in August.
Why is your bedroom your favorite?
I'm always in here practicing guitar and piano and learning, practicing my craft, trying to get better at what I do. I have a studio set up with a desk and big speakers. The room is filled with musical influences and instruments and stuff to keep me inspired. I have giant posters on my walls of crowd pictures of me in different arenas. They keep me motivated.
How do you use the space?
For the past six months, on top of writing lyrics and songs, it's been fun to learn how to produce music. I'm getting better. I'm in here sometimes eight hours a day, teaching myself how to produce.
How many guitars do you have in the room?
Five. Three that work, one that's hanging up as an art piece and one made into an Art Deco lamp.
Favorite piece of art?
The guitar lamp next to my bed. It is from Lisa Raphael of Raphael Creations at the Melrose Trading Post, a flea market held at the campus of the Fairfax High School on Sundays. Lisa's station has a bunch of musical instruments and broken instruments that are turned into lamps and home decor items. This guitar is all cracked, and the neck is cracked, but it looks like an antique lamp. It's the centerpiece of the bedroom.
How much did the lamp cost?
About $1,000.
Describe your design style.
Modern and clean. The room has a cool vibe. It's a cool kind of manly music room. I put a lot of effort into designing the space when I moved here in 2014 because I knew I would be spending a lot of time here. A dark brownish wood aesthetic flows throughout, and all the accents like the carpet and the blinds and the sheets are navy blue.
Which piece most represents you?
The city I was raised in helped mold me as a person, so I have a framed Dwyane Wade Miami Heat jersey hanging over my bed. Every time I come in the room, that jersey reminds me of Miami and South Florida. It reminds me where I came from.
MORE FROM HOT PROPERTY
Spanish house in Burbank has a touch of castle magic
Actor Adam Sinclair lists charming Spanish home in Culver City for sale
Neighborhood Spotlight: Highland Park, enjoying boom times again, wears its past on its sleeve
---
Inside the homes of the rich and famous.
Glimpse their lives and latest real estate deals in our weekly newsletter.
You may occasionally receive promotional content from the Los Angeles Times.