My Favorite Room: Marque Richardson keeps his loft full of reminders of life's bigger picture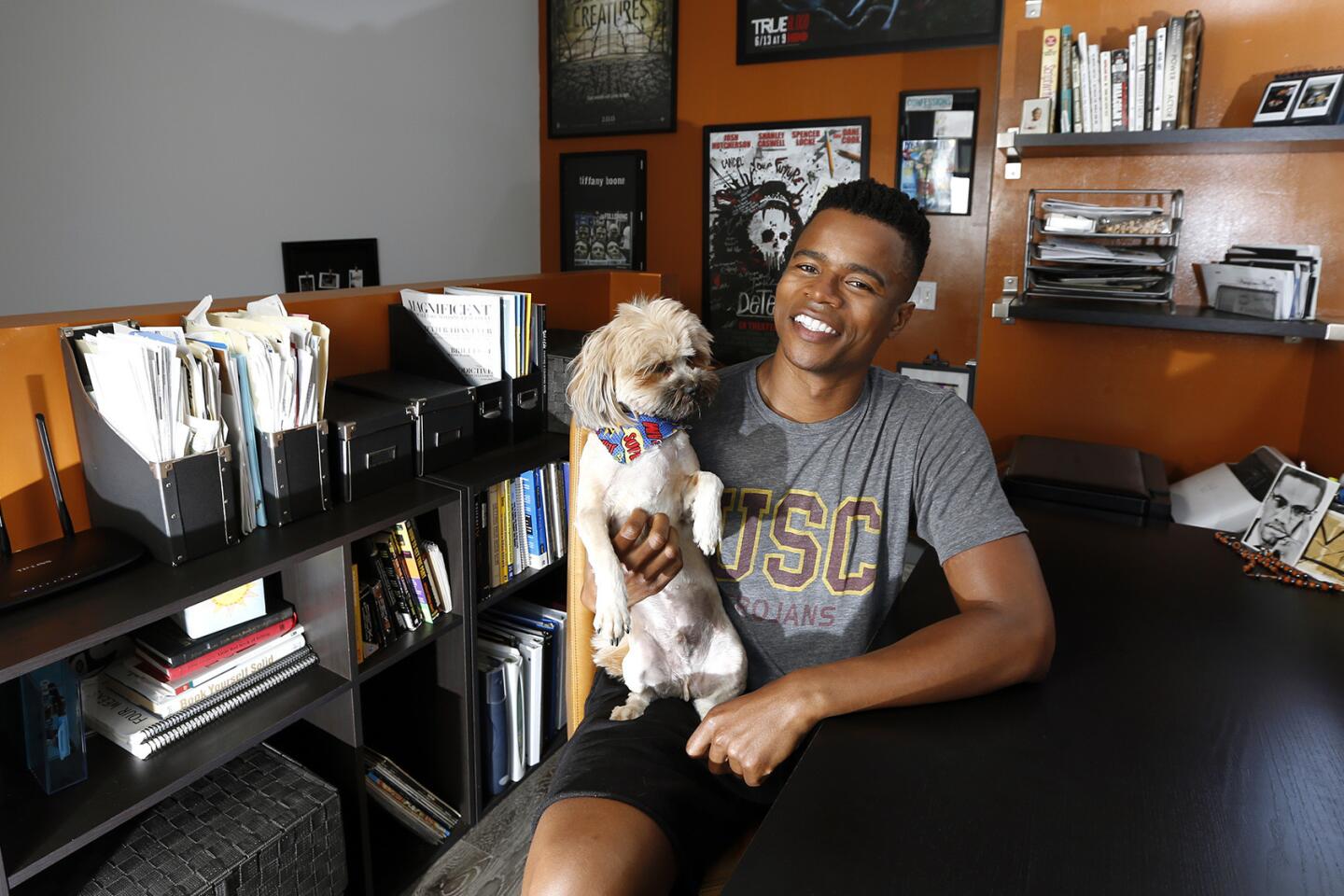 "They all have a common thread of peace, gratitude and oneness," the actor says of the photos and mementos he has in his loft.
(Glenn Koenig / Los Angeles Times)
Richardson uses the loft as a creative and work space.
(Glenn Koenig / Los Angeles Times)
Work and inspiration share the loft.
(Glenn Koenig / Los Angeles Times)
Pictures of what's important help keep Richardson grounded.
(Glenn Koenig / Los Angeles Times)
Richardson descibes his aesthetic as "clean, modern and crisp."
(Glenn Koenig / Los Angeles Times)
Whether it's sand from a beach in Israel or a little Buddha sculpture acquired during a post-tsunami rebuilding effort in Thailand, actor Marque Richardson's Silver Lake loft brims with simple yet meaningful objects from around the world.
"They all have a common thread of peace, gratitude and oneness," said Richardson, 32, the star of Netflix's "Dear White People." "These are reminders that everything is OK because I have my health, my family and the things that matter to me. If all this stuff was to go, I'd be OK."
The loft sits atop Richardson's 800-square-foot apartment and is used mainly as a creative and compact workspace. Traveling around the world, especially in famously space-efficient Tokyo, taught Richardson to be resourceful when decorating a cloistered room.
"This place has everything stacked on top of itself, so turning this loft into an office called for creativity and having appropriate-sized furniture that fits the space," he said.
Why is this your favorite room?
Because it's the highest room; I like to be high. There's a view of the hills and the Silver Lake situation that almost reminds me of the Bay Area in terms of the vibe, the homes and the hilliness.
How would you describe your design taste?
Clean, modern and crisp.
What inspired the orange, white and blue paint choices up here?
It's weird, because this orange color was not the original plan. It was supposed to be a glossy brown — that's what it looked like on the little sample. But all of a sudden we painted the whole thing, and it was orange! But it was cool, because I do so much work up here that I need energy, and I feed off of these bright and bold colors. It was a happy accident.
What is one of your favorite memories in here?
I work out up here like it's a prison cell, doing push-ups, lifting free weights, power block weights, sit-ups, and I've got my yoga mat and ab roller. But whenever I work out in this small space, my dog will come up and start licking my face. He will not leave me alone.
What's one of your favorite pieces?
My little gratitude rock from Malibu beach. When I hold it, it keeps me grounded and focused on what matters. There have been different times in my life when I didn't have things, financially and in other ways, but I've been able to build on top of that. This rock is a reminder to stay grateful.
Tell me about this wall of film posters and photos.
The signed "True Blood" poster was from when I worked on the show. I was too nervous to ask any of the actors to sign my poster, so I just forged their signatures. I never lie about it and just tell people I was too shy. There's a photo with the Sheens [Charlie and Martin] from "Anger Management" and one with the cast of "Dear White People." This wall is an acknowledgment of how far I've come, a reminder to be grateful as well motivation for the many things that I'm looking forward to in terms of career and life.
MORE FROM HOT PROPERTY:
Prince's Caribbean compound set for auction in July
Veteran actor Judd Hirsch takes to a hillside home in Studio City
Songwriter-producer Stephan Moccio lists Pacific Palisades home for $10 million
Tyler Perry sells modern tour de force in Mulholland Estates for $15.6 million