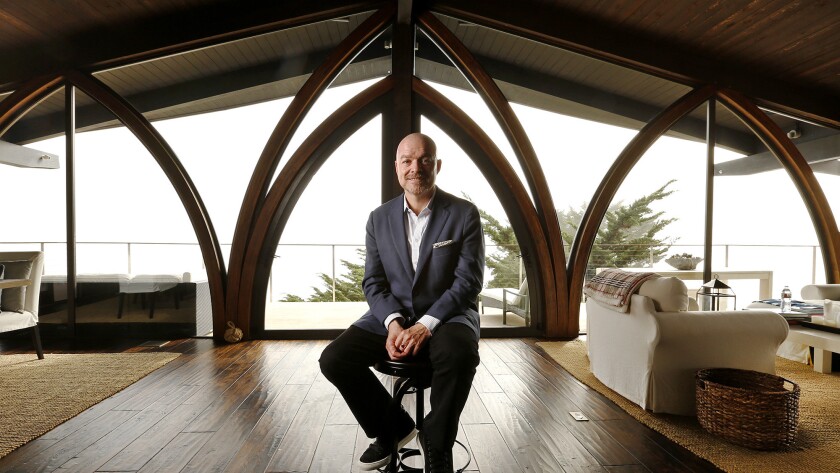 In a cove at the top of Malibu's Broad Beach, real estate entrepreneur Sean Conlon lives in what amounts to a treehouse.
An upscale treehouse, to be sure — a three-bedroom, 3.5-bath spread designed by influential California architect Harry Gesner and surrounded by cypress trees with sweeping views of the Pacific.

At 3,000 square feet, the space "is a beach house, not a beach mansion," Conlon said. He bought the home from its original owners in 2008 and loves spending time in the cavernous living room.
The Irish immigrant — who grew up in a tiny village, assessed credit ratings for Lehman Brothers in London and worked as a janitor after arriving in the U.S. — is now a co-host of real estate show "The Deed: Chicago" on CNBC.
How hard was it to find the right house?
I looked at 100 properties and was very picky. I eventually flew in a crew of about 10 out from Chicago, and they worked seven days a week to get the house done. We had to jack up the house from underneath and put in crazy structural supports because of earthquake worries. The Coastal Commission permits took forever. But we banged through it all very quickly — we finished in 12 weeks.
Your living room used to be six rooms, but you took out all the walls to create an unobstructed view. How does it feel now?
It's like a cathedral to the ocean — every window you look through showcases it. It truly concedes that nature is more beautiful than anything we can build.
How did you design the interior of the living room?
There are beautiful, wide mahogany plank floors and a big, old reclaimed-wood table. It's all about stone, steel and wood. The natural materials make it so authentically Malibu — still a bit wild.
What about art?
There are some cool 2,000-year-old Greek and Roman statues, some chalk drawings from the 1500s that David Bowie used to own — I'm a big Bowie fan. There's just a juxtaposition of beautiful old pieces with the modern California architecture.
How did you choose the pieces?
People think of collectors sometimes as being pretentious. I'm an immigrant, and I'm self-taught — I grew up reading about these artists in the little village library. I dreamed of having some of their work one day. I would never sell any of the pieces I've bought — I love them.
Your place sounds like a great party pad.
I don't have events here — it's my very private nirvana. I spend 90% of my alone time up here. I've learned that houses have energy. I might sound like a lunatic, but this house is so Zen and spiritual, it's unbelievable. I have a Fitbit that shows my heart rate running at 84 beats per minute in Chicago. Here, I run at 63.
Do you find Malibu Zen as well?
Down at the Colony, at the other beaches, it's become way too trendy. Being on Broad Beach means real Malibu, old-school Malibu — a little rocky cove, a couple of little restaurants, not very commercialized.
It's quite a trek — a lot of famous people have homes up here now. It's unbelievable the people I see in my Starbucks.
---