My Favorite Room: Travis Stork's simple, peaceful living room is just what the doctor ordered
When he started hosting "The Doctors" in Los Angeles, Nashville physician Travis Stork didn't know how long the CBS daytime talk show would last. So he rented a Hancock Park apartment with a view of the Hollywood Hills and kept a simple aesthetic.
But as one season rolled into nine, the Emmy-nominated host, who appeared on Season 8 of "The Bachelor," settled in.
"Over the years, I've accumulated pieces and made it my true home away from home," he said.
Stork, a Nashville resident who commutes between seasons, said the top-floor two-bedroom is comfortable and convenient. His favorite spot in the 1,000-square-foot pad is the living room.
"It's one of the few places in L.A. where I can find a lot of peace and quiet," the 45-year-old said. "The space belies the fact that we're smack-dab in the middle of a busy city. But the apartment backs up to the Wilshire Country Club, so I sometimes hear the occasional golf ball being teed off."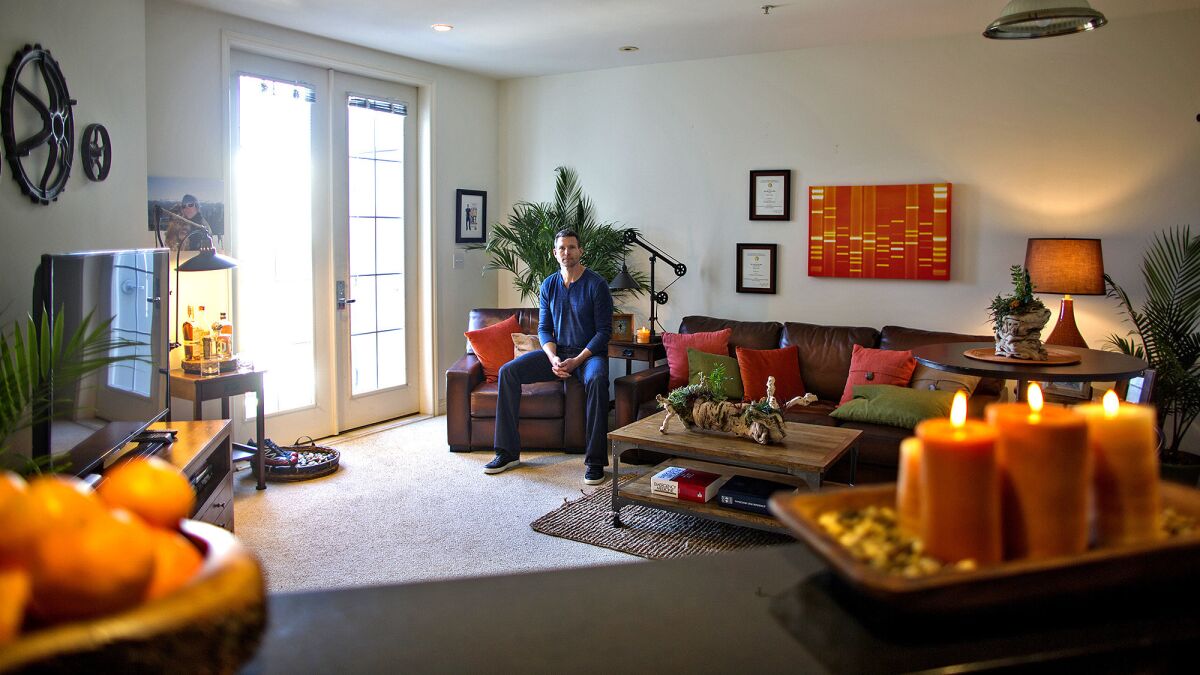 What makes this room special?
When you walk into the main living area, there are double doors that lead to the patio. I can see the Hollywood Hills. Other than going to the bedroom to sleep, 99% of my time is spent in this room, and most of the time the French doors are open.
What draws you to the space?
There is a lot of my dog, Nala, in the room. She just turned 17 and stays in Nashville, because she can't travel. I have four pictures of her in the room.
Design aesthetic?
Modern rustic. Comfortable and open. No clutter.
Did you have help creating the look?
The set designers at "The Doctors" helped me come up with a few pieces over the years. We had our DNA analyzed for a special, and I have a large piece of wall art that shows some of my DNA sequencing in orange.
Favorite piece of furniture?
I'm 6 foot 4, so I have a bistro table that can be elevated. I tend to do most of my work standing up. I herniated a disc in my back a couple of years ago, so for me, furniture has become about functionality and comfort and making sure that if I'm sitting in a chair or working at a table, I have good posture.
Biggest splurge in the room?
My bike, a specialized Roubaix. They retail for about $10,000.
You keep bikes in the living room?
I have three bikes in the room: My commuter bike, my mountain bike and my road bike. One of the walls where my bikes hang is painted orange. Orange is my favorite color, so there's a lot of orange in the space.
Which item most represents you?
I have a TRX workout system on the back of the door that leads into the office/second bedroom. I've always felt like I should practice what I preach on "The Doctors." So my living room is not only the place where I work, but it's also a place where I do regular body-weight exercises. It's one of the things I recommend to everyone. You don't need a home gym. You can get straps and use your body weight to get a full workout.
Got any design tips for bachelors?
A lot of men shy away from plants and candles. But when I'm home, I light a few candles. Having plants and candles in the room puts me in a peaceful state of mind.
Favorite scent?
Vanilla.
MORE FROM HOT PROPERTY
'Family Ties' star Meredith Baxter parts with tree-topped home in Santa Monica
Elegant condo opens the door to Pasadena's Grove at Ambassador Gardens
Quintessential Bond girl Ursula Andress sells her longtime home in Beverly Hills