My Favorite Room: Veronica Ferres' Hollywood Hills home is the backdrop for an upbeat scene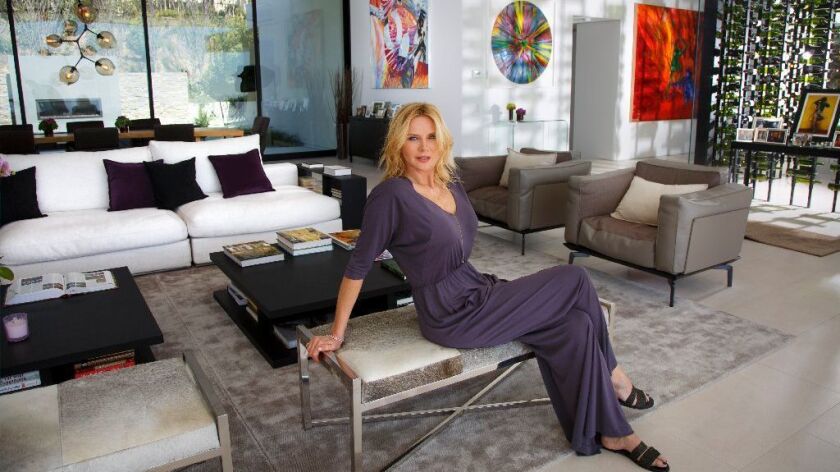 German actress Veronica Ferres came to Southern California two years ago and quickly embraced the SoCal life, living in a Malibu pad close to quality surfing spots.
But the traffic became unbearable. In January, she decamped with her husband and two children to a five-bedroom home in Beverly Hills.
From her living room, she can see across the open floor plan to her bedroom, the kitchen, the pool, the wine cellar and out from Santa Monica to downtown Los Angeles.
Ferres, a star for more than 30 years in Europe, appears in director Werner Herzog's 2016 thriller "Salt and Fire" opposite Michael Shannon and Gael Garcia Bernal. She splits her time between L.A. and Germany.
What stands out about the living room?
Other than having the best view, it's very clean, very modern — all beige and white. There's this great feeling when you walk in — you really feel the brightness and happiness of the house. There's a huge wall of gray marble with a fireplace in the middle of it. It's a piece of art on its own, but there's also incredible artwork by David LaChapelle and Gerhard Richter.
What's your favorite piece of furniture?
The 12-seat dining table from Riva 1920 is amazing. It's from New Zealand, from a tree that grew for hundreds of years in the mud. It has incredible history.
You always have flowers out. Why?
I change them every week — it's very important. They make me happy and they're elegant — an expression of my special style. They show that you take care of where you live and you want to have a beautiful home.
Any notable visitors?
Werner lives here in the Hollywood Hills as well, and he loves to come to my house because of my European skills as a chef. Adrien Brody and Paul Haggis as well.
I have kind of an open-house mentality. We have dinner for the kids every night anyway, so friends just drop by and gather around the bar or the fireplace and have a glass of wine and talk.
Talk about what?
There's a lot of creative energy in the house — a lot of projects are born here. There've been some amazing phone calls in this room too.
Does this room differ much from your childhood living room?
I am the daughter of a potato farmer and charcoal trader. My parents had three kids — they were poor, and our living room was very small. But I never felt as if something was missing in my life; we were taught to be happy to share, that reading a great book or sharing food with best friends can make you more happy than having an incredible, big living room.
MORE FROM HOT PROPERTY
Old world trappings meet the modern lifestyle in Encino
Lynn Swann scores a contemporary home in Hancock Park for $3.08 million
Wealthy retirees are willing to give up the hassle of the estate — but not its luxuries
---
Inside the homes of the rich and famous.
Glimpse their lives and latest real estate deals in our weekly newsletter.
You may occasionally receive promotional content from the Los Angeles Times.