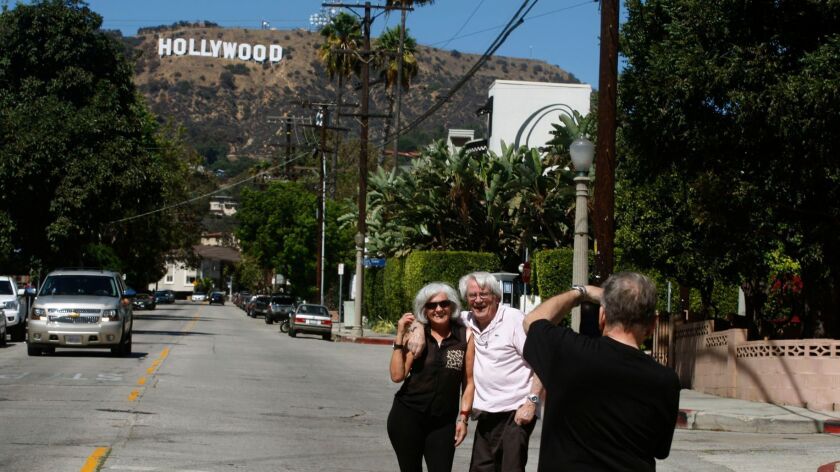 Hollywood Hills was not always a tamed refuge for the well-heeled.
The rugged canyons and steep hills of the eastern Santa Monica Mountains, where the range briefly soars 1,800 feet to the top of Cahuenga Peak before expending itself and petering out in the rolling hills of Elysian Park, once teemed with wildlife and raged with unchecked wildfires.
People have lived in the hills for thousands of years, first the Tongva people, then the Spanish, and finally the pioneers of early Hollywood.
They built their homesteads along the floors of the canyons that cut through the hills, going with the topography of the land. That began to change in earnest in the 1920s, as the developers of Hollywoodland employed bulldozers and graders to make room in Beachwood Canyon for spacious luxury homes in styles ranging from medieval castles to Spanish Colonial villas and almost every revival style in between.
Marketed to the well-to-do as an exclusive country retreat convenient to Hollywood and downtown, via bus or car, Hollywoodland became the template for celebrity life in the hills.
Though the development itself went bust during the Depression, the lifestyle it had pioneered exploded in popularity. Once the canyons were built out with the homes of studio chiefs and matinee idols, increasing demand for a "house in the hills" — that marker of one's arrival as a player in Hollywood — meant development began to creep up into the steep overhangs and narrow switchback trails above.
It wasn't until the 1950s that the upper reaches of the hills were truly conquered. Modernist architects, armed with new engineering techniques and an ethos of minimalism, began to design and build homes that clung to the hillsides. These new homes turned their backs on the narrow mountain roads, with their unsightly rows of parked cars, and oriented the glassy facades of their steel and concrete boxes outward, toward the stupendous city and canyon views.
The popularity of those views, and the architecture that made them possible, has remained constant. Over the years, through trials wrought by wildfires, mudslides and streets clogged with valet parking attendants during awards season parties, the Hills has endured as a symbol of the city. May its infinity edge lap pools never run dry.