Neighborhood Spotlight: West L.A. — underneath it all — is a hometown, American as Apple Pan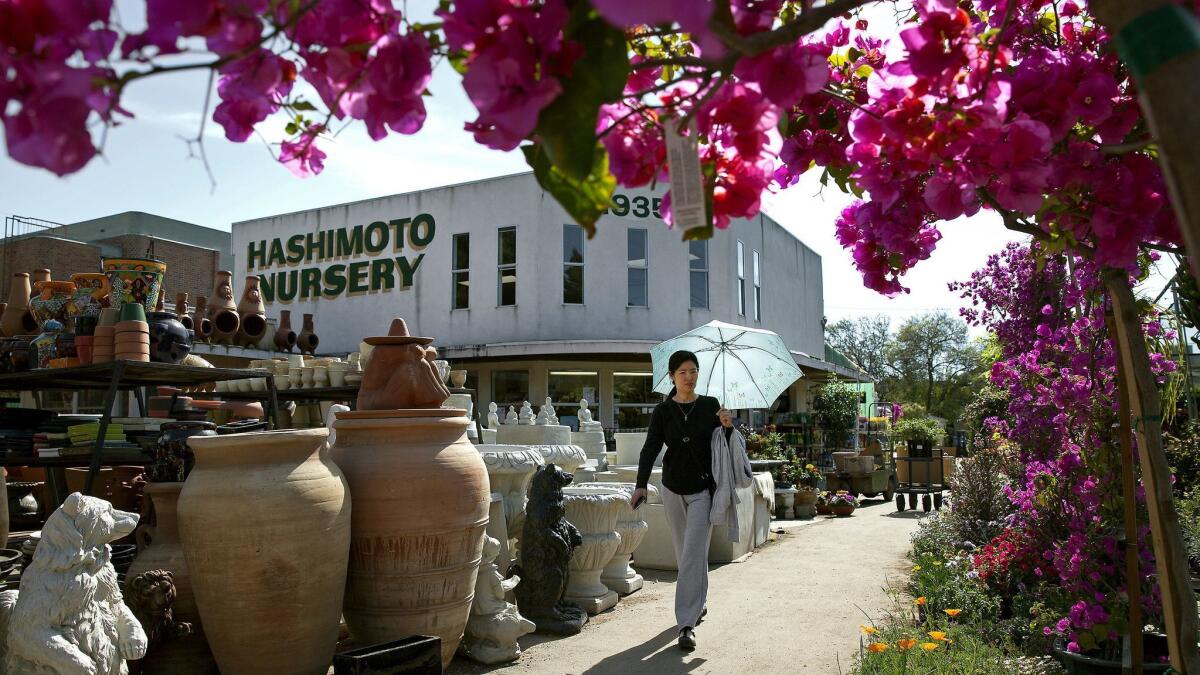 Despite its name, West Los Angeles is not the westernmost part of the city; its western border does not even reach the 405 Freeway.
It ends instead a few blocks east of that gargantuan river of asphalt, where Sawtelle begins.
Nowadays, West L.A. is actually a marooned rump of the once-mighty West Los Angeles of old, which stretched from Century City to the Santa Monica city limits, and which has atomized over the years into a handful of disparate neighborhoods.
It's cloaked in a state of semi-anonymity. Many people assume West Los Angeles refers to all that lies between the sea and Robertson Boulevard (or wherever their own arbitrary border of central Los Angeles lies). But it is its own place, not just a toponym to be used interchangeably with "the Westside."
Reduced now to a rectangular patch of heavily residential streets squeezed in between Santa Monica and Pico boulevards, it is something very like a suburb in the heart of the city. It's a hometown, a place whose most recognizable extant landmark might just be the appropriately homey Apple Pan, since the oh-so-suburban Westside Pavilion actually lies across Pico in Rancho Park and will soon be converted to offices anyway.
The agricultural origins of the neighborhood are apparent in its orderly street grid, which is substantially broken only in its hilly northeast corner. In the 1920s, when Pico Boulevard was paved and the bean fields and orchards were subdivided, there were no small townships to incorporate into the street plan, so developers laid out regularly spaced blocks and filled them with homes.
Santa Monica, Westwood and Pico boulevards served as the Main Streets of the residents of these homes, with small businesses of every stripe within walking distance of most. The widening of Santa Monica Boulevard, which began when it was part of Route 66, obliterated much of the older construction that once lined it, but on Pico, the pleasing street wall of old brick buildings remains.
In the postwar boom years, developers began to build apartments at either end of the core of West Los Angeles, especially in the Beverly Glen corridor, and in the 1980s, the Westside Pavilion replaced a number of neighborhood shops, despite protests from residents.
The appeal of West Los Angeles as a place to live has survived all of these relatively minor disruptions. It has stayed so popular that mansionization is the big worry now. And as for Sawtelle and the other parts of the neighborhood that were cleaved away over the years, West Los Angeles probably doesn't even miss them.
Neighborhood highlights
Shop 'til you drop: The impending death of the Westside Pavilion aside, West Los Angeles is still a thriving retail destination for those who like to shop local, and, better yet, it's fairly walkable.
A Westside commuter's dream: For anyone who commutes to Century City, Culver City or Silicon Beach, West Los Angeles offers an extremely appealing location for your home base.
Neighborhood challenge
Cut-through traffic: With three major thoroughfares and navigation apps dumping commuters onto surrounding residential streets, it's best to cross the street carefully in West Los Angeles.
Expert insight
Elizabeth Donovan, who just sold the area's priciest home this year, said West L.A. is hip sans the smugness that comes across in some surrounding areas.
"The neighborhood has become home to a relatively young demographic that's hip and cool and wants equally hip and cool places to dine, shop and experience the community," she said.
She added that the Expo Line has been a game-changer for the community and that the Expo/Bundy Station has opened the door for easier commutes and an increase in visitors.
"West L.A. is chock-full of new developments," she said. "With hundreds of units and nearly 100,000 square feet of proposed retail and restaurant space, the neighborhood is definitely evolving."
Market snapshot
In the 90025 ZIP Code, based on six sales, the median sales price for single-family homes in March was $1.45 million, up 5% year over year, according to CoreLogic.
Report card
Four public schools lie within the West Los Angeles boundaries. Of those, Nora Sterry Elementary scored the highest on the 2013 Academic Performance Index, at 814.
Richland Avenue Elementary and Brockton Avenue Elementary posted scores of 785 and 778, respectively. The area's high school, University Senior High, scored 747.
Times staff writer Jack Flemming contributed to this report.
MORE FROM HOT PROPERTY:
Prince's Caribbean compound set for auction in July
Veteran actor Judd Hirsch takes to a hillside home in Studio City
Songwriter-producer Stephan Moccio lists Pacific Palisades home for $10 million
Tyler Perry sells modern tour de force in Mulholland Estates for $15.6 million